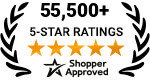 Any product or company names, marks, or logos shown on this page are the property of their respective owners. ComparePower is an unaffiliated, independent marketplace. Get unbiased, accurate information backed by our commitment to editorial integrity.
CenterPoint Energy
Last summer, CenterPoint Energy's service area experienced the highest electricity rates in recent memory.
Although many Texans continue to feel the impact of these elevated summer prices, there's a silver lining on the horizon.
Electricity rates in Texas are anticipated to remain relatively stable in the coming months.
To save money and avoid unexpected fluctuations in your energy bill, consider enrolling in a fixed-rate electricity plan today.
Take advantage of fixed-rate plans starting at $0.11 per kilowatt-hour.
Find the Best Centerpoint Energy Rates
Purchasing electricity in Houston could cost you hundreds of dollars more if you don't clearly understand your home's kilowatt-hour (kWh) usage.
The number one rule in finding the right power plan is to understand your usage.

This 2-minute video that explains everything you need to know ⤵️
CenterPoint Electricity Rates
Compare electricity rates for the Centerpoint Energy service area.
These live rates for CENTERPOINT ENERGY HOUSTON ELECTRIC LLC service area were updated on . Pricing shown is based on an exact usage of 1000 kWh.
Instantly compare Texas electricity plans and rates.
CenterPoint Energy Utility Company
CenterPoint Energy provides electricity transmission and natural gas distribution services to more than 7 million metered customers.
The History of CenterPoint Energy
Early Beginnings
CenterPoint Energy, a Fortune 500 company, has a rich history that dates back over 150 years.
Initially founded in 1866 as Houston Gas Light Company, it played a crucial role in providing gas lighting to Houston. Over time, the company evolved and expanded its operations, eventually becoming CenterPoint Energy in 2002 after mergers and acquisitions.
Expansion and Growth
Since its inception, CenterPoint Energy has grown significantly geographically and in terms of services offered. The company now serves more than 7 million customers across eight states in the United States, with a strong focus on electric transmission, distribution, and natural gas services.
CenterPoint Energy's Services
Electric Transmission and Distribution
CenterPoint Energy is a leading provider of electric transmission and distribution services. The company owns and operates over 56,000 miles of distribution lines and 3,700 miles of transmission lines, serving over 2.5 million metered customers in the greater Houston area.
Natural Gas Distribution
In addition to electric services, CenterPoint Energy is a major natural gas distribution market player. The company provides natural gas services to approximately 4.5 million customers across eight states, making it one of the largest natural gas distribution companies in the United States.
Competitive Energy Services
CenterPoint Energy also offers competitive energy services through its Home Service Plus (HSP) subsidiary. HSP provides energy-related products and services, including heating and cooling equipment, repair and maintenance services, and energy efficiency solutions for residential and commercial customers.
Electric Choice in Texas
Deregulation of energy markets in Texas allows consumer choice over retail energy providers. Customers in the CenterPoint Energy service area work with retail providers to manage accounts and billing. The state's deregulation law in 2002 opened the doors to dozens of energy providers to compete for customers.
To leverage this power to choose an energy provider, customers do not need to spend hours online searching for quotes. ComparePower gathers all quotes for a customer's ZIP code into a single search result. This free tool takes care of the work necessary to find the best deal on energy.
CenterPoint Energy's Sustainability Efforts
Environmental Commitments
CenterPoint Energy is committed to reducing its environmental impact and has set ambitious goals. The company aims to reduce greenhouse gas emissions by 70% by 2035 and achieve net-zero emissions by 2050. To reach these targets, CenterPoint Energy invests in renewable energy, energy efficiency, and new technologies, such as electric vehicles and smart grid infrastructure.
Social Responsibility
CenterPoint Energy takes its social responsibility seriously, focusing on positively impacting the communities it serves. The company supports various charitable organizations and initiatives, including disaster relief, education, and workforce development. CenterPoint Energy also prioritizes employee safety, diversity, and inclusion, creating a supportive and inclusive work environment.
Governance
Strong corporate governance is a core value at CenterPoint Energy, ensuring ethical and responsible decision-making. The company has comprehensive policies and procedures to promote transparency, accountability, and compliance with regulatory requirements.
CenterPoint Energy Customer Support
New service applicants, current customers, and others looking for CenterPoint Energy can contact the customer support team Monday through Friday.
CenterPoint Energy offers an online account option for customers with 24-hour self-service features.
Questions about electricity service can be answered by calling 713-207-2222 or 800-332-7143.
CenterPoint Energy offers dedicated customer service numbers for electricity theft at 713-207-7225 or 877-570-5770.
CenterPoint Energy works with a customer's retail energy provider to facilitate account setup or transfers following account setup. For an address with an existing meter, CenterPoint Energy switches over service once it receives a request from a retail energy provider.
CenterPoint Energy requires a permit for the customer's property and a service request for any property not already served by the utility.
CenterPoint Energy power outage
CenterPoint Energy's Electric Outage Center is specifically for customers who experience service disruption.
This center features an outage tracker, a percentage of customers with functioning electrical power, and safety tips.
CenterPoint Energy service area residents living in Houston and surrounding suburbs, such as Alvin, Katy, Sugar Land, Humble, and more, can report a power outage by calling 713-207-2222 or 800-332-7143.
The Electric Outage Center features additional tools for customers who want to prepare for outages. CenterPoint Energy prompts customers to sign up for no-cost outage alerts via email and text. Customers can look at CenterPoint Energy's tweets for tips or instructions on localized outages.
CenterPoint Electricity Providers
Instantly enroll for service with great electricity providers such as TXU Energy, Reliant, Direct Energy, Green Mountain, and more.
Click on the provider of your choice to view rates, learn more, or sign up.
Rates at a Glance
Compare today's lowest electric rates across different household energy consumption patterns.
CenterPoint Energy zip codes
Search low electricity rates by zip code. Click on your zip code below to find competitive rates in your area.
Popular ZIP codes:
75001 75002 75006 75007 75009 75010 75011 75013 75015 75019 75020 75021 75022 75023 75024 75025 75028 75029 75032 75033 75034 75035 75038 75039 75040 75041 75042 75043 75044 75046 75048 75050 75051 75052 75054 75056 75057 75058 75060 75061
Find a low electricity rate with your zip code.
Texas Utility Service Areas
Search low electricity rates by service area and local utility company. Click on your Texas Distribution Utility (TDU) below to compare electricity rates in your service area.
The Future of CenterPoint Energy
Technological Advancements
CenterPoint Energy is embracing technological advancements as the energy industry evolves to improve its services and reduce its environmental impact. The company is investing in smart grid technology to enhance the reliability and efficiency of its electric transmission and distribution networks. Additionally, CenterPoint Energy is exploring new technologies, such as energy storage systems and renewable natural gas, to support its sustainability goals.
Expansion Opportunities
CenterPoint Energy has a history of strategic growth through mergers and acquisitions, and this trend is expected to continue. Investors can anticipate potential growth opportunities in the electric and natural gas sectors as the company seeks to expand its operations and enter new markets.
Conclusion
CenterPoint Energy is a well-established company with a diverse range of services and a solid commitment to sustainability. Its history of steady growth, coupled with its focus on innovation and expansion, makes it an appealing investment option for those seeking exposure to the energy sector. CenterPoint Energy is well-positioned to capitalize on emerging trends and technologies as the industry evolves, ensuring a bright future for the company and its stakeholders.
Centerpoint Energy FAQs
What is CenterPoint Energy?
CenterPoint Energy is a Fortune 500 company providing electric transmission and distribution, natural gas distribution, and competitive energy services to millions of customers across eight states in the United States.
How can I find the best CenterPoint energy electric rates?
Over 60 electricity providers have hundreds of energy plans in the Centerpoint Energy service area.
When shopping for the cheapest rate, consider your home's kilowatt-hour usage. The best way to find the best rate for your Texas home is to compare energy plans according to your usage.
Find the right energy plan for your kWh usage with ComparePower 👉
What is the history of CenterPoint Energy?
CenterPoint Energy was founded in 1866 as Houston Gas Light Company, and after a series of mergers and acquisitions, it became CenterPoint Energy in 2002. The company has since expanded its operations to serve over 7 million customers.
What services does CenterPoint Energy provide?
CenterPoint Energy offers electric transmission and distribution services, natural gas distribution services, and competitive energy services through its subsidiary, Home Service Plus (HSP).
What are CenterPoint Energy's sustainability efforts?
CenterPoint Energy is committed to reducing greenhouse gas emissions by 70% by 2035 and achieving net-zero emissions by 2050. The company invests in renewable energy, energy efficiency, and new technologies to support its sustainability goals.
Support You Can Count On
Questions? Our local experts can help you navigate options and find the best electricity plan. Reach out to us.