Any product or company names, marks, or logos shown on this page are the property of their respective owners. ComparePower is an unaffiliated, independent marketplace. Get unbiased, accurate information backed by our commitment to editorial integrity.
Corpus Christi Electric Rates, Plans, & Providers
Moving to a new home in Corpus Christi, Texas, or having your current electricity contract end can be a challenging experience, especially when selecting the right electricity provider. With a sea of options available, you might be left wondering what a reasonable electricity price is and how to choose the best plan for your home.
What's a good rate per kWh in Corpus Christi?
The lowest fixed-rate electricity plan today starts at 12.30¢/kWh.
That's significantly lower than the average Texas residential electricity rate, which stands at 14.01 ¢/kWh.
Corpus Christi Electricity Rates
35 Corpus Christi Electric Rates
These live rates for AEP TEXAS CENTRAL COMPANY service area were updated on . Pricing shown is based on an exact usage of 1000 kWh.
Instantly compare Corpus Christi electricity companies
Electricity Price Trends in Corpus Christi
Several factors can influence electricity prices in Corpus Christi.
Seasonal fluctuations: Electricity prices typically rise during periods of high demand, such as hot summer months when air conditioning usage increases. Conversely, prices might be lower during mild weather months when demand decreases.
Natural gas prices: Natural gas is a major source of electricity generation in Texas. Fluctuations in the price of natural gas can impact electricity prices.
Renewable energy growth: Texas has invested heavily in renewable energy sources such as wind and solar power. As the share of renewable energy in the state's energy mix grows, it could lead to changes in electricity prices.
Regulatory changes: Changes in state and federal regulations, including those related to emissions and renewable energy standards, can impact electricity prices.
Wholesale market conditions: The deregulated electricity market in Texas means that electricity providers buy and sell power on the wholesale market. Changes in wholesale market conditions, such as supply and demand or unexpected events like power plant outages, can influence electricity prices.
Average Residential Electricity Rate in Corpus Christi
Updated October 2023
The average residential electricity rate in Texas is 14.01 ¢/kWh, 13.70% less than the U.S. average.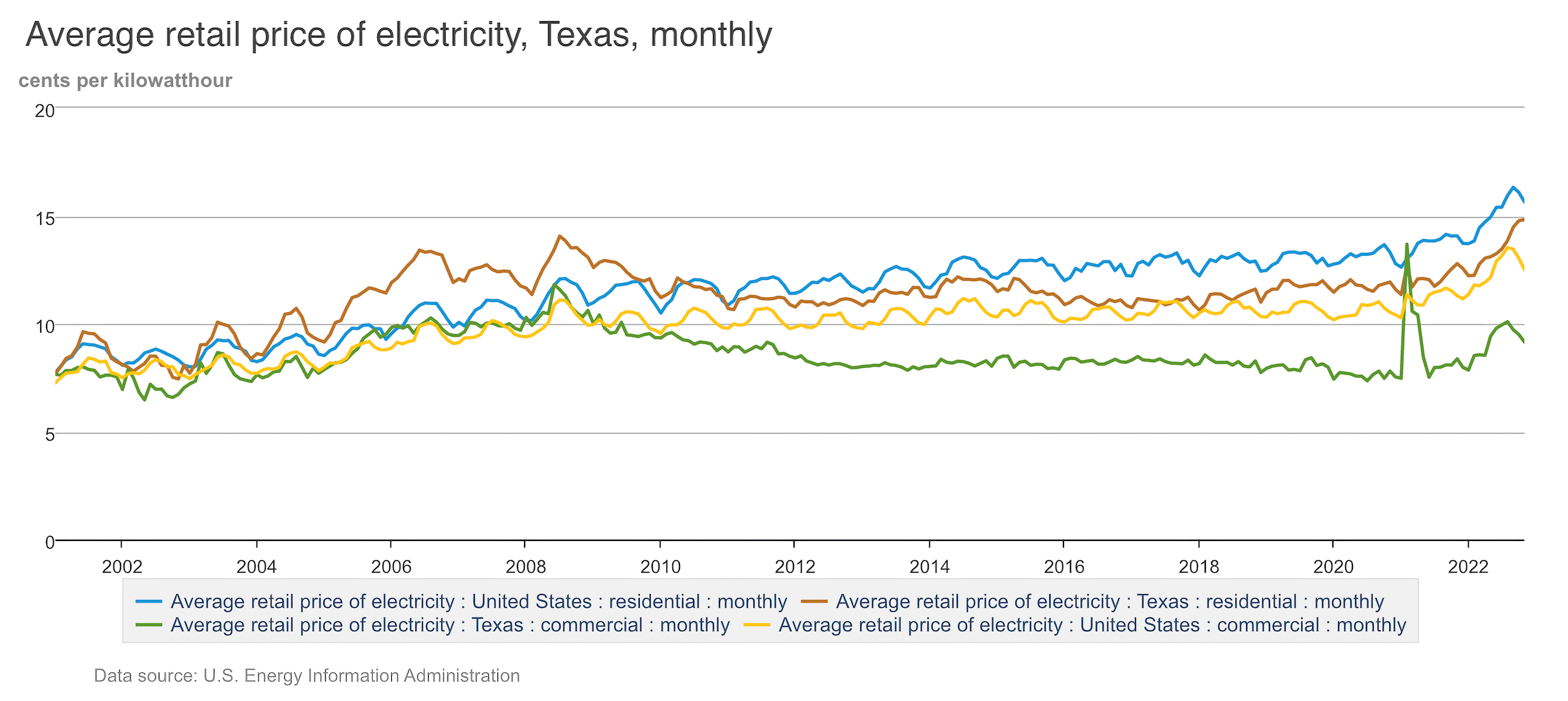 Electricity Choice in Corpus Christi
residents of Texas, including those in Corpus Christi, enjoy the benefits of a deregulated electricity market. This deregulation offers several advantages to consumers:
Increased competition: With multiple electricity providers competing for customers, there is an incentive for companies to offer competitive rates, better customer service, and innovative products and services to attract and retain customers.
Customized energy plans: Deregulation allows for several energy plans, including fixed-rate, variable-rate, green energy, and prepaid options. Consumers can choose a plan that best aligns with their usage patterns, budget, and environmental preferences.
Price stability: Some electricity providers offer fixed-rate plans, which allow consumers to lock in an energy rate for a specified term, protecting fluctuating energy prices.
Energy efficiency incentives: Many electricity providers offer energy-saving tips, rebates, or other incentives to help customers reduce their energy consumption and lower their bills.
Consumer empowerment: Deregulation gives consumers the power to choose their electricity provider, enabling them to make informed decisions based on their needs and priorities.
Overall, deregulation in Texas, including Corpus Christi, allows residents to make informed decisions when selecting an electricity provider. This freedom to choose can lead to cost savings, better customer service, and tailored energy solutions that align with individual needs and preferences.
Got me the cheapest electric. Nice.

Emily (TX, United States)
How to Find the Best Plan & Rate in Corpus Christi
Finding the best energy plan in Corpus Christi involves several steps, with the most important rule being to know your usage. Here's a summary of the process:
Know your usage: Understand your current monthly energy usage, as this will enable you to shop effectively for electricity in Corpus Christi. Electricity plans have different rates based on usage levels, and your actual price per kWh will vary if your usage does not match the assumed usage.
Use ComparePower: This platform helps you shop for energy plans based on your usage. By calculating your monthly bill using your estimated or actual monthly usage, you can find the most suitable plan for your needs.
Compare plans: ComparePower simplifies the comparison process by offering powerful tools to guide you through searching for the best energy plan. This eliminates the need to sift through the details of hundreds of individual energy plans.
Transparency: With ComparePower, you'll have complete visibility of all applicable fees, ensuring that all details are fully clarified and there are no hidden surprises.
Easy signup: Once you've decided on a plan, you can sign up directly through the ComparePower website, streamlining the process and saving time.
Check out this 2-minute video to quickly learn how to shop with your usage ⤵️
Shopping for a New Home
Moving into your first home in Corpus Christi can be an exciting adventure but also a confusing time. Choosing an electricity provider might seem overwhelming, with many terms and conditions to consider. As a newcomer to the world of electricity plans, you might feel uncertain about where to start.
If you have recently moved into a new home or don't have access to your prior twelve-month usage history, estimating your monthly usage can still help you choose the right energy plan.
Here are some tips to help you estimate your usage and use ComparePower effectively:
Evaluate your home's size and energy efficiency: Consider the size of your home, the number of rooms, insulation, windows, and appliances. Larger homes or older, less energy-efficient homes typically consume more electricity.
Assess your lifestyle and habits: Consider your household's energy usage patterns, such as when you are home, how often you use heating and cooling systems, and your usage of appliances and electronics. Also, take into account the number of people living in the household.
Check the average usage for similar homes: Research the average electricity consumption for similar homes in your area. This can provide a ballpark figure to use as a starting point for estimating your usage.
Use ComparePower's estimation tools: ComparePower may offer tools to help you estimate your usage based on your home size, location, and other factors. Utilize these tools to refine your estimated usage further.
Once you have an estimate of your monthly usage, you can use ComparePower to find the best energy plan for your specific needs:
Enter your estimated usage: Input your monthly usage into ComparePower's comparison tool to see the available plans and their rates based on your consumption.
Compare plans and rates: Review the different plans and their rates, taking note of any additional fees, contract lengths, and other features.
Make an informed decision: Choose the plan that best fits your estimated usage, budget, and preferences. Remember, as you gather more accurate usage data over time, you can revisit your plan choice and make necessary adjustments.
By estimating your usage and using ComparePower, you can find an energy plan that aligns better with your needs, even if you don't have access to your prior usage history.
Find the Best Plan for Your Home 👇
Moving to Corpus Christi: Starting Electricity
Are you a new or upcoming resident of Corpus Christi? The city has several top-notch nearby attractions. Just a small sampling would include the following:
Padre Island National Seashore
A short drive from downtown Corpus Christi sits a pristine stretch of wonderful white sand beach. The location is renowned for offering a wide variety of water sports and the enjoyment of wildlife.
Texas State Aquarium
Since opening in 1990, the Texas State Aquarium has had over 12 million visitors. A member of the World Association of Zoos and Aquariums, the Texas State Aquarium features over 300 species of magnificent wildlife.
The USS Lexington Aircraft Carrier
The historical and highly decorated aircraft carrier from World War II is open for tours. The tours offer a vivid presentation of Lexington's history during World War II.
Important: If this is your first time setting up electricity service in Corpus Christi, to get the best rate, you need to get the previous 12 months of energy usage for your new home.
If possible, obtain their electricity usage records for the previous 12-month period from the previous homeowner. This information would be available from reviewing previous billing statements. Acquiring this information will be well worth the effort.
Once you have that historical usage information, ComparePower can calculate an accurate usage projection for your home.
Note: If you cannot obtain historical usage information, a second option would be to estimate your future usage using our "Help Me Choose" tool.
By signing up for a plan through ComparePower, you will receive automated reminders when renewing your existing plan or possibly switching plans.
Switching Electricity Companies in Corpus Christi
Switching electricity companies in Corpus Christi can be an easy and beneficial process. Being proactive in changing plans when your contract is nearing expiration can help you secure the best rates and save money. Here's a summary of how to switch electricity providers:
No need to call your existing company: Your new electricity provider will handle the cancellation of your current service. This means you don't have to make any tedious phone calls.
No in-home visit required: Switching providers does not necessitate any in-home visits.
No disruption in service: All electricity in Corpus Christi is delivered by the AEP Texas Transmission and Distribution Utility. Since the infrastructure remains the same, your power supply will not be disrupted during the switch.
Quick process: The entire process of switching providers takes just a few minutes.
Termination without penalty: Texas law allows you to terminate your existing contract within 14 days of its expiration without incurring any early termination penalty.
Future start date: If you have time left on your existing contract, most companies will let you set a future start date for your new plan up to 60 days in advance.
Assess potential savings: Even if you have a significant amount of time remaining on your current contract, the savings from switching to a better plan could outweigh any penalties required to terminate your existing agreement.
Remember, knowing your usage over the past 12 months gives you valuable information when searching for better rates.
Use this knowledge to find the best electricity rates and make the most informed decision when switching providers in Corpus Christi.
Corpus Christi Energy Companies
Who are some of your Energy company choices in Corpus Christi?
You have some outstanding companies to select from. Reliant, TXU Energy, and Direct Energy are outstanding companies providing service within Corpus Christi.
Click on the company of your choice to view rates, learn more, or sign up.
No-deposit Lights in Corpus Christi
Need to find an energy plan in Corpus Christi that doesn't require a deposit?
If you are charged a deposit on your first plan selection, we'll automatically find other plans available without a deposit.
That saves you a lot of time and hassle. No more surfing the internet and calling energy companies to determine if a deposit is needed.
Learn how to get no-deposit lights in Dallas.
Deposit Waivers
You may be eligible to have the deposit waived if you meet one of the requirements from the Texas Public Utility Commission §25.478 – Credit Requirements and Deposits.
Corpus Christi Business Electricity
s a business owner in Corpus Christi, you can benefit from the city's growing population and thriving business environment. Companies like Christus Spohn Health Systems, HEB, First Data Group, and Kiewit Offshore Services have a significant presence in the area. Moreover, energy deregulation presents a unique opportunity for business owners to reduce energy costs by comparing rates from competing providers.
ComparePower is a platform designed to help businesses find lower energy rates by leveraging their collective buying power. Here's how it works:
ComparePower's focus: The platform's primary goal is to utilize the scale of energy consumption to find better rates for businesses than they could find individually.
Commercial energy brokers: Many energy providers require the assistance of a commercial energy broker to sell directly to businesses. ComparePower acts as a bridge between your business and these energy companies.
Sealed bid process: ComparePower invites various energy companies to compete for your business in a closed bid process. Your business provides the necessary information, and the energy companies submit bids.
Choose the best plan: With the bids in hand, you can evaluate the different plans and choose the one that is best for your business.
Using ComparePower's services simplifies finding the most suitable energy plan for your Corpus Christi business.
By leveraging the power of competition, you can reduce energy costs and focus on growing your business in this thriving community.
Click here to get competing quotes for your business electricity.
Corpus Christi utilities
In Corpus Christi, various utility services are provided by different entities. Here's a brief overview of the utilities in Corpus Christi:
Electricity
For smart meters or to download electricity usage, visit Smart Meter Texas.
To report issues with your electricity service or power outages in Corpus Christi, call or visit AEP Texas: 1-877-373-4858.
Gas
For gas service in Corpus Christi, call The Corpus Christi Gas Department at 361-885-6910.
Garbage/Recycling Pickup
In Corpus Christi, garbage, sewer, and recycling services are included with your water utilities bill from the City of Corpus Christi.
Water
The City of Corpus Christi Utilities Department, a public utility owned by the City of Corpus Christi, TX, provides water services.
Customer Care: 817-275-5931
Hours of operation: Monday – Friday, 8 am – 5 pm
24-Hour Emergency Service 817-459-5900: Call if you suspect a water main break, water leak, sewer overflow, or water contamination.
Other utility service areas in Texas
Several Transmission and Distribution Utilities (TDUs) operate in different regions in Texas.
To compare electricity rates in your service area, find your TDU from the list below and visit their website.
Compare Rates with Your Zip Code 👇
View electricity prices for zip codes in Corpus Christi
Find affordable electricity rates by zip code. Select your zip code below to explore competitive prices in your region.
Popular ZIP codes:
78343 78373 78380 78401 78402 78404 78405 78406 78407 78408
View electricity prices for cities near Corpus Christi
Are you searching for an affordable electricity rate in a different city? Locate your city in the list below and click to enroll in a cost-effective electricity plan.
If your city is not mentioned, utilize the zip code finder to discover a new low rate in your area.
Corpus Christi Electricity Rates FAQs
Who has the cheapest Corpus Christi Electricity Rates?
There are over 60 electricity providers with hundreds of energy plans. When shopping for the cheapest rate, take your home's kilowatt-hour usage into account. The best way to find the best rate for your home is to compare energy plans according to your usage. Find the right energy plan for your kWh usage with ComparePower.
How do I find the best Corpus Christi Electricity Rates?
Picking the wrong energy plan without knowing your home's energy usage can cost you hundreds or thousands of dollars. Compare energy plans and electricity rates with your home's electricity usage profile to find your best rate. Shop with your usage on ComparePower and save both time and money.
Support You Can Count On
Questions? Our local experts can help you navigate options and find the best electricity plan. Reach out to us.