Any product or company names, marks, or logos shown on this page are the property of their respective owners. ComparePower is an unaffiliated, independent marketplace.
Understanding your electricity bill
Every electricity consumer receives a monthly bill that details their energy company's charges.
However, most people check the total amount at the bottom of their bill and accept the charge.
Your last bill may have surprised you and left you wondering what was charged.
This short guide will teach you how to read your electricity bill and understand what you're paying for.
Understanding the charges on your electricity bill will help you compare rates and save money on your next power bill.
Looking for inconsistencies in your electric bill
If your bill is higher than expected, there are a few places to look to find out why.
Average kWh
The first section is the kWh of electricity used during your billing period.
Most providers will show you how much you used compared to last month, and some will show you how much you used last year.
Your high bill is likely due to increased usage caused by seasonal changes in weather.
Heating and cooling use a lot of electricity, so hotter and colder months mean higher bills.
Learn how to avoid high electricity bills.
Energy charge
The rate you pay for electricity does not remain constant throughout your contract but changes based on your usage. The electricity rate you are quoted is for specific usage.
Your plan probably shows you pay between 8 and 10 cents per kWh if you use 1,000 kWh during that billing period.
With some plans, the moment you use 1,001 kWh of electricity, your rate can double, and it can also change if you use less energy.
Plans with bill credits may also affect your electricity bill monthly.
Some providers give you a discount if you use a certain amount of electricity each month.
If you have a bill credit plan and meet the usage threshold one month but not the next, you lose the discount, which can drastically change your energy bill total.
TDU charge
If you have an unbundled bill from your provider, you can see those separate TDU charges and compare them to previous bills to see if the prices have increased.
TDU charges can change, but they are subject to regulatory approval and can only change twice yearly.
Plan
Lastly, look for changes in the name of your plan.
If your plan name changed, your provider might have switched you to another plan.
Your provider may have sent you a renewal notice that seemed like your plan would remain unchanged.
Once your contract expires, providers will generally raise your rate under the guise of a renewal offer. But this is an entirely new contract and rate.
Learn how to compare your provider's renewal offer.
If you let your plan expire, you could also be placed on a "holdover" rate.
Your electricity provider will then change your rate monthly, resulting in significantly higher costs as demand increases.
Again, if you have an unusually high bill, look at how much electricity you used and how much you were charged for it to rule out any mistakes in billing.
What's on your Texas electric bill?
The information on your electricity/energy bill is generally broken down into five main sections: account information, bill summary, a breakdown of your energy consumption, your current charges, and finally, the price of the electricity you used.
Account information
This shows you the key details of your account. Your account number will be displayed, which can help the provider find your information quickly if you run into any issues.
You should also find an ESI ID number, your electronic service identifier connected directly to your meter.
Bill summary
Here, you will find an overview of the current charges you will need to pay. Most providers will break these down into smaller charges that show the energy cost, supply fees, market cost, utility charges, and taxes.
Energy consumption
This section shows your electricity usage throughout the billing cycle. Generally, you will see a comparison of the current month to the last month, shown as kilowatt-hours (kWh) used.
Sample electricity bill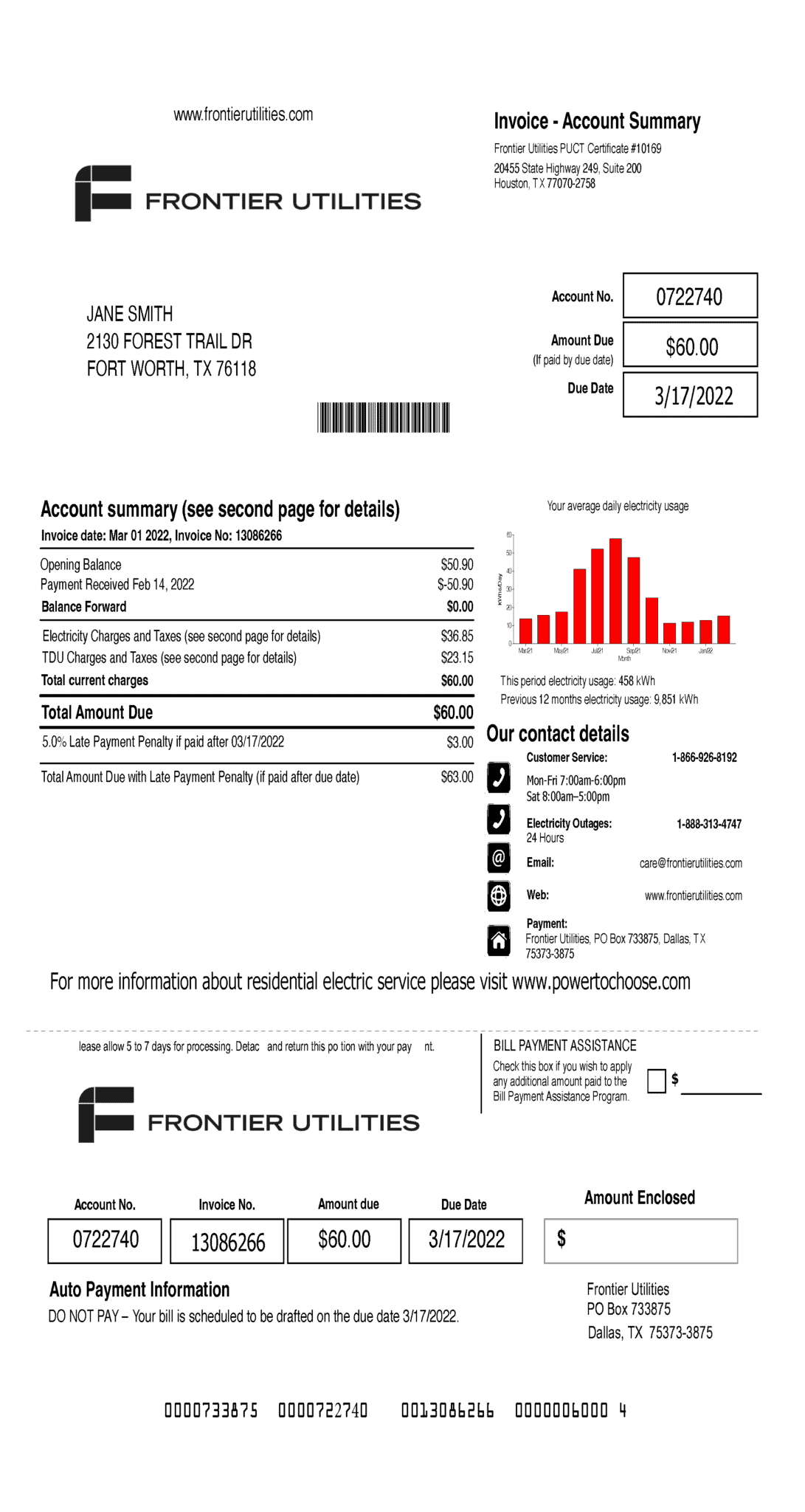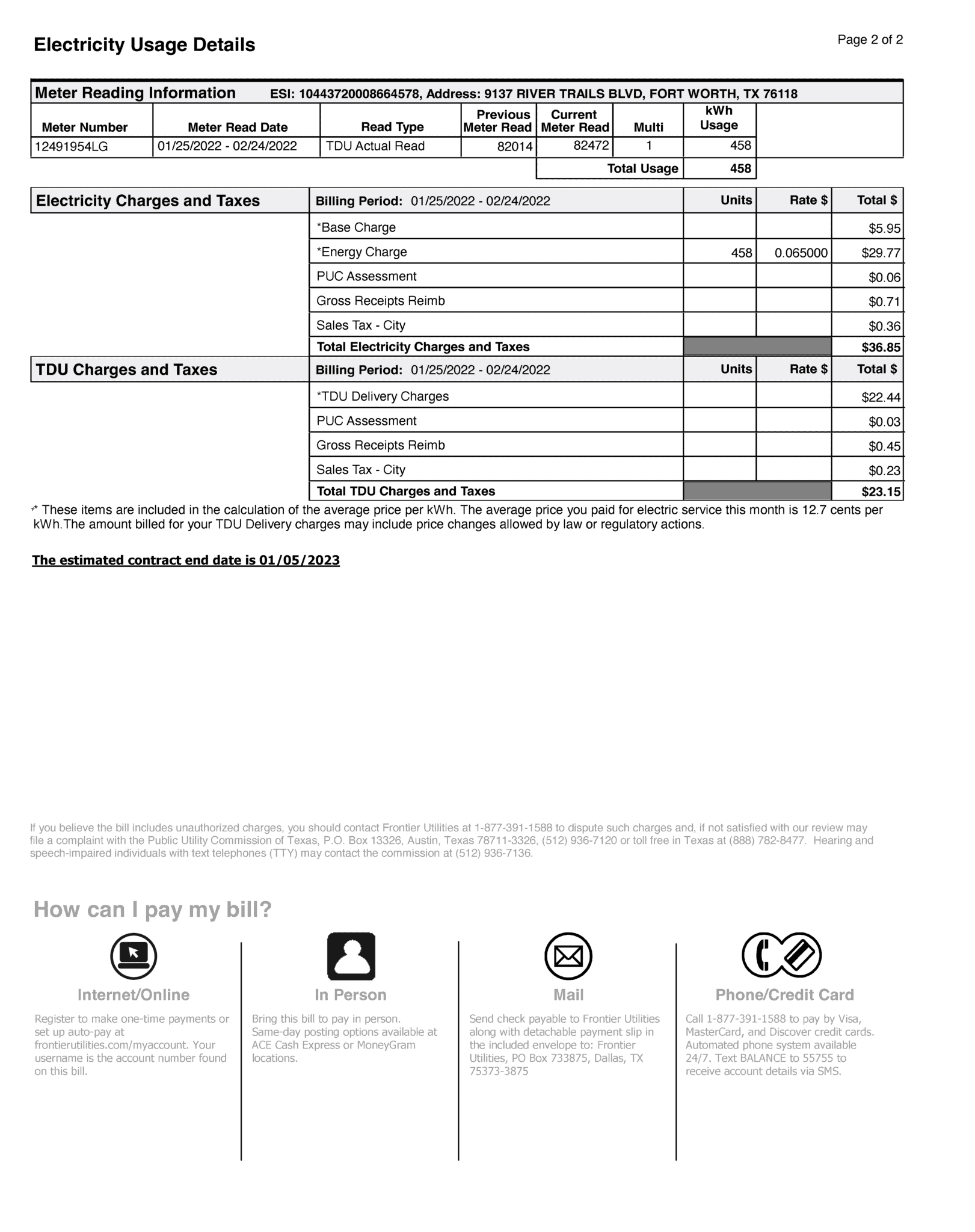 How a kilowatt-hour is calculated
Each month, your energy provider tracks the kilowatt-hours you use and charges you for that usage.
The energy you use fluctuates through different times of the year, which you will see reflected on your bill.
What exactly is a kilowatt-hour?
A kWh is the standard unit of measurement for electricity usage. It is a combination of the speed at which something uses power (wattage) and the time that electricity is consumed.
To calculate the kWh usage you might see on your bill, you can multiply the wattage of any appliance (most appliances have a label that shows you the wattage) by the number of hours you use that appliance during the day.
So let's use some numbers as a concrete example. Take your 1,000-watt microwave and say you got a little carried away and ran it for five hours.
That would put you at 5,000 watts of energy used, divided by 1,000, and just like that, you have used five kWh of electricity.
Now, this is an extreme example of electricity usage, so let's put one kWh into real examples:
What can you power with 1 kWh?
Dishwasher: 100 minutes
Washing machine: 100 minutes
Desktop computer: 5 hours
1500-Watt Space Heater: 40 minutes
200-Watt Oven: 30 minutes
Charges on your electricity bill
Looking at your bill, you should see the electrical charges broken down into delivery and energy charges.
Delivery charges: Delivery charges cover energy transportation to your home from the company that generated it.
Energy charges: Supply charges are the electricity you use and the rate you pay for that electricity.
Here it is good to note the two bills you may see from your provider. All plans will use the same transmission and distribution utility (TDU) charges, but your provider may show these at a bundled or unbundled rate.
Bundled bills will show one combined rate for your electricity usage that lumps the TDUs and your supply costs.
Unbundled bills will show each as separate charges and give you extra information to consider when considering your total payment.
Electricity bill FAQs
What is the average electric bill in Texas?
According to the U.S. Energy Information Administration, Texas had an average retail price of 11.56 c/kWh in 2021. If the average household uses 1,000 kWh per month, at 11.56 cents per kWh, the average electricity bill would be around $115.60
How is electricity billed in Texas?
In Texas, electricity consumers are billed by their electricity providers. Customers are charged for both the electricity used (energy charge) and the electricity (utility charge) delivery.
How do I read my electric bill?
You need to check the total usage and then the breakdown of the costs being charged. We'll show you how to calculate the prices you paid and verify if they're correct.