Any product or company names, marks, or logos shown on this page are the property of their respective owners. ComparePower is an unaffiliated, independent marketplace.
How electricity contract renewals work in Texas
You do not have to renew your energy contract with your electricity provider.
You can choose another provider and switch to a cheaper rate. We'll show you how in this short guide.
If your electricity contract is about to expire, shop the market before renewing your contract.
Rates usually go up at renewal time. Providers offer low introductory rates to attract and acquire new customers.
Once you sign up and establish service many providers count on the fact that you won't bother switching providers at renewal time to raise your rate so it is more profitable for them.
You may be leaving money on the table by accepting your provider's renewal offer without comparing competing plans and rates.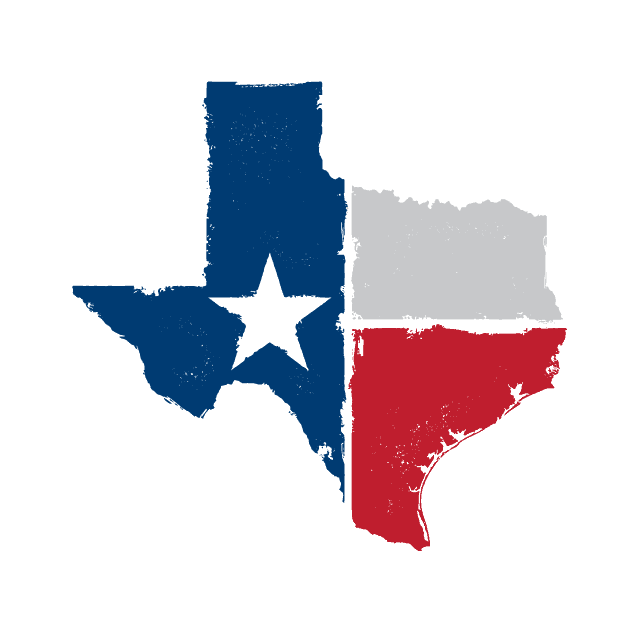 Texas electricity rates at a glance:
The average retail price of electricity is 12.8 cents/kWh
The average energy usage in Texas is 1,132 kWh/month
The average electricity bill in Texas is $144.90
"Easy, simple, best rates, just a click away."
~ Stephen H. (TX, United States)
Last updated: August 2022
You have to renew or switch providers
It's important to understand that you cannot continue with the same contract or price and must either accept the new offer (and a new contract) or switch to a different provider.
While you can turn off the lights and replace all your bulbs and appliances with energy-efficient ones, the fastest way to save money is by finding a lower rate.
We'll show you how to compare your provider's renewal offer to competing energy plans based on your home's annual historical electricity usage profile.
Comparing energy plans with your home's historical usage is the best way to beat the gimmicks and save money on your electricity bill month after month.
Shopping rates for your business? Click here to compare business energy plans and rates from over 30 electricity companies in Texas.
Renewing could end up costing you more
The choice is yours in Texas. You can renew, switch providers, or do nothing at all.
Shopping for electricity in Texas can be confusing. Choosing the right electricity plan can be difficult, especially if you don't know or remember how.
We get it. Nothing is more frustrating than trying to solve a problem you don't understand. It's like playing a game and you don't know the rules.
It's okay if you don't know the rules. We'll help you with that. Our mission is to help all Texans win the game of electricity.
If you're reading this it's likely that you haven't thought about electricity in a year or more, so if you feel confused or frustrated, you're not alone. We're here to help you beat them at their own game.
Before you give up and accept your provider's renewal offer, keep in mind that the offer is not a continuation of service at the same price.
You will not be paying the same rate by renewing with your provider. The renewal offer is a completely new contract with a new rate.
Don't overpay for electricity. Join the millions of Texans who switch and save on their electricity bills year after year with ComparePower.
When your contract is nearing its end, we'll give you all the details and a step-by-step plan to find the best electricity plan and rate for your home.
Let's start by breaking down your provider's renewal offer.
Instantly compare competing Texas electricity companies.
Your provider's renewal offer is rarely your best option
When your contract is coming to an end, your electricity provider will send you a renewal offer with the details of your new contract as well as your new electricity rate.
Texas law requires providers to send you a renewal notice at least 30 days before your contract expires.
However, you are likely to start getting phone calls and renewal offers up to 60 days, sometimes three months before your contract expires.
It is generally not a good idea to renew your contract three or six months in advance.
Early renewal offers rarely have lower rates than what you are paying now.
It is impossible to predict the rate of electricity in the future. Market rates may be lower closer to the expiration of your contract.
Schedule a reminder here instead and we'll remind you when it's time to shop and switch.
You have 14 days before the end of your contract to switch providers without penalty in Texas.
The two-week window is a good time to look for deals and compare rates.
Electricity companies are not on your side. Like any company, electric retailers operate on profit.
If you pay more for electricity, they will take it. Therefore, pay attention to the details of your renewal offer when your contract is about to expire.
If you don't shop around, you are stuck with a handful of energy plans offered by one company whose job is to take as much money from you as possible rather than provide you with the lowest rate.
There is no guarantee of savings. When you renew your energy contract, you do not keep the same rate. It is not an extension of your contract.
Even if your provider offers you the same rate on your renewal, competitive market rates might be even lower. You won't know unless you take some time to shop and compare plans with your home's usage history.
How do you compare your renewal offer? 
Generally speaking, there is no easy way to compare your provider's renewal offer with market prices.
Renewal offers and all electricity plans in Texas are required to advertise prices for three usage levels: 500, 1000, and 2000 kWh.
The price for usage outside of those three reference points is unknown to you. You won't pay the advertised rate unless you consume exactly 500, 1000, or 2000 kWh per month.
When you shop for a plan based on the advertised prices for 500, 1000, or 2000 kWh, you may choose a plan that is not ideal for your home's complete annual energy usage pattern.
Seasonal weather influences how much energy you use each month. During the winter and summer months, you will use more kWh because the temperature outside requires more heating or cooling.
Due to the seasonal differences in kWh usage, it is impossible to compare plans based on the three advertised usage points alone.
A great way to overpay on electricity is to shop at the advertised price; this strategy has been used by Texas electricity companies since the state deregulated its energy market.
Find out what you'll really pay, not what is advertised.
You only pay the advertised price if you use exactly the same amount of electricity as advertised.
Electricity is the same. No matter where you buy it from, it's the same energy. So why pay more for it when you can get it for less?
Avoid overpaying. There is no need to give more of your hard-earned money to the electric company when you can beat them at their own game.
Follow this guide and you'll be saving money on your electricity bill year after year.
Switch to savings with your zip code.
How to compare your provider's renewal offer
First, find your historical usage history. You can access your historical usage by logging into your provider's account dashboard.
Each provider has a different dashboard, but they all provide a way to look at and download your usage online.
Ideally, you should get at least 12 months of usage or as many months as you have usage for.
Use the historical usage calculator below to enter your historical usage for each month.
After entering your usage, click on Compare Rates, then enter your zip code.
Your home's specific usage profile should be entered now so that the next screen looks like the one below (except with your home's specific annual usage profile).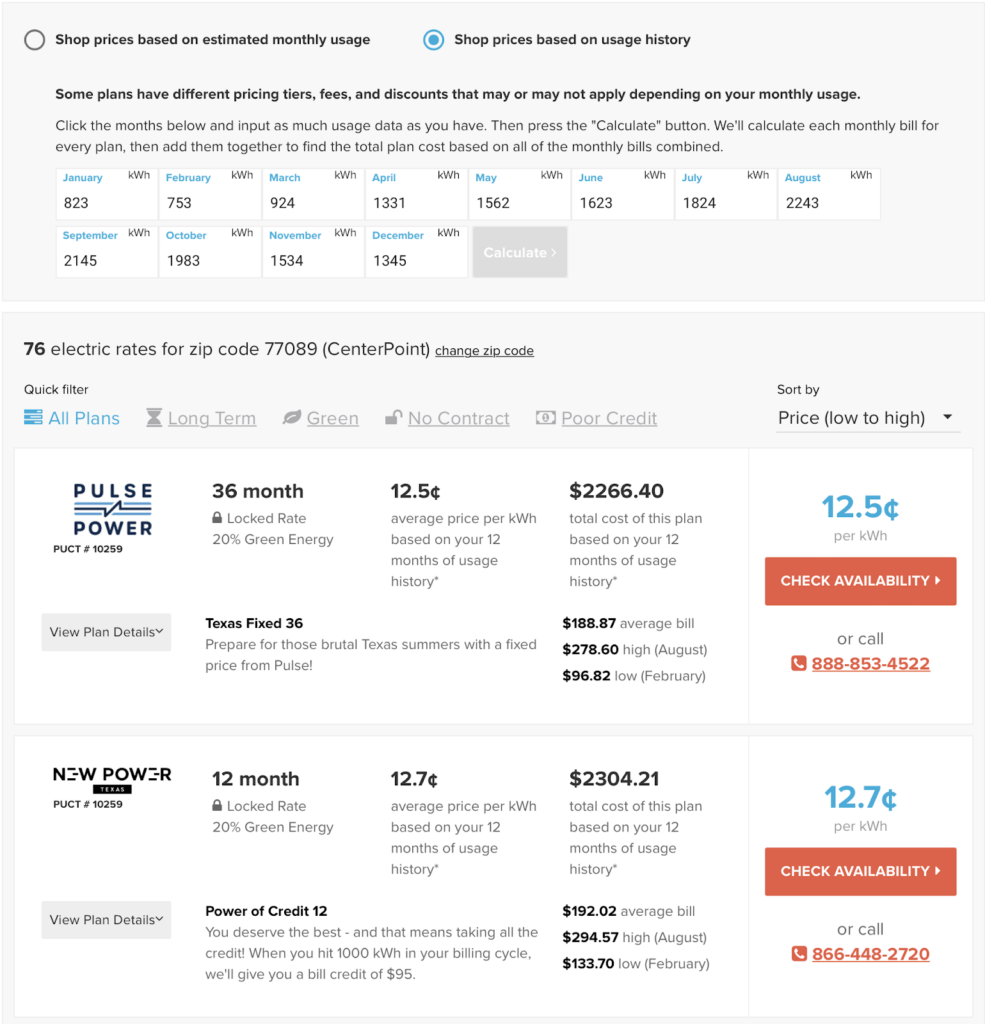 Now you can review the total annual cost of the plans on the ComparePower marketplace based on 12 months of your home's historical usage profile.
This is how much you will pay for your electricity for an entire year of usage were you to choose any of the plans on ComparePower.
To find out if you are getting a better deal you will need to look up your electricity billing statements and add up the amounts for the past 12 months.
You should switch if the total annual cost you paid your provider exceeds the lowest cost plan on ComparePower.
Click "Check Availability" and you'll be on your way to a cheaper energy plan within five minutes, confident you're getting a great deal.
We'll even remind you when your contract is about to expire so you can come back and save year after year.
Compare the best energy plans in Texas.
The easiest way to save is to switch
The cheapest prices are only available to new customers. When you enrolled with your current provider, you may have been lured by a low introductory rate that is only available to new customers.
When you are nearing the end of your current contract, switching electricity providers to a plan with a lower rate is your best bet for saving money on your next power bill.
Do your homework. Texas electricity rates can change frequently, so do your research before enrolling in a plan.
Compare energy plans and prices. If you're looking for the lowest electric rates to save money, take your time to review and compare prices from competing providers.
For maximum savings, shop with your home's usage history and our historical usage calculator.
Comparing energy plans in Texas based on your usage history is the best way to save money.
Do not let your contract lapse. Inaction is by far the most costly. As soon as your contract expires, you're put on a holdover rate, one that fluctuates based on market conditions, causing unexpectedly high electricity bills.
By letting your contract expire without taking action, you may end up overpaying for electricity. Schedule a reminder and we'll notify you when it's time to switch and save.
If your electricity contract expires, your power will not go out. You will continue to receive power from your current provider, but at a high rate called a holdover rate.
Holdover rates are variable market rates and are expensive and unpredictable. The majority of Texas consumers choose a fixed-rate plan.
You are entering into a legal contract. Remember that a contract, whether you opt to renew or switch, is a legal contract between you and your energy retailer.
You can change your mind. You can cancel an electricity contract with no penalty within 3 days in Texas by contacting the provider directly.
Cancellations are possible at any time, but there may be an early termination fee if you switch providers before your term is due. Be sure to read your contract and understand the cancellation rules.
Still confused about why this is so important?
Other considerations:
In addition to the price, consider features that may be important to you when comparing different electricity plans. Here are some additional considerations when you are shopping for a new energy plan.
Contract Term: Most electricity contracts are 6-12-24 months. The length of your lease does not have to match the length of your electricity contract. Because energy contracts in Texas can be canceled when moving, you can pick the term length that offers the best price.
Rate type: Most Texas consumers prefer a predictable, fixed-rate electricity plan over a variable rate.
Features: Some plans include features like 100% Green, Free Nights & Weekends, or a free Nest Thermostat.
Price: The best electricity plan or rate is often determined by the price per kWh and your home's kWh usage. Learn how to switch energy providers in Texas.
Deposits: Whether a deposit is required is determined by your credit score and utility payment history. There might not be a deposit required from some ComparePower providers, so simply pick a plan and enroll for service. 
If a deposit is required, we check our marketplace to see if other providers won't require one from you. You can easily see the deposit requirements for all providers with just one order. You can save a lot of time and frustration finding a no-deposit plan on ComparePower. Want to avoid deposits and credit checks altogether? Go Prepaid here.
Learn how to get no-deposit lights in Texas.
To recap, switching is easy—10 minutes of your time can save you hundreds of dollars a year on your electric bill. You do not even have to call and cancel service with your existing provider. Switch on ComparePower and we'll handle it all for you.
Ready to save time and money on your electricity bill?
Frequently Asked Questions
Who has the best energy rates in Texas?
Texas has no single electricity provider known for the most competitive rates. In Texas, the price of your energy depends on the amount of energy that you use each month. To find a low rate and avoid gimmicks, shop electricity plans with your home's annual usage profile. Enter your home's historical usage on ComparePower.com and you'll be on your way to savings in minutes.
What is the best month to renew electricity?
In general, the cheapest times of the year for electricity are during the spring and fall months when there is less demand for electricity. Do not let your contract expire before switching providers. Doing so can be costly. ComparePower.com can help you find the best rate with your home's annual usage profile. It is the best way to shop for electricity in Texas if saving time and money are important.
What is a good rate for electricity in Texas?
Texans paid an average of 12.56 cents per kilowatt-hour in 2021. You can find rates on ComparePower that are much less than the Texas average when you shop with your home's historical usage profile. The best way to shop energy plans and save money is by using your historical usage profile on ComparePower.com
When can you switch electricity providers in Texas without penalty?
In Texas, you have 14 days before your contract expiration date to shop the market and switch to a new provider without penalty.
Will my new energy provider cancel my old contract?
Yes, make sure you're within your 14-day grace period to avoid any early termination penalties, then simply enroll for electricity service with a new provider on ComparePower.com and we'll handle the break-up call for you.