Any product or company names, marks, or logos shown on this page are the property of their respective owners. ComparePower is an unaffiliated, independent marketplace. Get unbiased, accurate information backed by our commitment to editorial integrity.
ComparePower fixes the EFL
Do you feel befuddled trying to understand the differences between energy plans in Texas?
We did, too. That's the reason we fixed the EFL.
Like nutrition labels on foods, electricity fact labels provide price information and contract terms.
There is just one big problem. The EFL only indicates the price you will pay for three precise usage values of 500, 1000, and 2000 kilowatt-hours (kWh).
If you'd like to know the price of electricity outside of those three usage points, you're on your own.
Who uses precisely 500, 1000, or 2000 kWh each month? Looking back at my past bills, the monthly usage varies drastically each season.
Many energy consumers in the state choose energy plans that seem like good deals based on the price advertised for three usage points that don't even apply to them.
There has never been a single month when I've used precisely 500, 1000, or 2000 kWh on my electric bill. And I bet you haven't, either.
Take a look at your electricity bill to see for yourself. While statistically possible, I would bet that most of our readers on this site have never used precisely 500, 1000, or 2000 kWh on the dot every month.
So then, how can you determine the actual cost of electricity if you do not use precisely 500, 1000, or 2000 kWh?
Shop smarter
Use ComparePower. Avoid hours of deciphering the EFL altogether. Our users can enter any usage value and see the prices for that exact usage on any of the plans in our marketplace.
You'll have to decipher what you'll pay for your home's specific usage when shopping directly on a single provider's website. Guessing at the right energy plan and hoping things work out.
Not here. Get a complete pricing profile for any electricity plan in our marketplace and for any usage value you choose.
No more guessing which plan is right based on three randomly chosen usage points. Know what you are buying before you buy it.
That is how ComparePower fixes the EFL.
Compare energy plans according to your home's specific usage, not three arbitrary points Texas electricity companies advertise.
Learn how to shop with your home's usage history for real savings on your electric bill month after month.
Why is this so important? Check out this short 2-minute video to learn how ComparePower lets you find the best plan for you.
Find the real price you'll pay for electricity.
What is an Electricity Facts Label?
The Electricity Facts Label (EFL) is a legal disclosure mandated by the Public Utility Commission of Texas (PUCT) that must be included with all energy plans.
The specifics of each plan will vary, but by reading an EFL, you can assess what you are getting from your energy provider.
To avoid surprises, the EFL intends to make the charges on your statement completely transparent so you are never in the dark.
The Electricity Facts Label allows you to compare facts consistently and select a Retail Electric Provider based on your priorities.
Why should I use an EFL?
Every plan and supplier has a unique pricing structure, which can significantly alter your spending on power each month.
At the same time, EFLs protect you as a consumer from being surprised with a hefty charge at the end of the month.
The contract details for all plans are provided in the EFL to ensure transparency between you and the energy provider so you know what kind of plan you're getting.
They also break down the various charges that can affect your monthly spending.
If you're interested in renewable energy, EFLs can help you select plans that range from 5% renewable content to 100% renewable supplied energy while staying within your budget.
What exactly is an EFL?
An EFL is usually divided into three sections that outline the pricing structure for the plan, any disclosures made by the provider, and the provider's contact information.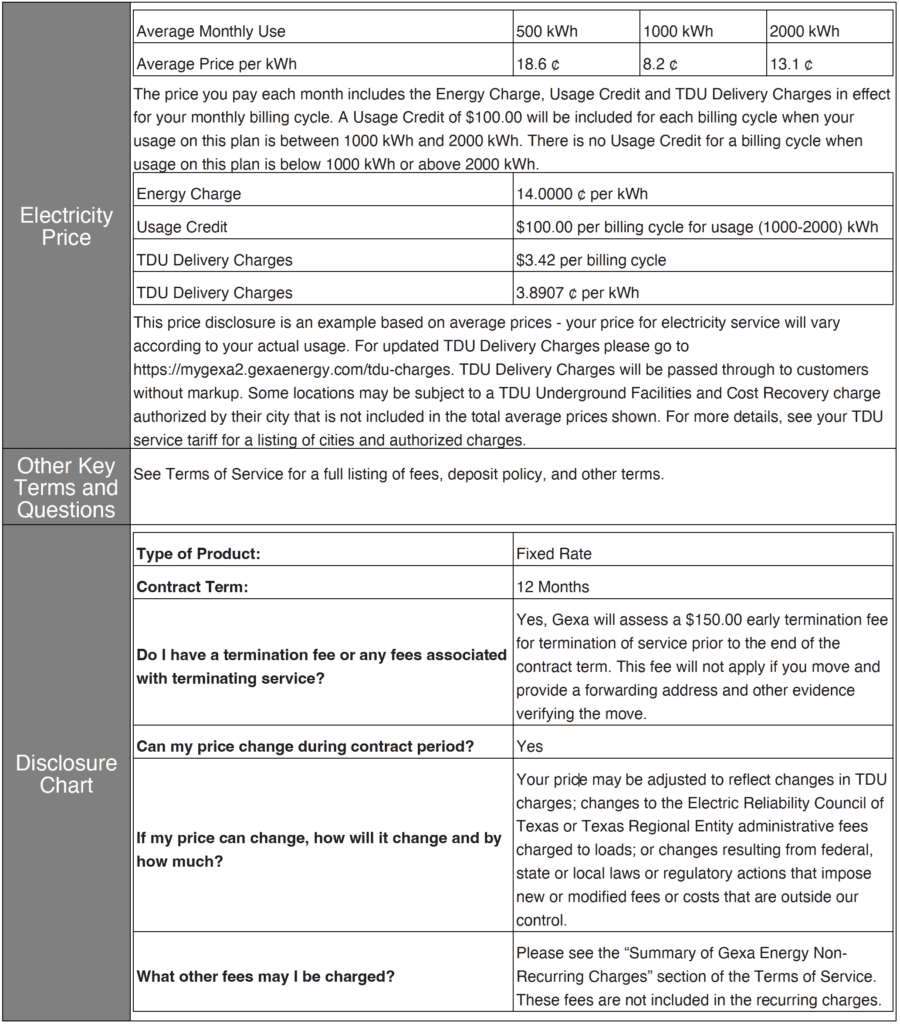 Average price per kWh: The first thing you'll notice on an EFL is a chart showing the average price of electricity depending on the average monthly usage in kWh.
It displays the average price per kWh charged if you use 500, 1000, or 2000 kWh per month.
Remember that this is only an example of what your payments may look like if you utilized those EXACT amounts of energy.
The actual expenses for each plan will vary depending on your monthly use.
Base charge: The base charge is a cost that some companies will charge in addition to your monthly consumption. The energy provider will generally add a certain amount to your bill each month.
Most plans have a base charge of five to ten dollars, but you should be wary of plans with higher base charges.
Energy charge: The energy charge is the rate at which your energy provider bills you for your electricity usage.
It does not account for your usage levels and is essentially the baseline for what you would be charged for each kWh of electricity you use.
Bill and usage credits: Bill or usage credits are also included in the pricing part of EFLs. This tells you that an energy provider will reduce your payment by a particular amount if you use a certain number of kWh each month.
This can be an excellent deal for certain people, but keep in mind that if you don't meet the usage criteria laid out in the EFL, you may be charged a much higher fee, which can lead to high bills.
Learn how to avoid high electricity bills in Texas.
TDU delivery charges: The last price section you should look at is the Transmission and Distribution Utility (TDU) charges.
These will provide you with a fixed fee that will be applied to your monthly statement and an additional cost per kWh of electricity used. TDU pricing in Texas is regulated and can only be altered twice a year.
Product disclosure: The disclosure part informs you of the type of energy plan you are enrolling in.
A fixed-rate plan maintains the same rate for your energy usage throughout the contract.
A variable-rate plan, on the other hand, means that your supplier can adjust your pricing each month.
Contract term: Most suppliers offer plans for 12, 24, and 36 months, but you can find shorter durations if you look hard enough.
If you're new to comparing Texas power and moving into a rental or an apartment, you might ask if you need to match your electricity contract with your lease.
You don't have to match them together, and you can choose the electricity plan that's suitable for you regardless of the contract duration.
Remember that Texas law prohibits providers from charging you a termination fee if you move before the end of your contract and are not required to transfer your service.
Termination fee: If you want to cancel your service before the end of your contract period, you may be charged a termination fee.
They may appear to be large, intimidating sums, but in some situations, paying the termination charge and switching to another provider might save you money over a year.
Price Changes: The price changes part of the disclosure is important to pay attention to.
This indicates whether or not your provider can adjust the monthly fee you pay.
These adjustments typically reflect changes in TDU rates or administrative costs levied by the Electric Reliability Council of Texas (ERCOT).
These variations in your rates are documented so that providers can compensate for changes in their costs that are beyond their control.
Pre-payment or advance payment: You'll also see a section indicating whether or not your plan allows for prepayment or making payments in advance. Plans that allow you to prepay are few and far between, so look for one if you wish to make advance payments.
Renewable content disclosure: The final piece of the disclosure you'll see tells you how much, if any, of your energy originates from renewable sources. You'll also see an estimate of the statewide average, roughly 25%, and how the plan you're considering compares.
Getting in touch: The final portion of an EFL contains all of the contact information for the service provider who is in charge of that plan. You can contact them by email or phone during office hours if you encounter any problems or have specific inquiries.
How to understand an EFL
Now that we've gone over the various areas of information on an EFL, you're probably wondering where you should start looking and what factors to consider when comparing different electricity plans.
The simplest way to approach an EFL is to start with the pricing structure.
This will give you a decent indication of whether you're looking at a simple plan, one with a lowering pricing structure as your consumption increases, or one with a more intricate structure that you'll want to investigate further.
Knowing how much power you use each month, you should be able to quickly determine how different plans compare to what you are currently spending, or you may estimate your usage if you are moving into a new home or apartment.
Once you've determined whether a plan's pricing structure is within your budget, read the disclosures to see if the contract duration matches your desired contract length.
Remember that you are NOT required to match your contract term with your lease period.
If renewable energy is important to you, after you've reviewed the pricing, scroll down to the bottom of the disclosures to learn how much renewable energy that plan consumes.
The average in Texas is roughly 25% renewable content, so you might be able to locate a plan at a lower cost that still contains some renewable energy.
Before you make a decision, the energy plans in our marketplace always list the EFL, so you know precisely what you're getting.
Ready to find your best energy plan and rate?.
Frequently Asked Questions
What is an Electricity Facts Label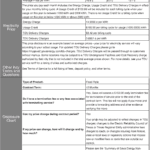 The Electricity Facts Label (EFL) is a legal disclosure mandated by the Public Utility Commission of Texas (PUCT) that must be included with all energy plans. Amongst other factors, the EFL displays the average price per kWh charged if you use 500, 1,000, or 2,000 kWh per month.
Where can I find the Electricity Facts Label?
The Electricity Facts Label comes with every energy plan in Texas. On ComparePower, you can view the plan details for any plan you choose in our marketplace. Your energy provider can also send you a copy of your current EFL upon request.
What is the cost of electricity outside of the advertised 500, 1000, or 2000 kWh in Texas?
The Electricity Facts Label only discloses your price for 500, 1000, or 2000 kWh. To get the price for any other usage value, visit ComparePower.com – We fix the EFL in Texas by allowing you to shop energy plans for any usage or with your home's specific annual usage profile. Fully transparent electricity shopping is available.