Any product or company names, marks, or logos shown on this page are the property of their respective owners. ComparePower is an unaffiliated, independent marketplace. Get unbiased, accurate information backed by our commitment to editorial integrity.
Ever found yourself scratching your head while looking at your Electricity Facts Label (EFL)?
You're not alone. But fear not, we're here to help.
By the end of this article, you'll be an EFL expert, ready to make the most informed energy choices for your home or business.
TL;DR: The EFL is a document that breaks down the details of your electricity plan. It includes the energy rate, average rate, base charge, delivery charges, contract length, type of plan, early termination fee, and renewable energy percentage.
The EFL: Your Roadmap to Understanding Electricity Plans
The EFL is more than just a piece of paper. It's a roadmap to understanding your electricity plan.
It's like the nutrition facts on your favorite snack but for your energy consumption. It tells you what you're getting, how much it costs, and the terms of your agreement.
Digging Into the Details of EFLs
An EFL is usually divided into three sections that outline the pricing structure for the plan, any disclosures made by the provider, and the provider's contact information.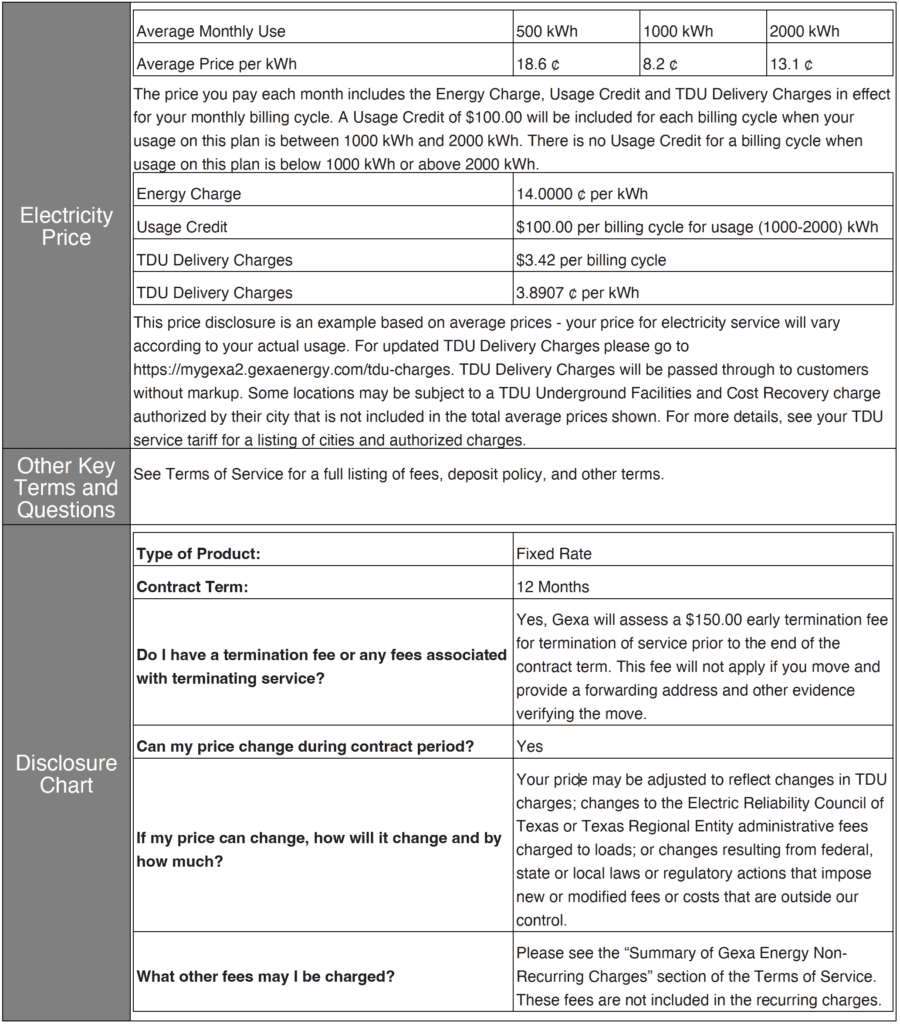 Average price per kWh: The first thing you'll notice on an EFL is a chart showing the average price of electricity depending on the average monthly usage in kilowatt-hours (kWh). 
It displays the average price per kWh charged if you use 500, 1000, or 2000 kWh per month.
Remember that this is only an example of what your payments may look like if you utilized those EXACT amounts of energy.
Base charge: The base charge is a cost that some companies will charge in addition to your monthly consumption.
Most plans have a base charge of five to ten dollars, but you should be wary of plans with higher base charges.
Energy charge: The energy charge is the rate at which your energy provider bills you for your electricity usage.
It does not account for your usage levels and is the baseline for what you would be charged for each kWh of electricity you use.
Bill and usage credits: Bill or usage credits are also included in the pricing part of EFLs.
These look like a discount on your bill when you use a certain amount of electricity.
TDU delivery charges: The last price section you should look at is the Transmission and Distribution Utility (TDU) charges.
These tell you any additional charges your utility company will add to your bill. TDU pricing in Texas is regulated and can only be altered twice a year.
Product disclosure: The disclosure part informs you of the type of energy plan you are enrolling in.
A fixed-rate plan maintains the same rate for your energy usage throughout the contract.
A variable-rate plan means that your supplier can adjust your pricing each month.
Contract term: The contract term tells you how long your electricity contract will last.
If you're new to comparing Texas power and moving into a rental or an apartment, you don't have to match your electricity contract with your lease.
Termination fee: If you want to cancel your service before the end of your contract period, you may be charged a termination fee.
Some companies will charge a flat fee, while others will charge based on the time left in your contract.
Price Changes: This indicates whether or not your provider can adjust the monthly fee you pay. 
These adjustments typically reflect changes in TDU rates or administrative costs levied by the Electric Reliability Council of Texas (ERCOT).
Pre-payment or advance payment: This tells you if your plan allows for prepayment or payment in advance.
Renewable content disclosure: The final section tells you if renewable sources generate your electricity.
Getting in touch: The final portion of an EFL contains all the contact information for the service provider in charge of that plan.
The ComparePower Advantage
At ComparePower, we take the guesswork out of comparing electricity plans.
Our user-friendly platform allows you to filter and sort plans based on your specific needs.
Whether you're looking for a plan with no base charge, a plan with 100% renewable energy, or a plan with a specific contract length, we've got you covered.
The Bottom Line
Understanding your EFL is the first step to making informed energy choices.
With ComparePower, you have a trusted partner to guide you through the process.
So why wait? Start comparing electricity plans today and take control of your energy costs.
Ready to find your best energy plan and rate?
EFL FAQs
What is an Electricity Facts Label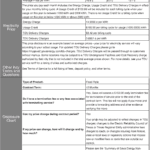 The Electricity Facts Label (EFL) is a legal disclosure mandated by the Public Utility Commission of Texas (PUCT) that must be included with all energy plans. Amongst other factors, the EFL displays the average price per kWh charged if you use 500, 1,000, or 2,000 kWh per month.
Where can I find the Electricity Facts Label?
The Electricity Facts Label comes with every energy plan in Texas. On ComparePower, you can view the plan details for any plan you choose in our marketplace. Your energy provider can also send you a copy of your current EFL upon request.
What is the cost of electricity outside of the advertised 500, 1000, or 2000 kWh in Texas?
The Electricity Facts Label only discloses your price for 500, 1000, or 2000 kWh. To get the price for any other usage value, visit ComparePower.com – We fix the EFL in Texas by allowing you to shop energy plans for any usage or with your home's specific annual usage profile. Fully transparent electricity shopping is available.
Support You Can Count On
Questions? Our local experts can help you navigate options and find the best electricity plan. Reach out to us.