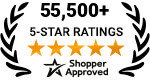 Any product or company names, marks, or logos shown on this page are the property of their respective owners. ComparePower is an unaffiliated, independent marketplace. Get unbiased, accurate information backed by our commitment to editorial integrity.
How to Switch Electric Companies
Are you stuck with high electricity bills, at the end of your electricity contract, or considering a renewal offer? Many Texans face these challenges every day, but there's good news.
TLDR: Thanks to the deregulation of the Texas energy market, you have the power to switch your electricity company today. This comprehensive guide will walk you through the process step-by-step, so you'll be ready to make the switch and potentially save on your energy bills.
Table of Contents
Understanding Deregulation
Deregulation in Texas has empowered consumers to choose their electricity provider, fostering competition and innovation. It allows you to switch anytime and explore new plans, rates, and providers. Here's how you can make the most of it:
Step-by-Step Guide to Switching
Total Time: 10 minutes
Enter Your Zip Code

Begin by entering your zip code on our website to provide accurate and relevant options specific to your location.

Gather Your Historical Electricity Usage

Understand your historical electricity usage by checking your bills or Smart Meter Texas. Knowing your usage will help you choose a plan that fits your needs.

Compare Electric Plans

Use ComparePower to compare plans in your area, including fixed-rate, variable-rate, indexed, renewable energy, and prepaid plans.

Choose a New Plan

Consider your electricity usage, budget, and any other specific needs you have. Then, choose a plan that fits those needs.

Make the Switch

Switch online in as little as five minutes. The new company will handle the transition, and there will be no interruption in service.
Supply:
Your Address
Drivers License
Social Security Number
Tools:
A desktop, laptop, tablet or mobile phone with internet access.
Materials: ComparePower is all you need to switch electricity providers in Texas.
This 2-minute video explains what you need to know to switch with confidence ⤵️
Shopping Considerations
Once you're familiar with the steps, let's dive into some shopping considerations to help you make an informed decision:
Understand Your Usage: Know your usage pattern to choose the right plan.
Compare Rates: Rates vary significantly between providers. Compare to find the best deal.
Plan Types Explained: Understand the differences between fixed-rate, variable-rate, indexed, and renewable energy plans.
Contract Length: Be comfortable with the contract length, usually 12, 24, or 36 months.
Avoid Early Termination Fees: Check for any early termination fees if you switch before your contract ends.
Additional Fees and Hidden Costs: Read the fine print for any extra fees.
Rewards or Incentives: Consider benefits like bill credits or free nights and weekends.
Renewable Energy Options
Texas offers renewable energy plans for those interested in supporting clean energy. Explore options that align with your environmental values.
Avoiding Pitfalls
Hidden Fees: Watch out for hidden fees and tiered-rate structures.
Understanding ETFs: Know the conditions for early termination fees.
Utilizing Online Marketplaces: Platforms like ComparePower simplify the process.
Next up: Save with Usage-Based Shopping
Learn how shopping with your kWh usage can help you save money on your energy bill in Texas.
Learn how shopping with your kWh usage in Texas can help consumers save money and how ComparePower's tools make it easy to find the best plan based on your specific usage.
Switch Electric Companies with ComparePower
Ready to make the switch? ComparePower is here to help. With our comparison tool, you can find the best electricity provider for your needs. Don't wait. Start saving on your energy bills today.
Switch electric companies today.
Common Questions About Switching
Switching electric companies in Texas? You likely have questions. From understanding contract terms to exploring renewable options, we've gathered the most common inquiries to guide you through the process. Here's everything you need to know to make an informed switch.
Is it safe to switch electricity companies?
You might wonder, is switching electric companies safe? The answer is yes. The Public Utility Commission of Texas regulates the process, ensuring your rights are protected. Plus, there's no interruption in service when you switch.
What happens if I don't switch electricity providers?
If you don't switch at the end of your contract, your current company will transfer you to a holdover rate. Holdover rates are variable and change each month. They are usually expensive, and you could face a high bill before you know it.
How long does it take to switch electric companies?
The switch usually takes a few days to a week, depending on the provider. There's no interruption in service during the transition.
Will I need new equipment or wiring when I switch?
No, switching providers doesn't require any changes to your home's wiring or equipment. The transition is handled electronically.
Can I switch back to my old provider if I'm not satisfied?
Yes, you have 3 days to switch back without penalty. Beyond that timeframe, you have to be mindful of contract terms, early termination fees, or waiting periods that may apply.
How can I avoid early termination fees when switching?
You can avoid early termination fees by switching within 14 days of your contract's end date or by choosing a plan without such fees.
Do I need to notify my current provider when I switch?
No, your new provider will handle the transition, including notifying your current provider.
What if I'm moving to a new address in Texas?
If you're moving, you can choose a new provider for your new address.
How do I know if a plan's rate is a good deal?
Compare the plan's rate with your historical usage, consider additional fees, and compare it to other available plans using tools like ComparePower.
Can I switch providers if I have a prepaid or month-to-month plan?
Yes, prepaid and month-to-month plans typically allow you to switch providers at any time without penalties.
What happens if I switch providers and then my rates increase?
If you have a fixed-rate plan, your rate won't change during the contract term. If you have a variable-rate plan, rates may fluctuate. Understanding the plan's terms can help you anticipate potential changes.
Support You Can Count On
Questions? Our local experts can help you navigate options and find the best electricity plan. Reach out to us.