Any product or company names, marks, or logos shown on this page are the property of their respective owners. ComparePower is an unaffiliated, independent marketplace. Get unbiased, accurate information backed by our commitment to editorial integrity.
Dallas Electricity Rates, Plans & Providers
If you're moving to Dallas or your current electric plan is ending, it's time to find a new provider and rate.
With a competitive market in Dallas, you stand to save hundreds per year by securing the right rate for your home.
What's a good rate per kWh in Dallas?
Currently, the lowest fixed-rate electricity plan starts at 12.30¢/kWh, a far cry from the average Dallas residential rate of 14.01 ¢/kWh.
Shopping around and comparing rates is key to saving. This guide breaks down everything you need to know.
How to Find Your Best Electric Rates in Dallas
Searching for the lowest electric rates? Your monthly kWh usage is the key to unlocking big savings.
With your usage history in hand, you can find plans tailored to your energy needs and lifestyle.
Here's how to shop for your best rate in Dallas:
Get your usage history. Check previous bills or log in to your electric provider's account. If you are moving to a new home you can estimate your kWh usage instead.
Next, enter your zip code to view plans and rates in your service area.
Enter your kWh usage to customize your results for your home and energy habits.
Here is a short 2-minute video that explains how to use your usage to find the best rates ⤵️
ComparePower made the information needed to make a decision on my electricity provider readily available and easy to understand. It is an easy and effective service that made me feel confident in my selection.

— John Harvey
Compare Dallas Electricity Rates
Compare the best energy plans from multiple providers to find the cheapest electricity rates in Dallas.
64 Dallas Electric Rates
These live rates for ONCOR ELECTRIC DELIVERY COMPANY service area were updated on . Pricing shown is based on an exact usage of 1000 kWh.
Average Electricity Rates in Dallas
The average residential electricity rate in Texas is 14.01 ¢/kWh, 13.70% less than the U.S. average.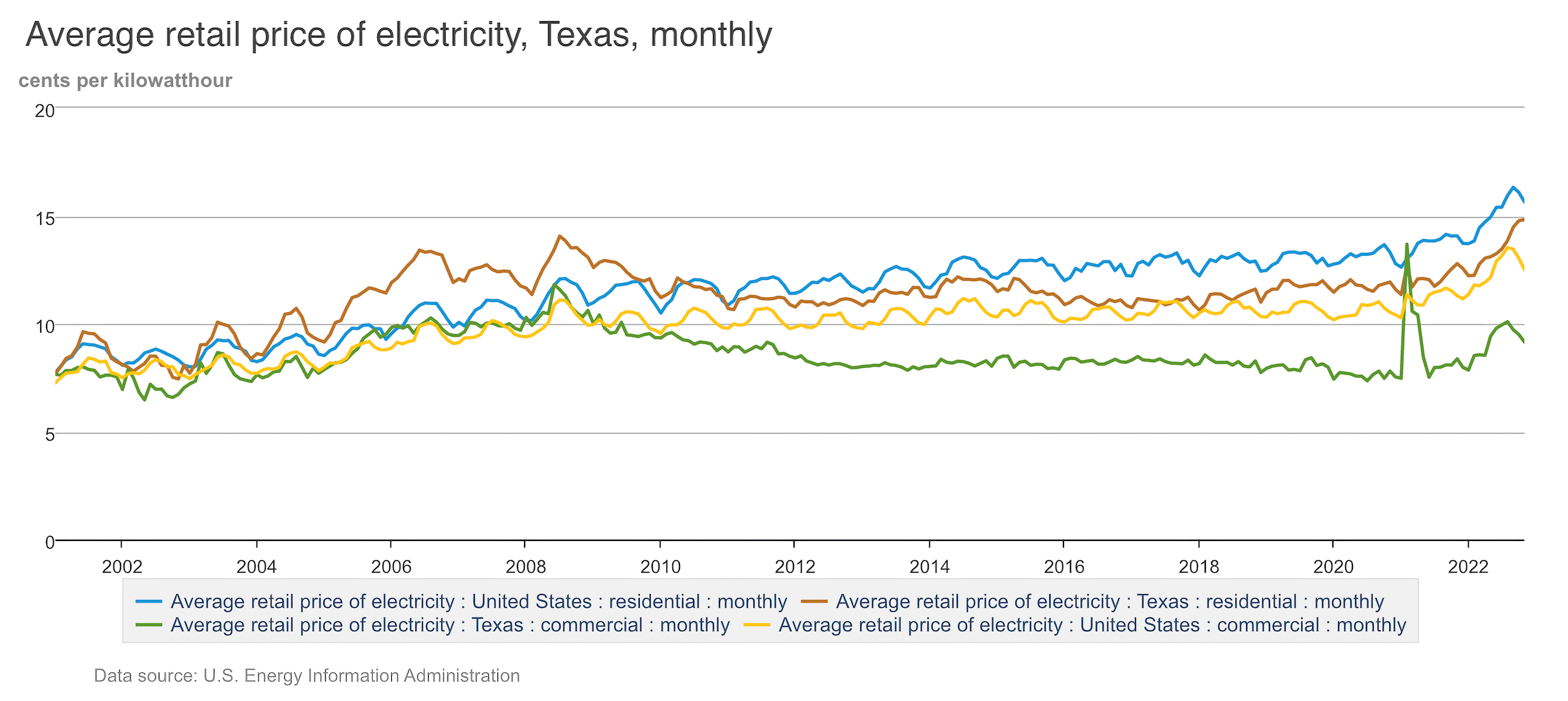 Updated October 2023
Harnessing Energy Deregulation in Dallas
Since 2002, Dallas residents have benefited from deregulated energy markets.
This means you now have the power to choose your electricity provider.
With increased competition, companies offer a variety of rates and plans to earn your business.
While this is great news for consumers, it can also feel overwhelming to navigate all the options.
That's where ComparePower comes in. We simplify electricity shopping so you can find the perfect plan for your needs.
The key is shopping and comparing rates with your kWh usage history.
This allows you to see a customized comparison of different plans and how much you'd pay based on your actual energy consumption.
You can easily view available rates, contract lengths, and provider details in one place.
No more digging through endless websites or calling multiple companies.
We cut through the jargon and gimmicks to give you transparency.
Our goal is to provide clarity and confidence as you shop for electric plans in the Dallas area.
With ComparePower, leveraging deregulation and finding competitive rates is quick and hassle-free.
Moving to Dallas: Setting up Electricity
Welcome to Dallas! As you get settled into your new home, it's time to set up electricity service.
With ComparePower, the process is quick and easy.
First, gather 12 months of usage history for the home if possible.
This allows us to match you with the perfect plan based on your energy needs.
Reach out to the previous owner or check past utility bills for this info.
I know it's an extra step, but having your kWh usage history ensures you get the lowest rate available.
The long-term savings are well worth it!
If you can't get historical usage for your new home don't worry. You can estimate your kWh instead.
Then enter your zip code and we'll guide you through the rest.
In minutes you can compare rates, contract lengths, and more to find the ideal electricity plan for your home. Signing up takes just a few clicks.
As a Dallas resident myself, I'm happy to help newcomers navigate setting up electric service.
We'll remind you when your contract ends and assist with any questions down the road.
Welcome to this wonderful, dynamic city! Let ComparePower save you time and money as you begin your new chapter in Dallas.
Compare Dallas electricity rates and save ⤵️
Switching Electricity Companies in Dallas
If you've been with the same electricity provider in Dallas for a while, chances are you could be paying too much.
Rates fluctuate and contracts expire, presenting the perfect opportunity to switch companies and save.
The key is to compare rates when your current contract is up for renewal.
Switching to a lower-cost plan can potentially save you hundreds or thousands per year.
The switching process itself is quick and seamless. You don't need to call your old provider or have anyone come to your home.
And don't worry – your power will stay on throughout the transition.
Here are some tips:
Get 12 months of usage data to find the right plan for your needs
Use ComparePower to easily compare rates from multiple companies
Sign up for a new plan online in minutes
The new provider will handle canceling your old contract
Don't let an existing contract deter you – the long-term savings may outweigh any early termination fee.
Take control and start saving on your electricity costs in Dallas. Compare plans today!
Instantly find the best energy plan for you ⤵️
Best Dallas Energy Companies
Looking for cheap electric rates in Dallas? With energy deregulation, you have the power to shop for the most affordable provider. Avoid settling for the first company you see.
Instead, use ComparePower to access competitive plans from top providers like TXU Energy, Reliant, and Direct Energy.
We bring their rates and options together in one place for easy comparison.
Take a few minutes to:
Review rates and contract lengths from multiple companies
Compare costs based on your actual usage history
Identify any special offers or benefits
The savings from switching providers can really add up over time. So don't just default to the most advertised name.
Leverage choice and competition to find the best value for your home, take control of your bill, and start saving today!
No Deposit Lights in Dallas
Searching for electricity plans in Dallas without paying a deposit? Look no further than ComparePower.
We make it easy to find great rates from top providers without any deposit.
Having to put down a deposit can be a hassle and an unexpected cost.
That's why we automatically highlight plans with no deposit required when you search.
It saves you time from calling providers individually.
Our goal is to provide transparency in the electricity shopping process.
We don't think you should have to pay a deposit unless there's a compelling reason.
With ComparePower, you can:
Instantly see no-deposit plan options
Compare rates and features
Sign up for service online without a deposit
Bonus Tip: You may qualify to waive the deposit based on criteria from the Texas Public Utility Commission §25.478 – Credit Requirements and Deposits. It's worth looking into the credit requirements to avoid deposits!
Take the stress out of your electricity search and let us find competitive plans with no deposit required.
Get your lights on today with no-deposit ⤵️
Dallas Electric and Other Utilities
When it comes to utility services in Dallas, here's everything you need to know.
Electricity
Natural Gas
ATMOS Energy handles gas service – call 1-888-286-6700
Garbage/Recycling
Included with the City of Dallas water bill
Water
Provided by City of Dallas Utilities
Customer service: 214-651-1441 (M-F 8 am-5 pm)
Emergencies: 214-670-5111 (outside the city) or 311 (within the city)
Compare Electricity Rates in Dallas by Zip Code
Want to find affordable electricity rates in your neighborhood of Dallas? At ComparePower, it only takes your zip code to unlock huge savings.
Simply enter your zip code on our site, and you'll instantly see a customized comparison of rates from top providers in your area.
We pull everything into one convenient place.
You can easily:
Review rates side-by-side
Compare costs based on your usage
Choose the perfect plan for your needs
No more hunting across different websites or making endless calls.
With ComparePower, finding competitive Dallas electricity rates is fast and straightforward using your zip code.
Stop overpaying on your utility bills. Discover the power of choice and start saving today by entering your zip code now!
Popular ZIP codes:
75007 75019 75032 75051 75052 75062 75063 75065 75081 75127
Instantly find your new low rate ⤵️
Finding the Best Electricity Rates Around Dallas
Looking for competitive electricity rates in Dallas or the surrounding areas?
With ComparePower, it's quick and easy to find low-cost plans near you.
Simply enter your zip code to compare up-to-date rates and plans from top providers in your area.
We pull everything into one place so you can efficiently shop and switch providers.
The enrollment process takes just minutes online.
But those few minutes could lead to hundreds in savings per year on your electricity bill.
Whether you're in downtown Dallas or a neighboring suburb, our zip code tool makes it easy to find the best rates.
Location doesn't matter – great prices are available throughout the region.
Don't overpay any longer! Use ComparePower to conveniently shop electricity plans and rates in your local area.
Take control of your bill and start saving today.
Dallas Electricity Plans & Rates FAQs
Who is the cheapest electricity provider in Dallas?
When searching for the lowest-cost electricity in Dallas, the key is comparing customized plan rates based on your usage. Different providers offer varying prices, fees, contract lengths, and features.
The cheapest option for you depends on your unique energy needs and profile. Rather than looking at generic plans, use ComparePower to enter your past kilowatt usage.
This allows you to see each provider's rates tailored to your home or business. You can easily evaluate total costs, read reviews, and find the best value.
The cheapest provider for your neighbor may not be the most affordable for you. With ComparePower, you can quickly identify the genuinely lowest-cost plans for your usage history.
Take the guesswork out of your electricity search and find the cheapest rate for your home today!
How do I set up electricity in Dallas?
Need to set up new electric service in Dallas? Here are the steps to get connected:
Research plans – Use ComparePower to compare rates and options based on your usage and location.
Pick a plan – Select the contract length, rate, and features that fit your needs.
Enroll online – Sign up for service through ComparePower. Choose your start date.
Deposit – Some providers may run a credit check and require a deposit. ComparePower always offers no-deposit plans.
Same-day service – If you need electricity right away, opt for a same-day connection.
Setting up service only takes a few minutes on ComparePower! Enter your zip code and usage history to find the best plan for your home. And you can avoid deposits.
Get your lights turned on quickly and easily in Dallas!
Support You Can Count On
Questions? Our local experts can help you navigate options and find the best electricity plan. Reach out to us.