Any product or company names, marks, or logos shown on this page are the property of their respective owners. ComparePower is an unaffiliated, independent marketplace. Get unbiased, accurate information backed by our commitment to editorial integrity.
Houston Electric Providers, Plans, & Rates
Houston, Texas, is known for its sizzling summers, and while staying cool is a top priority for residents, finding affordable electricity rates is just as important.
But with so many choices, it's no wonder that many residents in Houston feel overwhelmed when trying to find the best deal for their home's electricity.
So, what's a good rate per kWh in Houston?
The lowest fixed-rate electricity plan on ComparePower starts at 8.80¢/kWh. That's significantly lower than the average Houston residential electricity rate of 14.46 ¢/kWh.
How to Find the Best Rates in Houston
Don't be swayed by the cheapest advertised rate when searching for electricity rates.
Some providers may have additional fees or charge more based on your usage levels, resulting in higher bills.
The #1 rule: know your kWh usage!
Learn how to shop with your kWh usage in this 2-minute video ⤵️
We've used the same power company for many years and I wanted to see if we could save money. I used Compare Power to see what was available in my area. I was pleasantly surprised that I could save over $200 by switching. It was super easy and all it took was a few mintues to change over. I'd definitely recommend using this service to see if you're getting the best price.

Stacey (Houston, TX United States)
Houston Electricity Rates
Compare the best energy plans from different providers to find the cheapest electricity rates in Houston.
55 Houston Electric Rates
These live rates for CENTERPOINT ENERGY HOUSTON ELECTRIC LLC service area were updated on . Pricing shown is based on an exact usage of 1000 kWh.
Instantly compare Houston electric companies.
Understanding Houston Electricity Rates
Before we get into different plans and prices, let's learn how electricity works in Houston.
In Texas, you can choose from many companies that sell electricity. The Public Utility Commission of Texas (PUC) ensures these companies offer fair prices.
Here are some things that affect how much you pay for electricity in Houston:
The cost of making electricity: Electricity is made at power plants, and it costs money to run those plants. The cost of fuel, like natural gas or coal, can also affect the price of electricity.
The cost of sending electricity to your home: Electricity has to travel through wires and equipment from power plants to your home. This costs money and is part of the price you pay for electricity.
How much profit the company wants to make: Companies that sell electricity want to make money. They add a bit extra to the cost of electricity to make a profit.
How much electricity people use: When more people use electricity, there might not be enough. To make sure there's enough for everyone, companies may raise prices to encourage people to use less.
These elements can change, causing rate fluctuations over time. Furthermore, rates can differ based on your selected plan and provider, making it essential to compare your options.
Average Electricity Rates in Houston
The average rate for residential electricity in Houston is 14.46 ¢/kWh.
Enroll in a fixed-rate plan today and start enjoying rates as low as $0.09 per kilowatt-hour.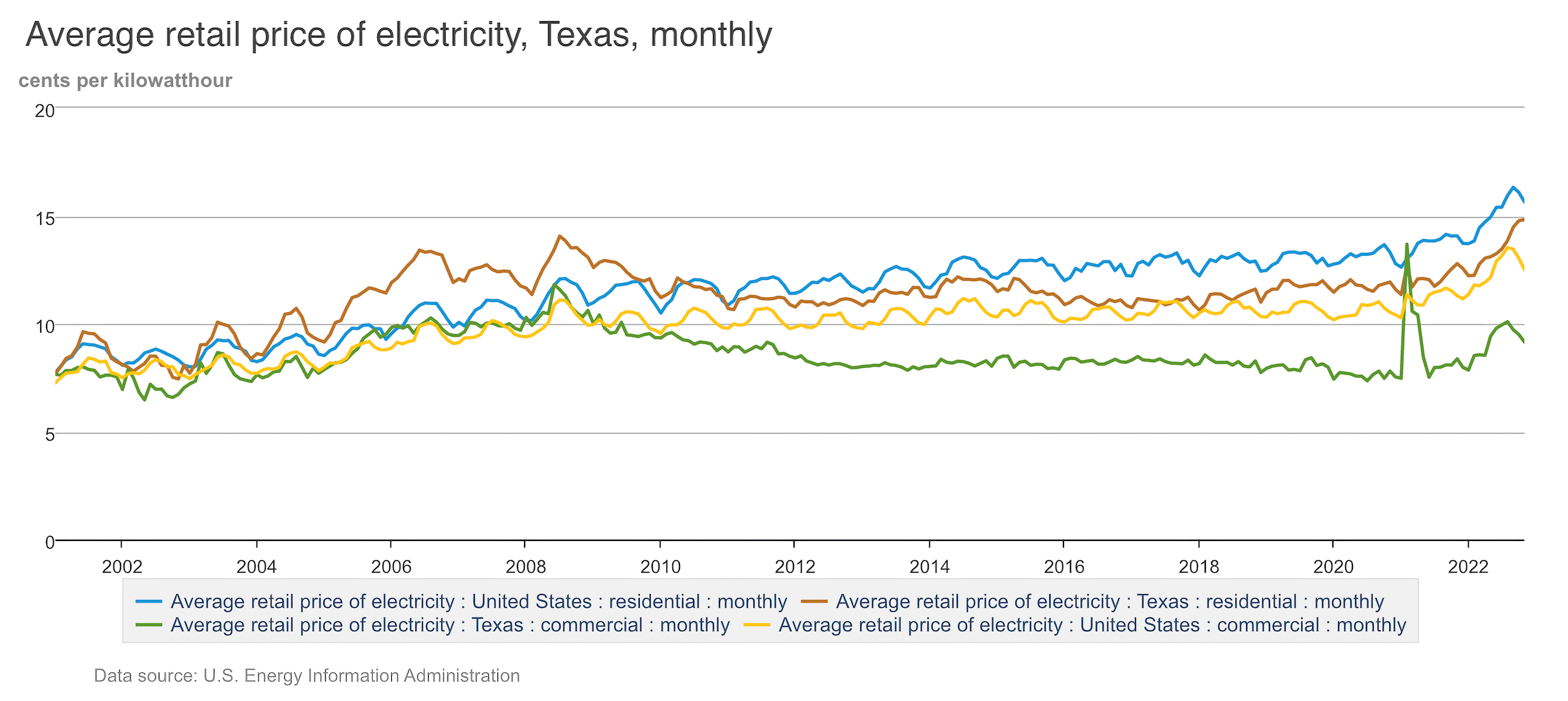 Updated June 2023
Starting Electric Service in Houston
Moving to a new home in Houston can be a stressful experience, but ComparePower can help make it a little bit easier.
With ComparePower, you can quickly sign up for a new energy plan from some of the top providers in Houston, including Reliant Energy, TXU Energy, and Direct Energy.
To get started, enter your zip code. You'll then see a list of energy providers and plans available in your area. To find the best deal, you can compare rates, contract lengths, and other plan features.
Once you've found a plan, click the "Check Availability" button to enroll online in minutes.
Starting electric service on ComparePower is a great way to ensure your move to a new home in Houston goes smoothly.
With your electricity already set up, you can focus on unpacking and settling into your new space without worrying about the hassle of setting up a new account.
Start Electric Service In Houston ⤵️.
Switching Energy Companies in Houston
Switching your energy provider and plan doesn't have to be a hassle.
Using ComparePower makes the process of switching energy providers and plans simple.
Texas law allows you to switch plans 14 days before your existing contract expires without penalty.
If you are still under contract, consider switching anyway, as the savings on your monthly bill may outweigh the fee to break your existing contract.
However, before switching, it's important to understand your energy usage.
Login to your electric provider dashboard and jot down your kWh usage for the past 12 months.
Electric companies usually increase your price when your contract ends. You might think they would give you a better deal for staying with them, but they don't. So, shop around before renewing your electricity contract to find your best deal.
Learn how to switch energy providers in Houston 👉
Switch Electricity Providers in Houston ⤵️
Compare Houston Energy Companies
Searching for top electricity providers in Houston?
As the fourth-largest city in the US, Houston is home to a bustling energy market with many options for residents.
You can choose from several great companies, such as TXU Energy, Reliant, Direct Energy, Green Mountain Energy, 4Change Energy, and TriEagle Energy.
Click on each company to see their rates, learn more about their service, or sign up.
Compare Houston Electric Rates Today ⤵️
Centerpoint Electric Utility Houston
Centerpoint Energy is a public utility company offering electricity and natural gas services to customers in Houston and nearby areas.
The company manages a transmission and distribution system delivering electricity to over 7 million customers in Texas, including the Houston metro area.
Centerpoint Energy also runs a natural gas distribution system serving over 5 million customers.
The Public Utility Commission of Texas regulates the company, ensuring safe, reliable, and affordable energy for customers.
Electricity
To learn about smart meters or download your electricity usage data, visit Smart Meter Texas.
To report electricity service issues or power outages in Houston, call or visit Centerpoint Energy electric utility: 800-752-8036
Gas
For gas service in Houston, call or visit ATMOS Energy at 1-888-286-6700.
Garbage/Recycling Pickup
Your City of Houston water utility bill, includes garbage, sewer, and recycling services.
Water
Houston Public Works, a public utility owned by the City of Houston, TX
Customer Care: Call 713-371-1400 or email [email protected]
Hours of operation: Monday – Friday, 8:00 am – 5:00 pm.
24-Hour Emergency Service: Dial 311 for suspected water main breaks, leaks, sewer overflows, or contamination.
Houston Electricity Rates FAQs
Who has the best electricity rates in Houston?
The provider with the lowest rate depends on your annual usage profile. 
Over 60 energy providers are serving Houston, offering different plans and rates. 
Find the right electricity provider for your home by using the kilowatt-hour usage of your home on ComparePower and say goodbye to overpaying for electricity in Houston. 
What is the cheapest electricity company in Houston?
The best way to find a cheap rate for your home in Houston is to shop with your home's electricity usage profile.
Houston electricity companies advertise their most competitive "price per kWh" rates based on exact consumption (typically 1000 or 2000 kWh). However, you don't use exactly 1000 or 2000 kWh. No one does.
Find the best rate for your home's usage on ComparePower, created to cut through the confusion and provide a true apples-to-apples comparison of the most competitive electricity plans from trusted and reliable electricity providers.