Any product or company names, marks, or logos shown on this page are the property of their respective owners. ComparePower is an unaffiliated, independent marketplace. Get unbiased, accurate information backed by our commitment to editorial integrity.
Texas Electricity Rates
Navigating the energy landscape in Texas is daunting. But remember, you have the power to choose your provider—this is the beauty of competition in our state.
Current electricity prices are at a low after last year's sharp rise. It's an ideal time to secure a fixed rate.
The lowest fixed-rate electricity plan today starts at 8.80¢/kWh, significantly lower than the average Texas residential rate of 14.46 ¢/kWh.
As the temperature rises during the hotter months, electricity prices tend to increase.
ComparePower streamlines your energy search by helping you find the best electricity providers and plans tailored to match your preferences.
Compare Texas Electricity Rates
Compare today's lowest electric rates across different household energy consumption patterns.
Finding Your Best Rate
When you're comparing rates, it's important to look beyond the advertised price per kilowatt-hour (kWh). With ComparePower, you can comfortably navigate through the most competitive electricity rates in Texas, pinpoint an energy plan that fits your home's needs, and sign up online in a flash.
Find your best rate in 3 easy steps:
View Rates – Simply enter your zip code to reveal the rates in your area.
Pick a Plan – If you're moving into a new home and don't have any usage history, use our kWh calculator to estimate your average monthly usage. This will assist you in narrowing down your plan options. If you're considering a switch, insert your past usage to find the most cost-effective plan.
Quick & Easy Enrollment – Enroll online in mere minutes and return to your day, confident with your energy choice.
Interested to see how it works? Learn how to shop with your kWh usage in just 2 minutes ⤵️
Very helpful, ComparePower makes switching providers stress-free. I plugged in my kwh usage from this past year & I could've been saving tons of money if I would have utilized this site & switched sooner!

Ashley (TX, United States)
Tips for Finding the Best Electricity Rates
Energy is a vital component of our everyday lives, and understanding Texas electricity rates is crucial for residents wanting to manage their energy consumption cost-effectively. Consider these tips to help you find the best electricity rates in Texas:
Texas Electric Utility Rates
These are today's lowest electric utility rates for common household energy consumption patterns.
Texas Electric Provider Rates
Compare electricity rates in Texas from different electric providers.
These live rates for ONCOR ELECTRIC DELIVERY COMPANY service area were updated on . Pricing shown is based on an exact usage of 1000 kWh.
Texas Electric Rate Trends
Texas, being a deregulated energy state, offers residents the power to choose their electricity provider, and thus, control their electricity rates.
Texas energy providers are constantly updating their offerings in response to market trends and consumer demands, which means the best plan for you today may not be the best for you tomorrow.
By staying informed and regularly comparing plans, consumers can ensure they get the most value from their electricity provider.
What is the average electricity rate in Texas?
Texas's average residential electricity rate is 14.46 ¢/kWh.
Between May and June 2023, the US Energy Information Administration reported a 1.16% decrease in Texas' average residential electricity rate from 14.63 ¢/kWh to 14.46 ¢/kWh.
It's important to note that the US Energy Information Administration data is two months behind in reporting.
However, the rates you see here on ComparePower are updated daily, providing you with the most current information on electricity rates in Texas.
Texas Electricity Rates Chart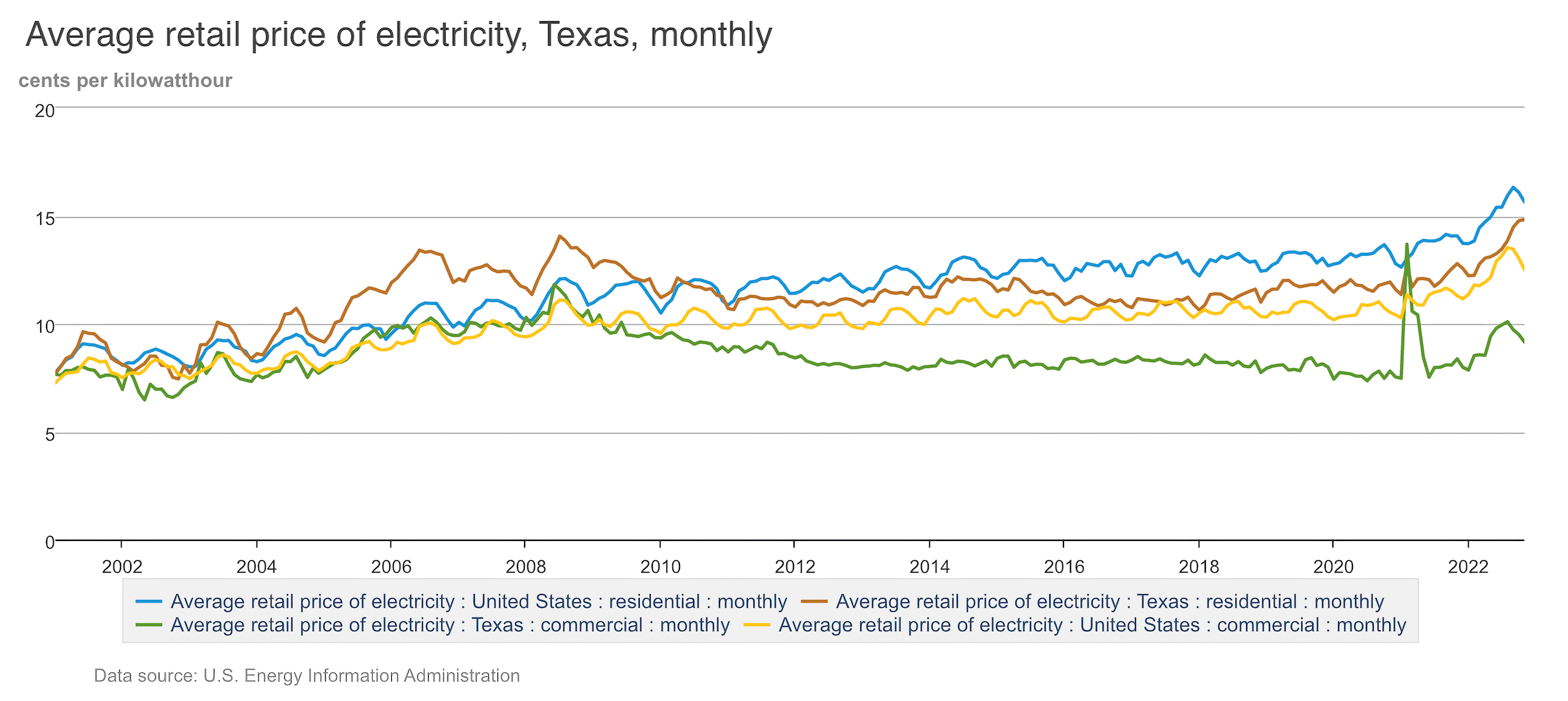 Understanding Texas Electric Rates
So, what about electric rate types? In Texas, you've got options. You've got fixed-rate plans where your rate is locked in for a specific period. It's like having a steady dance partner.
Then there are variable-rate plans—your rate changes based on market conditions. This one's a bit like riding a bull, thrilling but unpredictable.
There are also prepaid plans, where you pay for your electricity upfront. It's a great way to keep your spending in check. Lastly, for the environmentally conscious, there are green energy plans that source electricity from renewable resources.
These rates can vary based on several factors including the time of year, weather conditions, the cost of generating electricity, and the type and length of your contract.
To help you make the best decision for your household, here is a breakdown of popular Texas electricity plan rate types:
Factors Affecting Texas Rates
When you open your electricity bill each month, have you ever wondered why the cost fluctuates? Why is it that during certain months your bill seems to skyrocket, while during others it's relatively manageable? Well, grab a cup of coffee, and let's unravel the mystery of electricity rates in the Lone Star State.
First things first, we need to understand the core influencers of your electricity bill. The cost of electricity isn't just a number pulled out of a cowboy hat. It's a culmination of various elements, like supply and demand, fuel costs, and regulatory policies, all dancing together in a grand energy ballet.
Several factors contribute to the determination of electricity rates in Texas. Here are some key factors to consider:
Deregulated Energy Market: Texas operates a deregulated energy market, which means you have the power to choose your electricity provider. Competition among providers influences rates, giving you the opportunity to find competitive pricing options.
Supply and Demand: The availability of electricity supply and demand in your area can impact rates. During periods of high demand, such as extreme weather conditions, rates may increase due to increased strain on the grid.
Fuel Costs: The cost of fuel sources used to generate electricity, such as natural gas, coal, and renewable energy, affects rates. Fluctuations in fuel prices can lead to changes in electricity rates over time.
Transmission and Distribution Costs: These costs include the expenses associated with delivering electricity from power plants to your home or business. The infrastructure required for transmission and distribution is funded through charges included in your electricity bill.
Plan Types: Electricity providers offer different plan types, including fixed-rate and variable-rate plans. Fixed-rate plans offer a consistent rate throughout the contract term, while variable-rate plans may fluctuate based on market conditions.
Seasonal Variations: Seasonal variations significantly impact Texas electricity rates. During the summer and winter months when the demand for energy is high due to air conditioning and heating needs, the rates tend to increase. On the other hand, during the spring and autumn months, the demand for electricity typically decreases, leading to lower rates.
Contract Type: When you choose an electricity plan, you will typically select between a fixed-rate plan and a variable-rate plan. Fixed-rate plans lock in a rate for the length of the contract, providing protection against market fluctuations but potentially missing out on lower prices when the market dips. Variable-rate plans, conversely, allow for rate fluctuations based on market conditions, which could result in significant savings during low-demand periods but also potential rate spikes during high-demand periods.
Strategies to Manage Your Electricity Costs: Smart energy habits can go a long way in managing your electricity costs. Simple steps such as turning off lights when not in use, investing in energy-efficient appliances, and regular maintenance of your heating and cooling systems can reduce your energy consumption and, in turn, your electricity bill.
Comparing Texas Electricity Plans
To find the best electricity rates in Texas, it's crucial to compare plans from different providers. When comparing plans, consider the following:
Rate Structure: Understand the rate structure of each plan, whether it's a fixed-rate or variable-rate plan, and how the rate may change over time.
Contract Terms: Review the contract terms, including the length of the contract and any early termination fees. Ensure the contract aligns with your needs and preferences.
Additional Fees: Take into account any additional fees or charges, such as monthly service fees or renewable energy surcharges, when comparing plans.
Customer Reviews and Satisfaction: Look for customer reviews and ratings to gauge the reputation and satisfaction level of different electricity providers. This can provide insight into the quality of service they offer.
Start Electricity Service
Starting electricity service for your new Texas home is easy and can be done online in 10 minutes with ComparePower.
How to Estimate Your Usage: To find the best rate for your new home, you must estimate your usage accurately. This will help you determine which plan suits your energy needs. If you don't have any usage history, use a kWh calculator to estimate your average monthly usage.
Learn how to start electricity service:
Switch Electricity Companies
Switching providers can seem like a hassle, but it could also mean considerable savings. In Texas, the process is pretty straightforward.
You compare plans from different providers, pick the one that suits your needs, and make the switch. Your new provider takes care of the rest. And remember, the goal here isn't just to find cheaper rates—it's about finding a plan that aligns with your lifestyle and values.
Don't let your energy contract expire without shopping and exploring your options.
Compare Rates by Provider
Now that you understand how rates work, let's dive into some of the top electricity providers in Texas.
The electricity companies on this list have competitive pricing, excellent customer service, and popular plan options such as green and renewable energy.
Compare Texas Electric Rates👇
Your Turn to Save
Understanding Texas electricity rates can help you make informed decisions about your energy consumption and potentially save on your electricity bills.
Remember, the power to choose your provider is in your hands in Texas, so take advantage of this opportunity to find a rate that suits your lifestyle and budget.
Stay informed, stay empowered, and manage your energy use wisely for a sustainable future. Don't settle for the first offer you see; take the time to compare multiple options and make a well-informed decision.
Ready to find your best energy plan? Start by entering your zip code to see the available options in your area.
Texas Electricity Rates FAQs
Here are some common questions we get asked.