Any product or company names, marks, or logos shown on this page are the property of their respective owners. ComparePower is an unaffiliated, independent marketplace. Get unbiased, accurate information backed by our commitment to editorial integrity.
Electricity Rates in Texas
Get the latest electricity rates for November 2023. Whether you're relocating or considering a switch, this guide is your key to unlocking today's best rates.
Easily compare up-to-date prices so you can find the cheapest energy plan in Texas from reputable electricity providers.
What is a good rate per kWh in Texas?
Today's lowest fixed-rate electricity plan starts at 12.30¢/kWh, much lower than the average Texas electricity rate of 14.01 ¢/kWh.
Key Takeaways
Compare Texas Electricity Rates
Compare today's lowest electric rates for different energy use in popular Texas cities.
Using ComparePower to find the right energy company was wonderfully easy. I was able to compare prices, review contract terms, as well as use the billing calculator to see what my bill would be based on my current kwh usage (I compared my recent bill with the website's calculator). This made it so simple to make a decision on what would work for my house.

Jennifer Baltazar Hughes
Finding Your Best Electric Rate
Look past advertised rates per kWh when comparing electricity plans. ComparePower lets you quickly find and sign up for competitive rates that fit your home.
Find Your Best Rate in 3 Steps:
Enter your zip code to view local rates.
Estimate or use past usage to find cost-effective plans
Enroll online in minutes
See how to shop with your kWh usage to find your best rate ⤵️
Very helpful, ComparePower makes switching providers stress-free. I plugged in my kwh usage from this past year & I could've been saving tons of money if I would have utilized this site & switched sooner!

— Ashley, Texas
Texas Electric Utility Rates
Shop electricity rates in Texas from different utility service areas.
Texas Electric Provider Rates
Compare the lowest Texas electricity rates from different providers and service areas.
These live rates for ONCOR ELECTRIC DELIVERY COMPANY service area were updated on . Pricing shown is based on an exact usage of 1000 kWh.
These live rates were updated on . Pricing shown is based on an exact usage of 1000 kWh.
These live rates for TEXAS-NEW MEXICO POWER COMPANY service area were updated on . Pricing shown is based on an exact usage of 1000 kWh.
These live rates for AEP TEXAS NORTH COMPANY service area were updated on . Pricing shown is based on an exact usage of 1000 kWh.
These live rates for AEP TEXAS CENTRAL COMPANY service area were updated on . Pricing shown is based on an exact usage of 1000 kWh.
These live rates were updated on . Pricing shown is based on an exact usage of 1000 kWh.
Texas Electric Rates Trends
Texas energy providers constantly update offerings based on market trends and demand. The best plan today may not be tomorrow.
What is the average electricity rate in Texas?
Texas Electricity Rates Chart
Monthly average retail electricity rates in Texas from 2002-2023.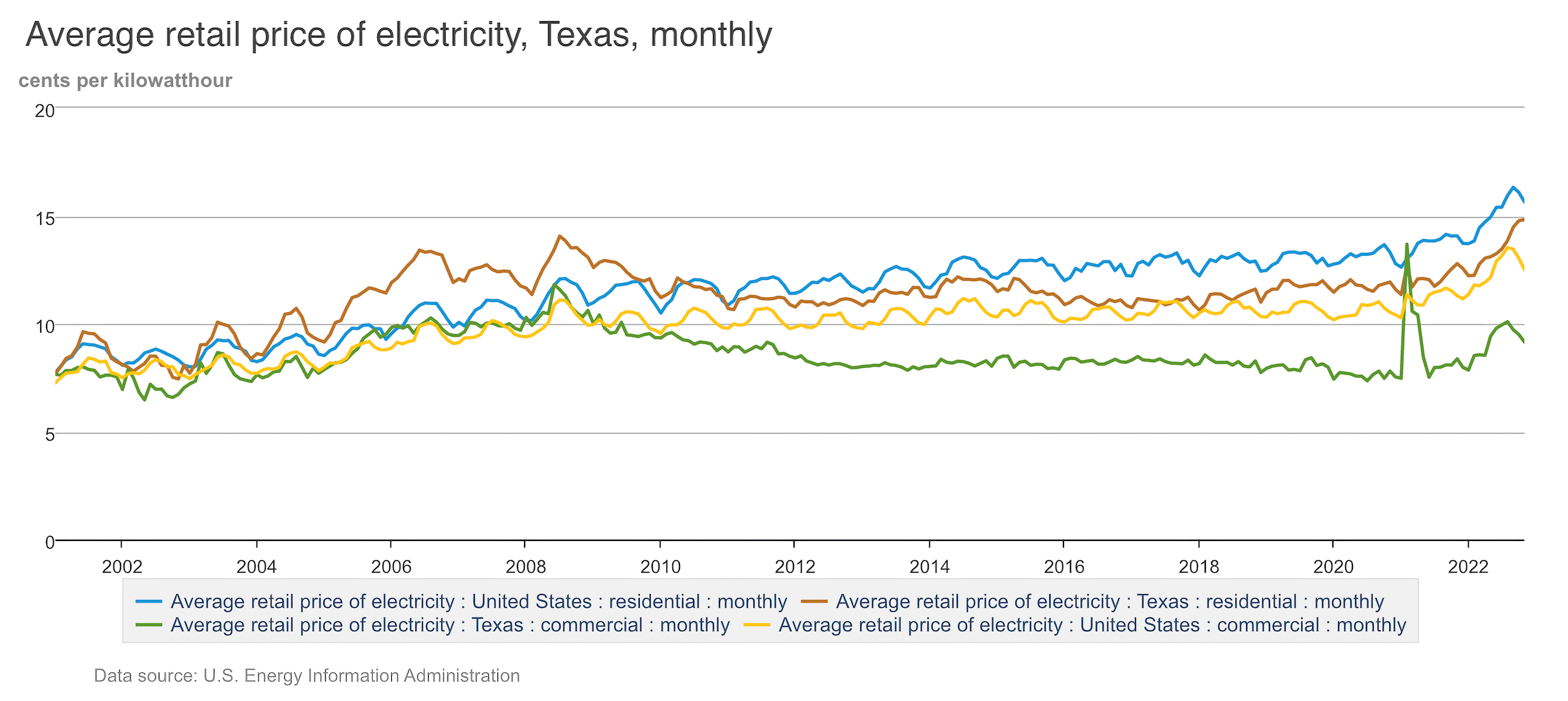 Note: U.S. Energy Information Administration data lags by two months. ComparePower rates are updated daily, so you get the most current rates.
Texas Electricity Rates (November 2023)
Quick Snapshot:
Current Average Retail Rate: 14.01 ¢/kWh (November 2023).
Price Range: 11.00 to 21.00 cents per kilowatt-hour.
Average Monthly Bill: Around $160.
Typical Energy Usage: 1,100 kilowatt-hours per household monthly.
Note: All information is up-to-date as of November 2023.
Why Rates Fluctuate in Texas
You've probably noticed that electricity rates can be a bit like Texas weather—unpredictable.
But did you know that wholesale electricity prices are largely influenced by supply and demand?
When everyone cranks up their AC in the summer, demand soars. To meet this demand, more expensive generators are brought online, driving up prices. It's a built-in incentive to keep the electricity flowing smoothly.
Texas has a deregulated electricity market where electricity prices are influenced by both market factors and your plan details.
Market Factors
Seasonal fluctuations – Rates rise in high-demand summer and winter months.
Fuel costs – Prices of natural gas, coal, and renewables impact rates.
Supply and demand – More demand raises rates when supply tightens.
Plan Details
With many factors affecting electricity rates in Texas, it pays to thoroughly research plans. Comparing all aspects ensures you find the most cost-effective option for your home.
Your Power to Choose and Save
This is where ComparePower shines. We simplify the complex world of electricity rates for you.
Check Your Usage: Look at past bills to find your kWh usage.
Know What You Need: Short-term or long-term plan? Renewable energy?
Use Our Comparison Tools: Just enter your zip code and usage to see plans that fit your needs.
Who Foots the Bill for Price Spikes?
You might be eyeing those headlines about electricity price spikes and thinking, "Is this going to hit my wallet?" Good news: not directly.
The Role of Your Retail Provider
Your retail provider is the one doing the buying from power plants. They've got options on how to make that purchase: fixed-price contracts, the "day-ahead market," or the "real-time market."
That last one, the "real-time market," is more of a last-minute option. It's what your provider turns to when they've underestimated how much electricity their customers will use.
Remember the 2021 winter storm? After that, Texas made sure plans that exposed customers to real-time market prices were off the table.
So, unless your provider seriously drops the ball in their power estimates, those sky-high wholesale prices won't make it to your bill.
Texas Energy Plans
Electricity rates are important, but your ideal energy plan depends on more than just the price per kWh. Your best Texas power plan matches your home's unique needs and priorities.
Types of Texas Energy Plans
Texas has a deregulated energy market with many plan options. Here are some key types:
Tips for Choosing Your Plan
Compare fixed vs. variable rate plans.
Watch out for teaser rates that spike later.
Consider contract length – short-term or long-term.
Calculate the total annual cost of the plan.
Read customer reviews of providers.
Learn How to How to Choose the Best Energy Plan in Texas 👉
Start New Electricity Service
Start electricity at your new Texas home online in 10 minutes. Estimate usage with a kWh calculator to find the best rate plan for your needs.
Learn how to start electricity service:
Buying a new house and remembered at the last minute I didn't have an electric company. Enrolled and was able to get power the next day which was my closing date! Fantastic!

Ronda Hartman
Switch Electricity Companies
Switching electricity providers in Texas can save you money.
The process is easy:
Compare plans and pick the best fit
Your new provider handles the switch
Your new provider cancels service with your current company
Shop options before your contract expires.
Easy as 1-2-3, Switch! I've been watching rates for 6 months and it was finally time to switch and lock in the price. Compare Power made it so easy!

Jeannette Zimmerman
Business Electricity Rates
If you're shopping for business electricity rates in Texas, you can compare plans, rates, and providers all in one place.
With over 30 electricity companies to choose from, it's easy to find the best business electricity rate for your company's needs.
Input your business' expected monthly usage to instantly see available rates and sign up online.
Comparing business electricity plans ensures you find the most cost-effective option for powering your company.
Top Energy Providers in Texas
Now that you understand rates, explore top Texas electricity providers.
Compare Texas Electric Rate
Next Steps: How to Compare Rates & Save
Learn to compare rates and choose the right plan to save money.
Discover how to compare Texas electricity rates effortlessly. Whether you're moving to a new home or looking to switch providers, ComparePower is your go-to resource for all things electricity in Texas.
Your Turn to Save
Ready to compare rates? Enter your zip to see available options.
Compare Texas Electric Rates
Texas Electric Rates FAQs
Answers to common questions about electric rates in Texas.
Reviews from Texans Like You
Read genuine reviews from Texans on finding the right electricity plan here. Get real experiences from people once in your shoes, looking for the best deal.
Real Feedback from Real People 👉
Support You Can Count On
Questions? Our local experts can help you navigate options and find the best electricity plan. Reach out to us.
Stay Informed with Our Latest Articles
Find practical bill-saving tips and straightforward guides on understanding your electricity options.