Any product or company names, marks, or logos shown on this page are the property of their respective owners. ComparePower is an unaffiliated, independent marketplace.
Texas electricity rates are on the rise 📈
Summer in Texas means baseball season, BBQ season, and air conditioner season.
When the weather gets hot, the demand for electricity goes up, which means higher energy prices for those without fixed-rate plans.
Save money this summer by locking in a fixed-rate electricity plan.
Enroll today! Fixed-rate plans are as low as $0.13 per kilowatt-hour.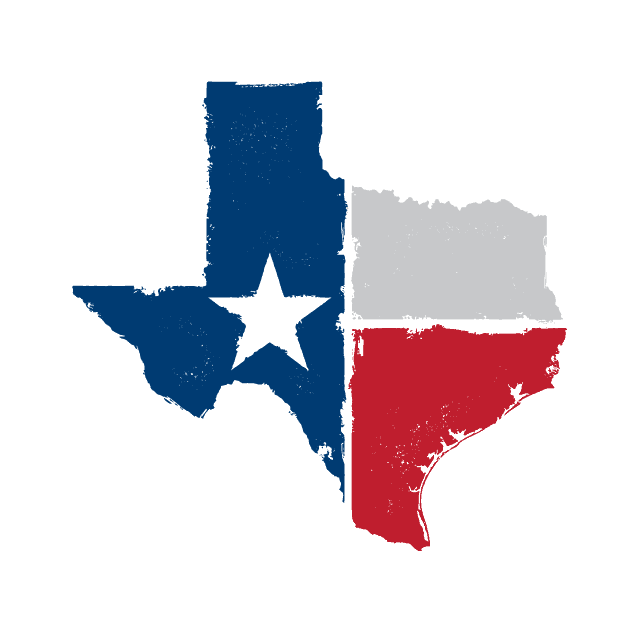 Texas electricity rates at a glance:
The average retail price of electricity is 13.15 cents/kWh
The average energy usage in Texas is 1,132 kWh/month
The average electricity bill in Texas is $148.90
"Easy, simple, best rates, just a click away."
~ Stephen H. (TX, United States)
Last updated: September 2022
Shopping for a business? Get a quote from 31+ Texas energy providers 👉
How to find your best rate
Over 60 electricity providers offer hundreds of energy plans in Texas.
Make sure you take your home's kilowatt-hour usage into account when shopping for the cheapest rate.
For the most competitive rates in Texas, compare energy plans and electricity rates with your home's electricity usage.
It can cost you hundreds or thousands of dollars if you choose the wrong energy plan without knowing the energy usage of your home.
The #1 most important thing to know is your home's energy usage. 

This 2-minute video explains why shopping with your usage is so important👇 
Very helpful, Compare Power makes switching providers stress-free. I plugged in my kwh usage from this past year & I could've been saving tons of money if I would have utilized this site & switched sooner!

Ashley (TX, United States)
Start saving with your kWh usage today👇
Help me Choose
Tell us about your home and energy habits, and we'll help you choose👇
Compare rates with your usage for the right plan
The key to avoiding overpaying is knowing your expected usage and comparing the rates for each plan.
The price of gasoline, for instance, is the same, no matter how many gallons you pump.
Pumping 10 gallons at $3 per gallon will cost you $30. It's simple.
Electricity is not the same as gasoline in Texas.
Advertised "price per kWh" is based on a specific usage amount (usually 500 kWh, 1000 kWh, or 2000 kWh).
Furthermore, each plan's monthly bill is calculated differently.
The "price per kWh" can only be calculated by dividing your monthly bill by usage.
Since the advertised "price per kWh" is based on specific usages, like 2000 kWh, it is misleading. You will not use the exact advertised usage every month.
This is why it is so vital to compare energy plans with your home's anticipated usage when shopping.
It's complicated to calculate the math for each plan, but we've done it for you.
With just a few clicks, you can choose a plan that matches your usage and be confident you made the right choice for your home.
How it works
ComparePower makes it easy to get the right energy plan for your home.
First, we calculate your expected monthly kWh usage.
Next, we will show you the plans and their total monthly cost.
Select the lowest price plan, and you'll be on your way to saving on power.
Find electric rates for your home instantly.
New to Texas, New Home and NO CLUE how to choose a power company. I've now used Compare Power 2x's and had an amazing experience both times. It's informative,, quick, and easy peasy! Thank you.

Rose G. (TX, United States)
Best Texas Electricity Rates
These live rates for Oncor Electric Delivery service area were updated on . Pricing shown is based on an exact usage of 1000 kWh.
Your time is money. Save both in minutes.
Any product or company names, marks, or logos shown on this page are the property of their respective owners. ComparePower is an independent marketplace offering free electricity pricing comparisons for consumers.
Best Texas energy plans
Whether you're moving to a new home or apartment, looking to save on nights and weekends, earn rewards, or lower your electricity bill, Texas energy companies offer an array of options to meet your household's energy needs.
Fixed-rate energy plans
Get the price protection of a fixed contract term. This is not the same as a fixed rate. Your rate could vary with your usage under the Electricity Facts Label. The terms of the EFL are fixed for the length of the contract.
Learn about fixed vs. variable rate electricity and determine which is best for your home.
Same-day electric service
Did you wait until the last minute and need power today? Get electricity now.
Variable-rate plans and month-to-month plans
Month-to-month electricity plans with no long-term contracts or cancellation fees.
Prepaid electricity
Use only as much energy as you need and only pay for what you use with prepaid electricity in Texas.
Free nights and weekends
Popular Texas energy plans, such as the TXU Free Nights and Weekends or Direct Energy, offer free electricity for a predetermined block of time during peak hours.
Renewable (green) plans
Get energy generated from 100% renewable sources. Learn more about green renewable energy in Texas.
Solar energy plans
Homes with solar panels can earn and sell back bill credits for any excess electricity returned to the grid.
Average billing
Avoid seasonal bill spikes and make managing your monthly budget easier with average billing. Learn about average billing and see if it's right for you.
Texas electricity price trends
Unlike other states, Texas has a deregulated energy market. In 2002, the state deregulated its energy market to decrease electricity prices for residential and commercial consumers.
Texas Electricity Rates Data
The average Texas residential electricity rate is 13.15 cents/kWh, 12.6% less than the U.S. average. 
The average Texas business, commercial electricity rate is 9.38 cents/kWh, 25.7% less than the U.S. average. 
Last updated: September 2022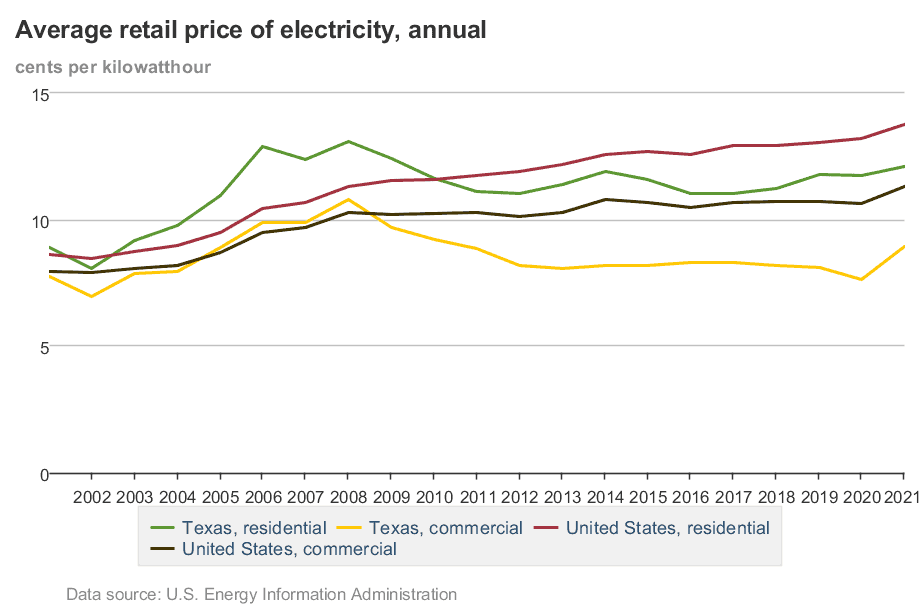 Got me the cheapest electric rate. Nice.

Emily (TX, United States)
Power to Choose Texas
The PUC encourages Texas energy consumers to shop around and compare plans from different power providers to save money on their energy bills.
The power to choose marketplace, which the Texas Public Utility Commission runs, offers a range of competing rate and plan options in Texas sorted by price.
However, most Texans are confused when shopping on the state-run site.
So why is it so confusing to choose the right energy plan on the state-run website?
As a starter, there is no guide on the site, and comparing apples to apples is difficult due to the number of companies listed.
Furthermore, providers have been known to advertise hidden, gimmicky rates and pricing tiers that make you pay more if you do not consume the advertised amount of energy.
Last but not least, no numbers to call or tools to narrow down the options based on your home's unique usage profile.
Its shortcomings suggest that the power to choose site may waste more time than help you make the right choice.
Get an accurate apples-to-apples comparison of reliable and trusted energy providers' cheapest energy plans with ComparePower.
Better than Power to choose

Linden W (TX, United States)
Instantly compare competing Texas electricity companies.
Start service for your home
Important: If this is your first time setting up electricity service in Texas, it is helpful to have the electrical usage of your property from the previous year.
Your property's previous owner should be able to find usage statistics on their billing statements.
This research may take a little time, but the effort could save you money.
ComparePower crunches the numbers instantly to help meet your home's usage pattern.
If you can't obtain usage statistics, utilize the ComparePower "Help Me Choose" tool to evaluate your usage.
The site also provides reminders for your upcoming switch from an old contract to a new contract.
If you do not have any usage history, estimate it here.
Learn how to start electricity service for your new home in Texas 👉
Switch providers and save
Your current electric provider may take the end of your current energy contract as a chance to increase your rates.
This means that you should search for affordable electricity rates each year. You may save hundreds of dollars each year by switching providers.
Is your energy contract ending or expired? Letting your contract lapse can be costly. Learn how electricity contract renewals work in Texas.
Switching is easy because your new electricity company handles everything, including cancellation.
As you switch, you don't need to worry about representatives coming to your home or disrupting your power.
The switch only takes minutes, and you could realize savings in the first month.
There is no loss of power when you switch. Electricity in Texas is all delivered by your local Transmission and Distribution Utility.
The wires and poles that deliver electricity to your home remain the same, no matter your provider.
Learn how to switch energy companies in Texas 👉
Here are some considerations when switching energy plans:
Texas law allows early contract cancellation within 14 days of the contract's end without penalty.
Some plans allow you to arrange your next contract within 60 days of your current contract's conclusion.
You may find a new energy provider with a rate that makes early cancellation worthwhile even if you pay the penalty.
Best green energy plans
In 2006, Texas surpassed California in wind-power production to become the top wind-producing state in the US. The state set renewable energy goals in 1999 and 2005, which it has since far surpassed.
Today Texas generates more renewable wind power than most countries.
The prices of energy derived from wind are less volatile than gas and oil prices, thereby offering some stability when compared to the more traditional fossil fuels.
Many cities in Texas benefit from renewable energy sources. The city of Georgetown, Texas, with a population of 50,000, powers itself entirely with renewable energy.
If you are looking for a renewable energy plan, ComparePower has great plans from leading companies such as Green Mountain Energy.
Find the best green energy companies, plans, and rates in Texas 👉
Compare energy plans in Texas and save 💸
Love Compare Power's customer friendly tools. I was able to put in my highest power usage, select the best prices, then go back to those same companies and change to my lowest usage and compare the same companies. It makes it easy to confirm that a company will not overcharge you for under or over usage and chose the right company and plan for you. I highly recommend over power to choose. It was fast to apply for service too.

Rena B (TX, United States)
Best Texas electricity companies
Are you trying to find the best electricity company in Texas?
You can sign up for services with great electricity providers such as TXU Energy, Reliant, Direct Energy, Gexa Energy, and more.
To sign up, learn more, or view current rates, click on the company of your choosing.
Get no-deposit lights
Need to find an energy plan in Texas that doesn't require a deposit?
If you are charged a deposit on your first plan selection, ComparePower will automatically show you other plans available without a deposit.
That saves you a lot of time and hassle. No more surfing the internet and calling energy companies to determine if a deposit is needed.
Learn how to get no deposit lights in Texas 👉
Get your lights turned on today with no-deposit.
Texas utility service areas
Your electricity company is responsible for customer service and billing. In a power outage, you need to call your local utility. Click below to access your utility's website and report a power outage.
Deregulation of electricity in Texas
Throughout most of the 20th century, energy in Texas was regulated as a public utility. In this monopoly, Texans were served by a single local provider, owned the power plant and the power lines, and handled customer service and billing.
By law, electricity rates are linked to the cost of coal or natural gas.
All of this changed in 2002 when Texas lawmakers passed Senate Bill 7, a law that deregulated the state's electricity market with the promise that an open marketplace would bring about competition and lower prices.
If customers had a choice, rival electricity providers would be incentivized to reduce operating expenses to offer lower energy rates.
The old utilities, which were monopolies, were unbundled into three separate entities.
These three entities are power plants focusing on energy generation, transmission, power poles, power lines, and retail, which handles customer service and billing.
A new market has emerged in Texas, with private power generators and multiple retail electricity providers marketing their power to Texas residents throughout the state.
Only the energy transmitters (the utility companies) remained regulated as it didn't make sense to have multiple private companies putting up power lines throughout the state.
In this free market, competing electricity retailers buy electricity wholesale from private power generators to sell at retail to around 85% of Texas residents.
The Electric Reliability Council of Texas governs the partnership between generators and retailers, or ERCOT, which attempts to balance the power grid's electricity supply and demand by purchasing small amounts of electricity at 15-minute intervals throughout the day.
In this balancing process, power generators offer a selling price for a certain amount of electricity. Once ERCOT accepts a bid, it sets the price for all power producers in the state.
ERCOT is a membership-based nonprofit governed by a board of directors and overseen by the Public Utility Commission of Texas (PUC) and the Texas Legislature. Since 1975, the PUC has provided statewide regulation of rates and services of electric utilities.
The PUC's mission is to protect customers, foster competition, and promote high-quality infrastructure. In addition to regulating the state's electric utilities and implementing legislation, the PUC offers Texas residents assistance in resolving consumer complaints.
If you have a complaint with your electricity company, you can go to the official PUC website and file an informal complaint.
Learn about electricity deregulation in Texas 👉
Best electricity rates near you
Find a low electricity rate in your city or search with your zip code.
Electricity rates by Texas zip code
Find cheap electricity rates by zip code. Click on your zip code below to find competitive rates in your area.
Popular ZIP codes:
75001 75002 75006 75007 75009 75010 75011 75013 75015 75019 75020 75021 75022 75023 75024 75025 75028 75032 75033 75034
Compare rates with your zip code 👇🏽
Texas electricity rates FAQs
Who has the cheapest electricity rates in Texas?
Texas has over 60 electricity providers with hundreds of energy plans.
When shopping for the cheapest rate, take your home's kilowatt-hour usage into account. The best way to find the best rate for your Texas home is to compare energy plans according to your usage.
Find the right energy plan for your kWh usage with ComparePower.
How do I find the best electricity rate in Texas?
Picking the wrong energy plan without knowing your home's energy usage can cost you hundreds or thousands of dollars.
Compare energy plans and electricity rates with your home's electricity usage profile to find your best rate in Texas.
Shop with your usage on ComparePower and save both time and money.
A few minutes can save you hundreds on your electricity bill 👉
What is the best alternative to power to choose in Texas?
What is the average electricity rate in Texas?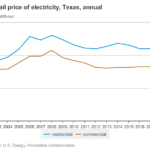 The average residential electricity rate in Texas is 13.15 cents/kWh, 12.6% less than the US average.
The average commercial electricity rate in Texas is 9.38 cents/kWh, 25.7% less than the US average.
Why have Texas electricity rates increased?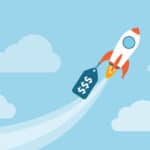 Natural gas prices often act as a significant driver of electricity prices as it is usually the most expensive fuel for generating units dispatched to provide electricity to the grid.
A challenging economy has led to a rise in natural gas and electricity prices.
Protect yourself from rising electricity prices by locking in a fixed-rate plan. When Texas power demands spike, you won't be hit with a high electricity bill.