Any product or company names, marks, or logos shown on this page are the property of their respective owners. ComparePower is an unaffiliated, independent marketplace. Get unbiased, accurate information backed by our commitment to editorial integrity.
No-Deposit Electricity
Save hours of time and hassle getting no deposit lights in Texas.
You don't have to waste time searching the internet and calling Texas electric companies for no-deposit offers.
Easily compare electricity rates and find no-deposit electricity.
If you are needing electricity this is the ONLY place you need to go. Super easy and many companies and plans with $0 deposit to choose from. Couldn't believe how easy it was, I had pre paid light and was paying $13-$15 a day I switched with the help of ComparePower & my light was switched the very next morning!

Julie G. (TX, United States)
Deposits & Credit
Texas retail electricity providers (REPs) require a credit check as proof of satisfactory credit history to provide electric service.
You can avoid a credit check, but will have to pay a refundable deposit to receive service.
A deposit might also be required depending on your credit history and varies by provider.
The deposit amount can be up to one-fifth of your estimated annual electric bill or your estimated bills for the next two months.
You should know, however, that it is possible to avoid paying a deposit if you meet specific requirements.
You may not have to pay a deposit to sign up for service with a REP if you have been a customer of any REP or electric utility in the past two years before requesting service, aren't delinquent on your electric account, and haven't been late paying more than once within the last 12 months.
The requirement for a deposit might also be waived if you have a satisfactory payment history for electric bills.
Upon enrolling for service on ComparePower, if you're eligible for a deposit waiver, you can call your electric company directly to request a waiver.
Electricity company deposits are refundable at the end of your term.
Get Power Today
With rising electricity prices in Texas, many residents find it challenging to keep up.
Those seeking lower rates with less-than-perfect credit are finding they must pay a hefty upfront deposit.
This is a significant barrier for many struggling to make ends meet.
Fortunately, there is a solution.
Payless Power No-Deposit Prepaid ⤵️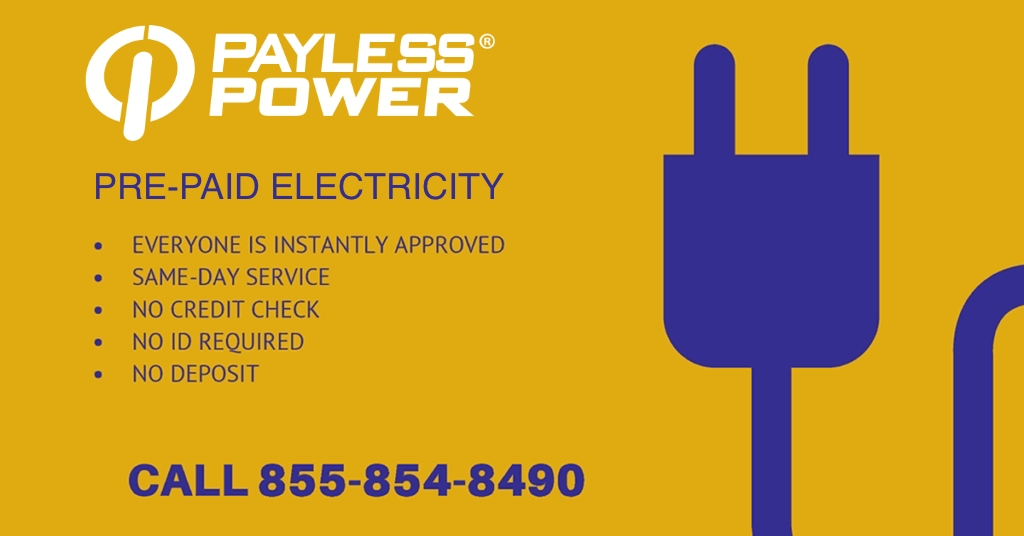 Everyone is instantly approved.
Avoid credit checks and deposits altogether with Payless Power Prepaid.
Same Day Service
No Credit Check
No ID Required
No Deposit
No-deposit Lights FAQs
Can I get electricity in Texas with no deposit?
You bet! Save yourself hours of hassle finding cheap no-deposit lights in Texas. 
No need to spend hours searching the web and calling Texas light companies. See your deposit requirements from multiple light companies all at once on ComparePower.
Here's how it works:
1. Start with your zip code on ComparePower, choose a plan, and enroll online.
2. If the company you select requires a deposit, we will check whether any other companies may not require one.
3. Enroll in minutes with a company that offers no deposit. It's that quick and easy. 
What is the deposit for electricity without credit in Texas?
It varies from one provider to another. Each Texas energy company has its deposit amount and credit threshold. To find out the amount, you must complete an enrollment application, which can take hours if you apply to each company individually. Who wants to spend hours calling around?
There is a better way with ComparePower. Simply enter your zip code, find a plan, and enroll online. We'll show you the deposit requirements for other energy providers in one place if a deposit is required. Quick and easy.
We have no deposit options for you on ComparePower. 
How to get your electricity deposit waived in Texas?
The following are additional ways to avoid paying a deposit if you are signing up with a retail electricity provider:
• You are 65 years of age or older and are not past due on any electric service account.
• You have been determined to be a victim of family violence.
To qualify as a victim of family violence, you will need to provide a Texas Council on Family Violence deposit waiver certification letter. The letter must be filled out by family violence center personnel, treating medical personnel, law enforcement personnel, a Texas District Attorney or County Attorney, the Office of the Attorney General personnel, or a grantee of the Texas Equal Access to Justice Foundation. The letter must be submitted directly to the Retail Electric Provider (REP) using the REP's toll-free fax number. A copy of the deposit waiver certification letter can also be obtained on the PUCT website.
• You are medically indigent, by demonstrating that:
Your household income is at or below 150% of the federal poverty guideline ($23,265 for a family of two, $6,030 for each additional family member per 2013 guidelines) as certified by a governmental entity or government-funded energy assistance program provider.
You or your spouse has been certified by a physician as being unable to perform three or more daily activities such as grooming, bathing, and feeding or your monthly out-of-pocket medical expenses exceed 20% of your household's total income.
• Obtain a written guarantee from a friend or family member who is currently a customer in good standing with the REP you are signing up with. Contact the REP for more information on the terms and requirements for a letter of guarantee.
Can I pay my deposit in installments?
If you are required to pay a deposit, you may be eligible to pay a deposit over $50 in two installments if you are a low-income customer. Please note that:
• The REP may require you to provide documentation proving that you are on the Low-Income Discount Administrator's eligibility list. You may be on this list if you are currently enrolled for electric service with a REP and are enrolled in a Texas Health and Human Services Commission program, such as food stamps or Medicaid.
• If you are not on the eligibility list, the REP may request that you provide other documentation to show that you otherwise qualify.
Can I get assistance paying my electric bill?
Electric providers may offer benefits to low-income customers. You must be in the supplemental nutrition assistance program (SNAP) or on Medicaid, and the participant's name must appear on the electric bill. The electric matching program does not allow self-enrollment. Check with your electric provider to see if they participate and if they offer low-income benefits.