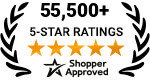 Any product or company names, marks, or logos shown on this page are the property of their respective owners. ComparePower is an unaffiliated, independent marketplace. Get unbiased, accurate information backed by our commitment to editorial integrity.
Power to Choose in Texas
Hey there, fellow Texan! Are you tired of feeling like you're at the mercy of your electricity provider?
Well, you're in luck. In Texas, we have the power to choose our electricity provider.
That's right—you have the freedom to shop around, compare rates, and select the provider that best fits your needs and budget.
This comprehensive guide will walk you through everything you need to know about the Power to Choose in Texas.
And we'll introduce you to ComparePower, your ultimate tool for making the process even easier.
TL;DR: Texans have the power to choose their electricity provider thanks to market deregulation. The official power to choose website can leave you feeling lost and confused. Instead, use ComparePower to find the best plan for your home.
Table of Contents
Power to Choose: What's It All About?
The power to choose your electricity provider is a unique benefit for Texans, thanks to the deregulation of the state's electricity market.
This means you can shop around, compare electricity rates, and select the provider that best suits your needs and budget.
The official platform for this is powertochoose.org, but there's an even better power to choose alternative: ComparePower.
The History of Power to Choose
Before 2002, one company provided all components of electric service (including generation, transmission and distribution, and retail sales) in most areas of Texas.
However, the Texas legislature decided to deregulate the state's electricity market to encourage competition and lower prices.
This led to creating the Power to Choose website by the Public Utility Commission of Texas, giving residents a place to compare plans and providers.
How does Power to Choose work?
Power to Choose lists the electricity plans available in the state. You enter your zip code to see the available plans in your area.
Your other option is to answer the following questions: 
– On average, how much electricity do you use in a month? 
– What plan types are you interested in? 
– How long do you want your contract to last?
If you answer those questions, you'll see plans sorted by price on the Power to Choose listings page that has been filtered based on your answers.
If you sort through the list and find a plan that looks like a good fit for your home, you can click on sign up and get linked to another site. 
How do I compare electric plans on Power to Choose?
Comparing plans is supposed to be an easy process on Power to Choose. You enter your zip code and can go straight to a list of plans.
The plans are listed with the lowest price at the top for 1000 kilowatt-hours (kWh) usage.
And you can sort them by price, type of rate, and the length of the contract. 
You can look at these when comparing plans: 
– Price 
– Type of Rate 
– Length of Contract 
– Fees 
– Renewable Energy 
– Company Reputation 
Most of these are easy to find on Power to Choose. There are filters on the left-hand side of the screen that give you quick access.
If you want to see the fees for the plans, you'll need to dive into the Electricity Facts Label (EFL) and the Terms of Service. 
The Power to Choose in Different Cities
The power to choose varies in different cities across Texas.
For example, you'll find different rates in Dallas than in Houston.
However, it's important to note that not all areas in Texas have the power to choose.
Unfortunately, only around 80% of Texas is open to electricity competition. The other 20% of the state comprises areas operating as municipally-owned electric utilities or electric cooperatives that do not participate in electric choice.
Switching Providers and Starting New Service
Switching electricity providers or starting new service can seem daunting, but it doesn't have to be.
At ComparePower, we understand the concerns you might have about these processes.
That's why we're committed to making them as smooth and straightforward as possible. We guide you through every step, helping you understand what to consider when switching providers or starting new service.
Our team is always ready to answer your questions and address your concerns, ensuring you feel confident in your decisions.
ComparePower: Your Ultimate Power to Choose Alternative
Choosing an electricity provider is a crucial decision that can significantly impact your monthly expenses.
With so many options available, it can be overwhelming to sift through all the information. We take the guesswork out of choosing an electricity provider in Texas.
ComparePower makes it easy to compare plans from various providers and get personalized help finding the best plan from local experts.
We provide clear information at every step so you understand exactly what you're signing up for.
With ComparePower, you can make an informed decision and potentially save on your energy bills.
Wrapping Up: Your Power, Your Choice
In Texas, the power to choose your electricity provider gives you control over your energy costs.
Making the right choice has never been easier, especially with ComparePower.
So why wait? Start comparing plans today and discover your power to choose.
Power to Choose FAQs
Do you have questions or need help choosing the right energy plan?
Our team of local energy experts is here to help! Give us a call at 855-441-3030, Monday to Friday from 9 am to 4 pm.