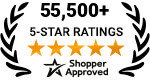 Any product or company names, marks, or logos shown on this page are the property of their respective owners. ComparePower is an unaffiliated, independent marketplace. Get unbiased, accurate information backed by our commitment to editorial integrity.
Shopping with Your kWh Usage
Are you tired of paying more than you should for electricity? What if there was a way to choose an electricity plan that closely matches your home's unique energy consumption patterns? Welcome to the world of usage-based shopping, a game-changer in the Texas electricity market.
TLDR: Learn how shopping with your usage can revolutionize your approach to selecting an electricity plan. Instead, it's about choosing an electricity plan that closely matches your unique energy consumption patterns you can choose one that is ideal.
This approach can lead to significant savings, especially when combined with the powerful tools offered by ComparePower. By entering your usage history, ComparePower can help you find the best plan for your needs, potentially saving you hundreds of dollars a year.
Table of Contents
Save Money with Your Usage
When it comes to shopping for electricity in Texas, understanding your usage is key. It allows you to make informed decisions and find a plan that suits your specific energy needs. By learning how to shop with your usage in mind, you can unlock the potential to save money and have greater control over your energy expenses.
What is Usage-Based Pricing?
Electricity plans often advertise rates at standard usage levels of 500, 1,000, or 2,000 kWh. However, if your usage doesn't align with these levels, you might find yourself facing unexpectedly high or low rates. With usage-based pricing, you can avoid such surprises.
Usage-based pricing is a pricing model that takes into account your actual energy consumption. Instead of relying on standard usage levels, which may not accurately reflect your specific needs, usage-based pricing ensures that you pay for the electricity you actually use. This personalized approach allows you to avoid surprises on your bill and find a plan that aligns with your individual energy habits.
Why Usage-Based Pricing is Beneficial
The benefits of usage-based pricing are numerous. Firstly, it provides greater accuracy in billing, as you're billed based on your actual consumption rather than an arbitrary average. This means that your electricity costs are more closely aligned with your usage patterns, leading to a fairer and more transparent billing process.
Secondly, usage-based pricing empowers you to make smarter energy choices. By understanding how your consumption fluctuates throughout the year, you can identify areas where you can reduce energy waste and make adjustments to optimize your usage. This not only helps you save money but also promotes sustainability by minimizing your carbon footprint.
How ComparePower Simplifies Electricity Shopping
ComparePower makes the process of shopping for electricity plans with your usage in mind simple and convenient. Our user-friendly platform allows you to enter your usage history, and our advanced algorithms analyze the data to generate a tailored list of plans that align with your energy needs. This eliminates the guesswork and saves you time and effort in comparing different options.
We partner with trusted Texas electricity providers, ensuring that you have access to reliable and competitive plans. Our platform provides comprehensive information about each plan, including rates, contract terms, and any additional fees, so you can make an informed decision.
Transparency and Honesty in Pricing
At ComparePower, transparency and honesty are at the core of what we do. We believe in providing clear and accurate information, so you know exactly what to expect from your chosen electricity plan. We vet all our listed providers to ensure their reputation and reliability, giving you peace of mind when making your selection.
Our customer support team is always ready to assist you throughout the process. Whether you have questions about specific plans, need clarification on terms and conditions, or require assistance with enrollment, our dedicated team is here to provide guidance and support.
Join Thousands of Satisfied Texans
Join the thousands of satisfied Texans who have chosen ComparePower as their trusted electricity shopping platform. Our user-friendly interface, personalized usage-based pricing, and commitment to transparency make us the go-to choice for finding the best electricity plans tailored to your needs. Start shopping with your usage in mind and take control of your energy costs today with ComparePower.
Remember, these headings and content can be adjusted and expanded upon to fit your specific article and flow. The goal is to guide the reader through the information in a logical and engaging manner, ensuring a smooth reading experience.
Next Step: How to Shop with Your kWh Usage in Texas
Learn how to shop with your kWh for maximum savings on your electric bill.
Learn how shopping with your kWh usage can help you save on electricity bills in Texas. Follow our step-by-step guide and unleash the power of ComparePower's innovative platform.
Usage-Based Pricing FAQs
What is usage-based pricing?
Usage-based pricing (or shopping) is a method where you compare and select electricity plans based on your specific usage patterns. Instead of relying on predetermined usage levels, such as 500, 1,000, or 2,000 kilowatt-hours (kWh), usage-based shopping takes into account your actual energy consumption.
By inputting your historical usage data or estimated usage, you can find plans that align with your unique energy needs.
This approach allows you to personalize your electricity plan and potentially find cost savings.
With usage-based shopping, you can make informed decisions and choose a plan that fits your specific usage profile, leading to a more tailored and potentially more affordable electricity experience.
How can usage-based pricing save me money?
By utilizing usage-based shopping and selecting a plan that aligns with your specific energy needs, you can optimize your electricity expenses and potentially save money on your bills.
It empowers you to make informed decisions, encourages energy efficiency, and provides the flexibility to adapt your plan as your usage changes.
With usage-based shopping, you have the tools to take control of your energy costs and keep more money in your pocket.
How does ComparePower help me find the best plan based on my usage?
ComparePower is your partner in navigating the complexities of the Texas electricity market.
We offer the tools, resources, and support you need to find the best plan based on your usage.
With our assistance, you can confidently compare options, make an informed decision, and secure an electricity plan that optimally meets your energy needs ad budget.
Can I enroll for a plan directly on ComparePower?
Yes, ComparePower offers a seamless online enrollment process. You can find and enroll in a plan without leaving our platform.
Why should I trust ComparePower?
ComparePower is a trusted marketplace that lists electricity plans and rates from vetted Texas electricity providers.
Over 55,500 Texans have rated us 5 stars, attesting to our commitment to helping consumers find the best electricity plans for their needs.
Do you have questions or need help choosing the right energy plan?
Our team of local energy experts is here to help! Give us a call at 855-441-3030, Monday to Friday from 9 am to 4 pm.