Any product or company names, marks, or logos shown on this page are the property of their respective owners. ComparePower is an unaffiliated, independent marketplace.
Texas electricity prices
Throughout the last decade, Texas electricity prices have been volatile. With endless options and multiple prices for each plan, it can feel impossible to find the right one for your home.
Our fellow Texans needed a solution, and ComparePower was born to help you sift through the hundreds of electricity plans available throughout the state.
While we built our name with powerful tools to help you find the best plan for your home and checkout with confidence in your choice, we are proud to offer you plans that beat average Texas prices daily.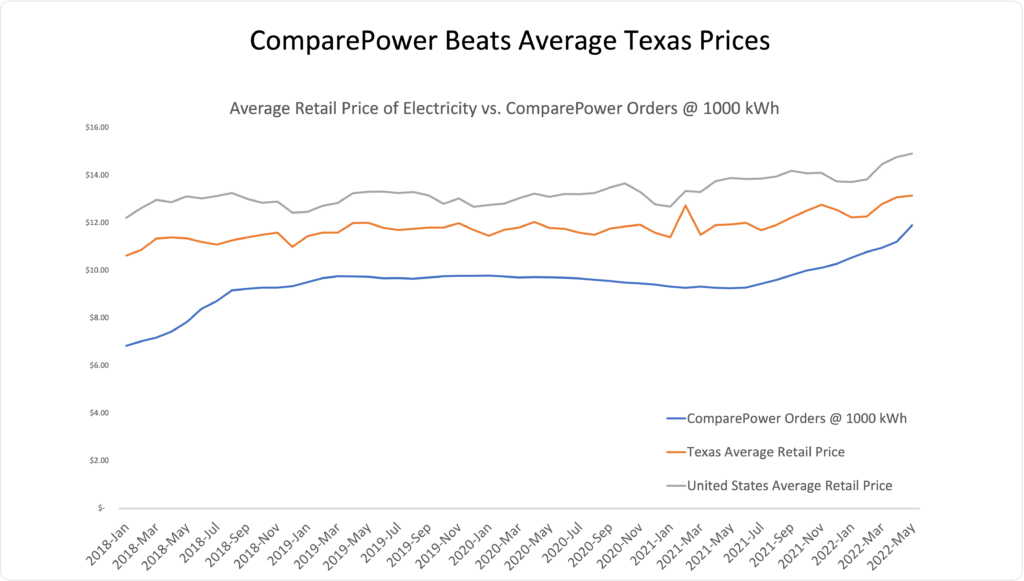 Source: U.S. Energy Information Administration
Love it what more can I say! Easy to navigate and see realistic pricing from every possible angle!

Amy L. (TX, United States)
Why Prices are Rising
According to energy experts in Texas, multiple factors lead to a challenging year ahead for consumers, generators, and retailers.
Understanding the factors influencing the energy market and how to best adjust to a season that brings high temperatures, high demand, and high costs is crucial.
ERCOT has predicted peak demand for years, and this year is no exception.
ERCOT cites several factors that will test the grid. In addition to record-breaking demand, the closure of power plants and delays in power supply projects could reduce electricity supply.
Texas electricity prices for January 2023
The average Texas residential electricity price is 14.82 cents/kWh, 6% less than the U.S. average.
The average Texas commercial business electricity price is 9.15 cents/kWh, 27% lower than the U.S. average.
Updated January 2023
Rising prices
Natural gas prices in the United States rose substantially over the past year and a half after many years of relatively low prices that led to a steady rise in the use of natural gas for electricity generation.
Generation from coal fell as coal-fired power plants were retired.
It's also no secret that Texas is booming. Each year, the population of Texas has grown by 1-2%, which might not seem like much, but that equates to population growth of at least 300,000 people.
Due to this growth, peak electricity demand this summer will exceed 78,000 megawatts (MW), 4,000 MW higher than in 2019.
As a point of reference, one megawatt of electricity powers about 200 homes on a hot Texas day.
With electricity problems becoming an increasingly hot topic, it's a no-brainer that additional resources are needed to strengthen the system.
Increasing demand combined with decreased supply
A decline in supply and an increase in demand will increase prices for any good or service traded on open markets.
Residential customers will be shielded from the high prices in the short run because of fixed-price contracts, but electric providers will eventually recoup their increased costs.
Power-generating companies rely heavily on natural gas to power their plants, and the rising price of natural gas means these companies are stuck with lower profit margins.
So, instead of paying for new plants and storage facilities, they hold on to their earnings and delay any expansion projects for future dates.
Due to these delays, ERCOT estimates power reserves for the state will be 5% lower than predicted.
With power reserves at such low levels, any failures in the grid will likely have devastating consequences.
Emergency conservation measures and rolling blackouts could be alongside triple-digit temperatures.
Inflation Reduction Act of 2022
Thankfully, energy news isn't all doom and gloom.
Federal production and investment tax credits, state renewable standards, and declining construction costs for wind and solar power have led to increased generation from renewable energy sources.
President Biden signed the Inflation Reduction Act of 2022, boosting renewable initiatives further, including several sections dedicated to energy infrastructure and spending changes.
Changes in tax credits for renewable energy production are expected to ramp up the supply of renewable energy for the Texas electricity grid.
Hopefully, within the next several years, you'll see a noticeable increase in renewable energy plans available for your home at affordable prices to make going green with your electricity even easier.
Additionally, the overall electricity supply on the Texas grid should increase, which means a stable supply of electricity and better protection against extreme temperature changes and outages.
These changes are expected to lower electricity bills by $500-1,000 annually across the nation.
Texas Electricity Plans
These live rates for Oncor Electric Delivery service area were updated on . Pricing shown is based on an exact usage of 1000 kWh.
Texas electricity providers
Retail Electric Providers in Texas buy their power from generators. Customers then purchase that power from them.
Your retail electricity provider also bills you for the electricity you consume each month.
Shop trusted and well-known brands such as TXU Energy, Reliant, Green Mountain Energy, Gexa Energy, and more.
Compare energy plans and find the right company for you.
Texas electricity prices FAQs
What is the average residential electricity price in Texas?
The average residential electricity rate in Texas is 14.82 cents/kWh, or 6% less than the United States average.
What is the average business / commercial electricity price in Texas?
The average commercial electricity rate in Texas is 9.15 cents/kWh, 27% lower than the United States average.
What electricity company has the best prices in Texas?
Texas has over 60 retail electric companies, with dozens of energy plans you can choose from. Your home's usage profile determines your best electricity price.
Shop with your home's usage history on ComparePower and find the energy plan that is best suited for you, regardless of the energy provider.
How do utilities and energy providers differ?
What is ERCOT in Texas?
ERCOT is a nonprofit organization that manages 90% of Texas' grid, providing power to 26 million people throughout the state. ERCOT is overseen by the Texas Legislature and the Public Utility Commission in Texas.
Why is my electricity bill so high all of a sudden?
Texas heavily relies on natural gas to produce electricity, and 51% of the state's electricity was generated with natural gas in 2021.
Natural gas has hit all-time highs due to economic turmoil, and electricity prices have continued to climb throughout the year.
Retail electricity providers (REPs) purchase electricity ahead of time based on predicted demand. As it becomes more expensive for REPs to purchase electricity, they raise prices to ensure they remain profitable.
If your contract has expired, you are likely paying a holdover rate that can vary each month and is significantly more expensive than a fixed-rate contract.
Enter your zip code on ComparePower to find the best plan for your home and make sure you don't get hit with any more high bills.
How much does electricity cost in Texas?
The average residential electricity rate in Texas is 14.82 cents/kWh, 6% less than the U.S. average.
Commercial/business electricity rates in Texas are 9.15 cents/kWh, 27% lower than the U.S. average.
Updated January 2023
Source: U.S. Energy Information Administration (EIA)
What are the best electricity prices in Texas?
You can end up paying hundreds or thousands of dollars in energy costs if you choose the wrong energy plan without understanding your home's energy needs.
Getting the best rate on your Texas electricity plan requires comparing prices with your home's electricity usage profile.
Your home usage history saves time and money when you shop on ComparePower.
 
In just a few minutes, you can save hundreds of dollars on your electricity bill and checkout confident in your electricity choice.