Electricity prices are on the rise in Texas
Electricity prices are expected to rise in the summer of 2022 as the ongoing global economic downturn continues.
According to the Electric Reliability Council of Texas (ERCOT), electricity rates will be a record high in the summer months when demand surges.
Energy consumers in Texas should lock in a fixed-rate contract to protect themselves from high electricity prices.
There won't be long before the thermometer reaches triple digits.
Enroll in a fixed-rate energy plan today and rest assured you won't be surprised by a high electric bill when energy prices soar.
Average retail price of electricity in Texas
The average retail price of residential electricity in Texas is $0.12 per kilowatt-hour (kWh).
Save 20% or more compared to the Texas average with ComparePower.
Over the course of a year, that amounts to hundreds of dollars in your pocket. And who doesn't like a few extra dollars?
I use ComparePower.com every year to switch and save money on my electricity bill. Highly recommend! Nothing else like it.

Lindsay C. (TX, United States)
Finding the best electricity prices
What are the best electricity rates in Texas?
You can end up paying hundreds or thousands of dollars in energy costs if you choose the wrong energy plan without understanding your home's energy needs.
Getting the best rate on your Texas electricity plan requires that you compare prices with your home's electricity usage profile.
Save time and money when you shop with ComparePower with your home's usage history.
 
In just a few minutes, you can save hundreds of dollars on your electricity bill.
The #1 most important thing to know is your home's energy usage. 

This quick 2-minute video explains why shopping with your usage is so important. 
Usage-based shopping: The best way to shop and save
The price per gallon shown on a gas pump is the price that you will pay no matter how many gallons you pump.
The price per gallon is $3. For 10 gallons, you will pay $30. Easy.
Buying electricity in Texas is not as easy as buying gasoline. kWh prices are based on a specific, exact monthly usage (usually 2000 kWh).
The calculation used to determine your monthly bill varies from plan to plan.
Your "price per kWh" is calculated by dividing your monthly bill by the amount of energy you consume.
"Per kWh" prices are misleading since they are based on specific usages, such as 2000 kWh. You need to consider the total bill for your household's usage when shopping.
It can be challenging to do that when the math is complex and every plan is different.
With ComparePower, the complex math is already done for you.
First, determine how many kWh you plan to use each month. Then, compare plans and their total monthly cost based on your usage, not the advertised price.
Learn how to switch energy providers with your usage.
Save money on your energy bill.
Texas electricity price forecast for 2022
According to energy experts in Texas, a lot of factors indicate a difficult summer for consumers as well as generators and retailers.
In light of the fact that the next two months in Texas will be hot and humid, it is crucial to understand the factors influencing the energy market and how to best adjust to a season that can bring high temperatures, high demand, and high costs.
The Texas electricity market is comparable to other consumer markets in many ways. If demand exceeds supply, price inflation is likely to occur.
The Energy Consumers Summer Forecast 2022
ERCOT has predicted summer peak demand for years. This year is no exception.
The price of electricity will be higher in June, July, and August, which are the time periods for higher demand.
ERCOT cites several factors that will test the grid. In addition to record-breaking demand, the closure of power plants and delays in power supply projects could reduce electricity supply.
It's no secret that Texas is booming. Each year, the population of Texas has grown by 1-2%, which might not seem like much, but that equates to population growth of at least 300,000 people.
Due to this growth, peak electricity demand this summer will exceed 78,000 megawatts (MW), 4,000 MW higher than in 2019.
As a point of reference, one megawatt of electricity powers about 200 homes on a hot Texas day.
With electricity problems becoming an increasingly hot topic, it's a no-brainer that resources are being dedicated to strengthening the system as a whole.
The downside to strengthening the grid is that it costs money, and you can probably guess where that money comes from. That's right, straight out of your pocket.
According to The Dallas Morning News' Watchdog, Oncor has already bumped up its delivery rates by 19% to cover the cost of adding equipment to support the growing population.
Increasing demand combined with decreased supply
A decline in supply and an increase in demand will increase prices for any good or service traded on open markets.
Industrial power consumers will be affected the earliest by the price increase since they tend to buy power at the market rate.
Residential customers will be shielded from the high prices in the short run because of fixed-price contracts, but electric providers will eventually recoup their increased costs.
Power-generating companies rely heavily on natural gas to power their plants and are stuck with less profit.
So, instead of paying for new plants and storage facilities, they hold on to their earnings and delay any projects for future dates.
Due to these delays, ERCOT estimates power reserves for the state will be 5% lower than predicted.
With power reserves at such low levels, any failures in the grid will likely have devastating consequences.
Emergency conservation measures and rolling blackouts could be on the way as temperatures soar into triple digits.
You need a fixed-price electricity plan if you don't have one already.
You can save money by signing up for a fixed-price electricity plan, but you must act now.
Lock in a low rate now before rates spike.
Any product or company names, marks, or logos shown on this page are the property of their respective owners. ComparePower is an independent marketplace offering electricity pricing comparisons for consumers.
Compare Texas energy plans
Several types of energy plans are available. It's likely you have seen plans with free nights or weekends, which although appealing, tend to cost you more than a straight fixed-rate plan.
Variable-rate and fixed-rate plans are most common. Both have advantages and disadvantages.
When signing up for an electricity plan as a consumer, it's crucial to know the differences.
Learn about fixed-rate vs. variable-rate electricity and which is best for you.
Fixed-rate energy plans
With fixed-rate contracts, the price stays the same throughout the contract term.
Regardless of weather conditions or market volatility, the rate you pay will not change for the term of your contract.
That doesn't mean you pay the same rate regardless of your usage. The price you pay is still determined by the amount of energy you use each month.
Term lengths of fixed-rate contracts are typically 6, 12, 24, or 36 months. Most ComparePower users opt for a fixed-rate plan in Texas as they are easier to budget and predict.
Learn about electricity contracts in Texas.
Variable-rate energy plans
Variable-rate plans are subject to market fluctuations on a monthly basis.
While they offer greater flexibility, variable-rate plans can also have more volatility in pricing which may lead to higher electricity bills.
Variable-rate plans are not recommended in most cases.
Power to Choose Texas
The Texas Public Utility Commission (PUC) manages the Power to Choose website, whose goal is to enable consumers to compare energy plans.
Learn why ComparePower is the best alternative to Power to Choose in Texas.
How to switch electricity providers
It's easy to switch electricity providers with ComparePower.
Follow these steps to get the cheapest electricity rates on ComparePower.
Total Time: 10 minutes
Compare Energy Plans

After entering your zip code, you will be asked a few questions about your energy habits. Using that information, we will guide you to your best energy choices.

Switch your electric provider

Enroll online without leaving ComparePower. Texas' best energy providers are our partners. The rates you see include all fees.

We'll handle everything else

We'll take care of the paperwork and get you set up with your new energy plan and notify you once everything is ready to go.
Supply:
Your First and Last Name
Drivers License
Social Security Number
Tools:
A desktop, laptop, tablet or mobile phone with internet access.
Materials: ComparePower.com is all you need to switch electricity providers in Texas.
Learn how to switch electricity providers in Texas.
Texas electricity price trends
How much does electricity cost in Texas?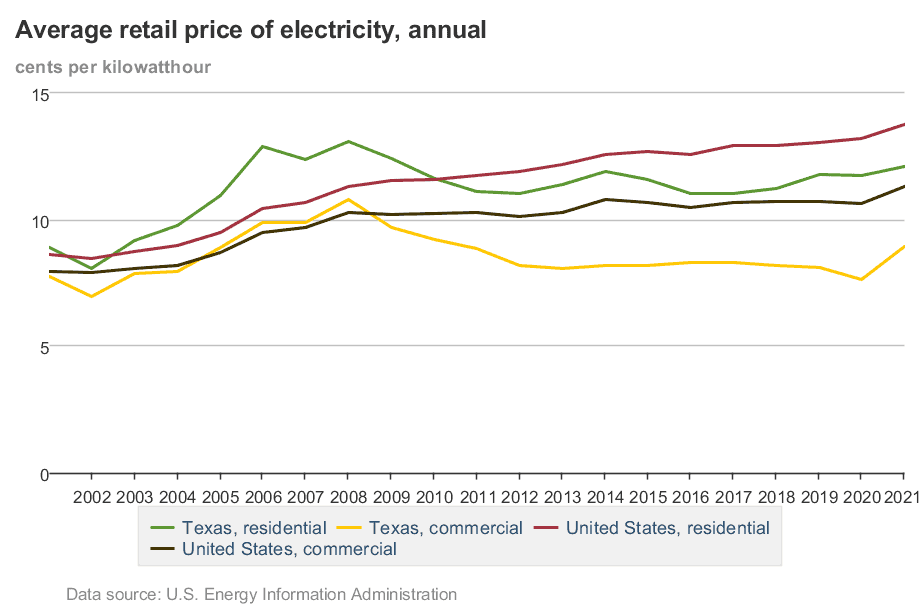 Residential electricity costs in Texas are 12.06 cents/kWh, 11% less than the US average.
Commercial/business electricity rates in Texas are 8.89 cents/kWh, 21% lower than the US average.
Source: U.S. Energy Information Administration (EIA)
Updated May 2022
Texas electricity providers
Retail Electric Providers in Texas buy their power from generators. Customers then purchase that power from them.
Your retail electricity provider also bills you for the amount of electricity you consume each month.
Shop trusted and well-known brands such as TXU Energy, Reliant, Green Mountain Energy, Gexa Energy, and more.
Compare energy plans and find the right company for you.
Save on Texas energy
With reserves at all-time lows, demand at record levels, and production costs rising, providers are more than happy to jack up their prices to maximize their profits.
In the coming months, you are sure to see electricity rates skyrocket, and the best way to protect your hard-earned money from high electricity bills is to lock in a fixed-rate contract today.
Using the powerful tools right here on ComparePower, you can shop with your home's unique usage profile to find the right plan for your home.
Lock in a great rate and rest easy knowing that you have spared yourself from shockingly high bills this summer.
Enter your zip code and get started right now. We'll show you all-inclusive pricing for the plans available in your area.
Sign up today to breeze through the summer without worrying about high electricity bills.
Compare Texas electricity rates
These live rates for Oncor Electric Delivery service area were updated on . Pricing shown is based on an exact usage of 1000 kWh.
Enroll in a fixed-rate energy plan instantly.
Texas electricity prices FAQ
What is the average residential electricity rate in Texas?
Residential electricity costs in Texas are 12.06 cents/kWh, or 11% less than the United States average.
What is the average business / commercial electricity rate in Texas?
Commercial electricity rates in Texas are 8.89 cents/kWh, 21% lower than the United States average.
What electricity company has the best prices in Texas?
Texas has over 60 retail electric companies and each company has dozens of energy plans you can choose from. Your best electricity price is determined by your home's usage profile.
Shop with your home's usage history on ComparePower and find the energy plan that is best suited for you, regardless of the energy provider.
How do utilities and energy providers differ?
What is ERCOT in Texas?
ERCOT is a nonprofit organization that manages 90% of Texas' grid, providing power to 26 million people throughout the state. In the state of Texas, ERCOT is overseen by the Texas Legislature and the Public Utility Commission.
Lock in a low fixed-rate before prices skyrocket.
ComparePower Reviews
Read reviews and ratings from 100% verified ComparePower customers.