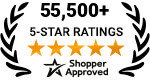 Any product or company names, marks, or logos shown on this page are the property of their respective owners. ComparePower is an unaffiliated, independent marketplace. Get unbiased, accurate information backed by our commitment to editorial integrity.
Hey there, fellow Texan! Are you navigating the exciting yet somewhat daunting Electric Vehicles (EV) world?
You're not alone in this journey.
As EV adoption in Texas skyrockets, the big question on everyone's mind is, how to find the best EV electricity plans?
Well, you've come to the right place.
Let's embark on this electrifying journey together with ComparePower, your trusted partner in finding the best electricity plans in Texas.
TL;DR: In Texas, the surge in EV adoption has led to the creation of numerous EV-specific electricity plans, with more being crafted to meet the growing demand. ComparePower is your trusted ally in navigating this expanding landscape, helping you find the plan that suits you best with ease and confidence.
EV Electricity Plans
Reliant
Reliant Energy currently offers one plan specifically for EV owners. Call Reliant at 866-983-4620 to sign up today.
EV Charger Plan
Level 2 EV Charger: Receive a Level 2 EV charger at no additional cost that can fully charge an EV overnight.
Nighttime savings: Enjoy discounted energy charges between 9 pm and 5 am.
100% renewable energy: The plan leverages 100% renewable energy sources, promoting a cleaner environment.
No minimum usage or base charges: Experience financial flexibility with no minimum usage or base charges.
Reliant app: Schedule nighttime charging via the app to maximize savings.
TXU Energy
TXU Energy has several plans available for EV owners. Call TXU at 866-370-2440 to sign up today.
TXU Free EV Miles 12 and 24 Plans
Charge your EV for free from 7:00 pm to 1:00 pm daily with 100% renewable energy.
Enrollment in TXU's telematics connection platform is required.
TXU EV Pass 12 and 24 Plans
Get 50% off on energy charges every night and all weekend long.
Weekday Nights: From 12:00 am through 4:59 am, Monday through Friday
Weekends: From 12:00 am Saturdays through 11:59 pm Sundays
Gexa Energy EV Plans
Gexa Energy has three variations of electric vehicle-specific plans on offer. Call Gexa at 888-688-8460 to sign up today.
Gexa SavEV 12 and 24 Plans
100% savings on nighttime EV charging: These plans offer customers 100% savings on EV energy charges for nighttime charging, 365 nights a year, when paired to the Gexa365 platform. The energy is 100% green, helping to reduce the carbon footprint and stabilize the grid.
Discounted kilowatt-hours: Every discounted kilowatt-hour consumed during nighttime hours reduces the strain on the grid and lowers the carbon footprint.
Charging Period: 9 pm to 4:59 am.
Gexa EV 24 Plan
30% Savings on nighttime charging: This plan offers a 30% discount on energy charges for EV charging every night, 365 nights a year, while providing 100% green energy.
Help the grid: Charging your electric vehicle from 9 pm to 5 am helps decrease the load on the energy grid during "peak hours."
Gexa Smart EV 12 Plan
Automatically shifts EV charging to periods when electricity costs are lower, helping to maximize bill savings and extend the EV's battery life.
30% savings on nighttime charging and the possibility to earn monthly bill credits.
Green Mountain Energy
Green Mountain Energy currently has one plan available for EV owners. Call Green Mountain at 866-983-4770 to sign up today.
Solar All Nighter for EVs
100% solar energy: Power your home and EV with 100% solar energy, promoting a sustainable and green lifestyle.
Lower prices at night: Benefit from reduced electricity prices every night from 8 pm to 6 am.
Price security: Enjoy a stable and affordable fixed price at all other times.
Other Plans to Consider
The Lone Star State is at the forefront when it comes to accommodating the surge in EVs.
Electricity providers are crafting plans that cater specifically to EV owners, but other existing plans could be a good option for charging your EV.
Time-of-Use Rates: These plans offer lower rates during off-peak hours, encouraging EV owners to charge their vehicles at night, which can significantly reduce electricity bills. Look for Free Nights and Weekends.
Renewable Energy Credits: Some plans come with renewable energy credits, promoting green energy usage and reducing your carbon footprint.
Incentives and Rebates: Many providers offer incentives and rebates for EV owners, helping you save even more.
Shopping Considerations: Questions to Ask Yourself
Before diving into the selection of your electricity plan, here are some pivotal questions to ponder upon:
Charging Habits: Where and when do you usually charge your EV? Understanding your charging routine can help in selecting a plan that aligns with your habits.
Work from Home: Do you work from home? Your electricity usage might be higher, necessitating a plan that offers better rates during the day.
Electricity Usage: What does your electricity usage pattern look like? Analyzing your usage can guide you to a plan that caters to your specific needs, potentially saving you money in the long run.
Your Roadmap to the Best Electricity Plans
Let's break down the journey step by step, ensuring you have all the information you need to make the best choice:
Understanding EV Adoption in Texas
EV Growth: The EV market in Texas is booming, with more people opting for electric vehicles due to their environmental benefits and cost-efficiency.
Government Incentives: Texas offers a variety of incentives for EV owners, including rebates on home charging equipment and discounts on electricity plans tailored for EV charging.
Diving into the Electric Grid
Renewable Energy: Texas is leading in wind energy production, and a significant portion of the electric grid is powered by renewable sources, reducing the carbon footprint of your EV.
Sustainability: The state is constantly working to upgrade the electric grid to support the increasing number of EVs, ensuring a stable and sustainable power supply.
EV Charging Infrastructure
Charging Stations: Texas has a growing network of public EV charging stations, with plans to significantly increase the number of fast-charging stations in the coming years.
Home Charging: Installing a home charging station is becoming easier and more affordable, with many electricity providers offering special rates for nighttime EV charging to save you money.
Cost Comparison with ComparePower
Saving Big: By comparing different electricity plans on ComparePower, you can find the most cost-effective options for your EV charging needs.
Personalized Plans: We help you find plans that are tailored to your electricity usage patterns, helping you save money and enjoy the benefits of your EV without any hassles.
Taking the Next Step with ComparePower
Ready to take the plunge? Here's how you can get started:
Enter Your Zip Code: Find plans in your area that are available today.
Compare Your Options: Dive deep into the plethora of information available to help you make an informed decision.
Get the Right Plan: Sign up for a new plan in as little as five minutes.
Have questions? We are here to help. Reach out to our local team for any assistance.
Your Trusted Partner in the EV Journey
As you steer through the exciting world of EVs in Texas, remember that ComparePower is here to guide you at every turn, promising a journey that is as smooth as your EV ride.
So, why wait?
Embark on this electrifying journey with ComparePower, where we turn concerns into solutions, and questions into clear, straightforward answers.
Do you have questions or need help choosing the right energy plan?
Our team of local energy experts is here to help! Give us a call at 855-441-3030, Monday to Friday from 9 am to 4 pm.