Any product or company names, marks, or logos shown on this page are the property of their respective owners. ComparePower is an unaffiliated, independent marketplace.
How to easily understand Texas' deregulated power market
In some ways, a regulated power industry is simple to deal with. One power company tells you how much you will pay and when your bill arrives, you either pay it or get yourself a couple of generators or a complicated treadmill.
All jokes aside…being in a regulated power market means you're at the mercy of the electricity provider when it comes to rates, and you don't have the power to choose anything regarding your electricity.
You're out of luck if you think the rate is too high or you'd like to see more renewable energy sources. You don't have many options in a regulated energy market.
What's different about deregulated energy in Texas?
Deregulation is great because it creates increased market competition and gives you the power to choose your electric provider. But it also means that the Texas power landscape is much more complicated!
Before, it was a simple arrangement where one company handled everything: power generation, distribution, and retailing.
Now, it's all fragmented.
In Texas, power generation is handled by a few companies, and the utility companies manage the wires and poles for distribution. The retail electric providers (REPs) are the ones that sell electricity and send you your bill.
Instead of one major corporation handling everything you now have to know whom to call and when.
Account and billing-related problems
Call your REP if you have any issues with your electricity account or need to discuss billing options.
TXU Energy, Direct Energy, Reliant, and Green Mountain Energy are examples of well-established Texas power retailers.
Power outages that are affecting the neighborhood
Call your utility company if there is a power outage affecting your neighborhood.
Oncor Electric Service, Centerpoint Energy, AEP, and Texas New Mexico Power. Unlike the resale end of things, you have no say in who's handling the distribution – those areas are fixed, as you can see in this map put out by the Public Utility Commission.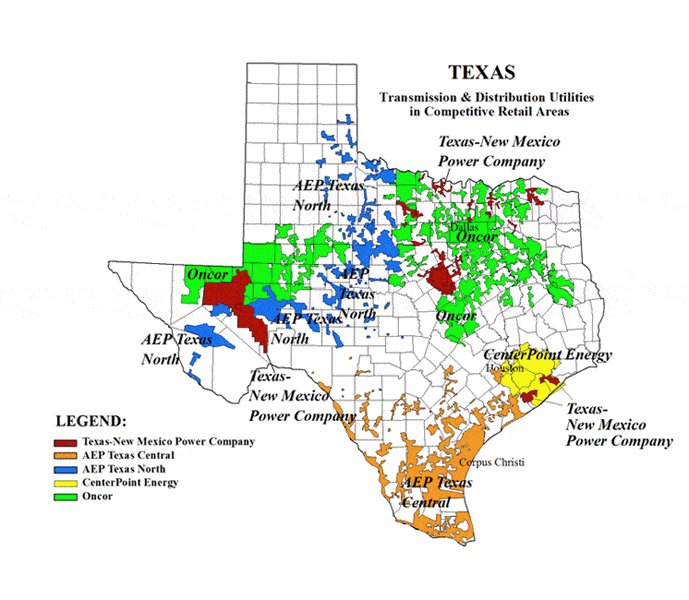 Power outages affecting your home
Call an electrician to come to take a look at your home.
Educate yourself and find savings
Because of deregulation in Texas, power generation and sales have been completely shaken up from end to end. It's no longer a matter of paying a single rate. You might be on a longer-term, flat-rate contract or, most commonly, on a plan where the rate varies periodically.
There are three general categories of electric plans to pay attention to:
Fixed-rate plans: you pay the same rate for the duration of your contract. If rates go higher than yours, you save money. If rates drop lower, you don't.
Variable-rate plans: a variable rate plan changes monthly based on the cost of generating electricity. You won't know what you're paying until the end of the month.  This can lead to a nasty surprise or a pleasant one. You won't know until you open the envelope. The formula used to calculate the rate is crazy-complicated, but it will be posted on your REP's website or in the documentation.
Indexed rate plans: this is a variable rate plan on steroids that is rarely available. If someone is trying to sell you an indexed rate plan, be aware that the price is tied to a commodity – usually natural gas – so prices can jump around.
Educating yourself is the best way to get into a plan that meets your needs. ComparePower is here to help you understand the market and how it impacts your choice when looking for the cheapest light company for your home or business.