Any product or company names, marks, or logos shown on this page are the property of their respective owners. ComparePower is an unaffiliated, independent marketplace.
Texas Electricity Rates
Texas electricity rates this past summer were higher than they had been in years.
Many Texans still feel the pinch from those high summer prices, but there is some good news.
The average price of electricity in Texas is expected to remain relatively stable over the next few months.
Prices, however, could begin to rise again later in the year as the demand for electricity increases with the cooler months ahead.
Lock in a fixed-rate electricity plan today to save money and avoid surprises on your energy bill.
Enroll today: Fixed-rate plans are as low as $0.12 per kilowatt-hour.
How to Find Your Best Rate
Over 60 electricity providers offer hundreds of energy plans in Texas.
Make sure you consider your home's kilowatt-hour usage when shopping for the cheapest rate.
For the most competitive rates in Texas, compare energy plans and electricity rates with your home's electricity usage.
It can cost you hundreds or thousands of dollars if you choose the wrong energy plan without knowing your home's energy usage.
The #1 most important thing to know is your home's energy usage. 

This 2-minute video explains why shopping with your usage is so important ⤵️ 
Very helpful, Compare Power makes switching providers stress-free. I plugged in my kwh usage from this past year & I could've been saving tons of money if I would have utilized this site & switched sooner!

Ashley (TX, United States)
Help me Choose
Tell us about your home and energy habits, and we'll help you choose ⤵️
Find the best plan for your usage.
The key to avoiding overpaying is knowing your expected usage and comparing the rates for each plan.
The price of gasoline, for instance, is the same no matter how many gallons you pump.
Pumping 10 gallons at $3 per gallon will cost you $30. It's simple.
Shopping for electricity plans in Texas is not the same as gasoline.
Advertised "price per kWh" is based on a specific usage amount (usually 500 kWh, 1000 kWh, or 2000 kWh).
Furthermore, each plan's monthly bill is calculated differently.
The "price per kWh" can only be calculated by dividing your monthly bill by usage.
Since the advertised "price per kWh" is based on specific usages, like 2000 kWh, it is misleading. You will not use the exact advertised usage every month.
This is why comparing energy plans with your home's usage history is vital when shopping.
It's complicated to calculate the math for each plan, but we've done it for you.
With just a few clicks, you can choose a plan that matches your usage and be confident you made the right choice for your home.
How it works
ComparePower makes it easy to get the right energy plan for your home.
First, we calculate your expected monthly kWh usage.
Next, we will show you the plans and their total monthly cost.
Select the lowest price plan, and you'll be on your way to saving on power.
New to Texas, New Home and NO CLUE how to choose a power company. I've now used Compare Power 2x's and had an amazing experience both times. It's informative,, quick, and easy peasy! Thank you.

Rose G. (TX, United States)
Best Texas Electricity Rates
These live rates for Oncor Electric Delivery service area were updated on . Pricing shown is based on an exact usage of 1000 kWh.
Best Texas Energy Plans
Whether you're moving to a new home or apartment, looking to save on nights and weekends, earn rewards, or lower your electricity bill, Texas energy companies offer an array of options to meet your household's energy needs.
Solar Energy Plans
Homes with solar panels can earn and sell back bill credits for any excess electricity returned to the grid.
Call Reliant at (855) 887-2194 or Green Mountain Energy at (844) 854-2257 to set up the right solar plan for you.
Average Texas Electricity Rates for November 2022
The average Texas residential electricity rate is 13.93 cents/kWh, 13% less than the U.S. average.
The average Texas business electricity rate is 10.04 cents/kWh, 25% less than the U.S. average.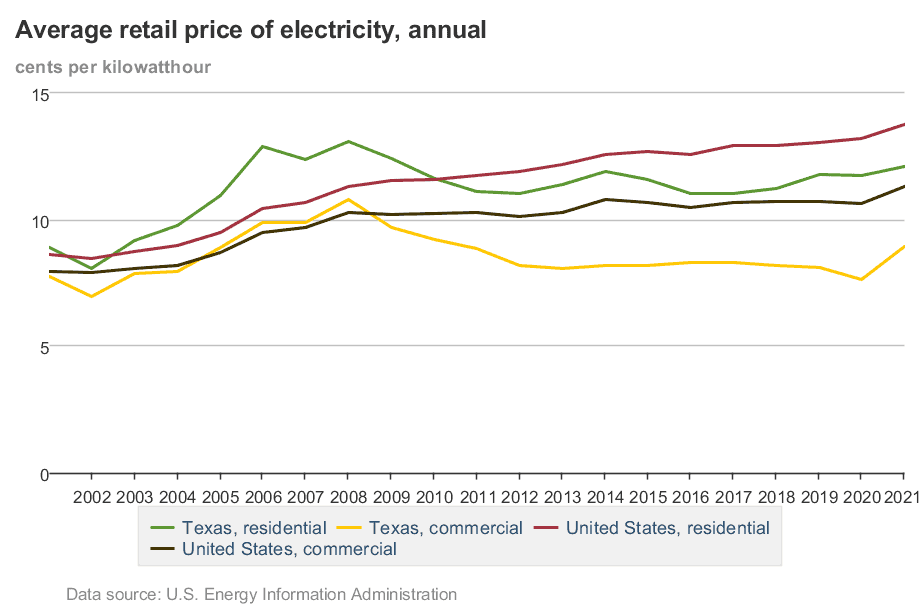 Last updated: November 2022
Texas Electricity Price Trends
Unlike other states, Texas has a deregulated energy market. In 2002, the state deregulated its energy market to decrease electricity prices for residential and commercial consumers.
It is challenging to predict electricity prices, as they will be influenced by various factors, including fuel prices, government regulations, and the cost of technology.
The average price of electricity in Texas is expected to remain relatively stable over the next few months. However, rates could begin to rise again later in the year as the demand for electricity increases.
This is due to various factors, including the time of year and the state's overall electricity demand.
Power to Choose Texas
Use your Power to Choose a Texas electricity plan and provider that fits your needs.
Get an accurate apples-to-apples comparison of reliable and trusted energy providers' cheapest energy plans with ComparePower.
Better than Power to choose

Linden W (TX, United States)
Compare Texas electricity companies ⤵️
Shop with kWh usage: If this is your first time setting up electricity service in Texas, it is helpful to have the electric usage of your property from the previous year to compare rates.
Your property's previous owner should be able to find usage statistics on their billing statements.
This research may take a little time, but the effort could save you money.
If you do not have any usage history the next best way to shop is to estimate your usage.
Save on Energy
Texans can do a few things to keep energy bills low this fall and winter. One is to make sure your home is well insulated.
This means sealing up any cracks or gaps around doors and windows and adding insulation to the attic and walls.
Another is to set your thermostats a few degrees lower than usual. This can help save on heating costs as the weather gets colder.
And, of course, if you have yet to switch providers, you may want to check your contract expiration date.
Your current electric provider may take the end of your current energy contract as a chance to increase your rates.
This means that you should search for affordable electricity rates each year.
You may save hundreds of dollars each year by switching providers.
Contract Expired or Expiring Soon?
Letting your contract expire can be costly. Learn how electricity contract renewals work in Texas.
Switching is easy because your new electricity company handles everything, including cancellation.
As you switch, you don't need to worry about representatives coming to your home or disrupting your power.
The switch only takes minutes, and you could realize savings in the first month.
There is no loss of power when you switch. Electricity in Texas is all delivered by your local Transmission and Distribution Utility.
The wires and poles that deliver electricity to your home remain the same, no matter your provider.
Considerations When Switching Energy Plans
Texas law allows early contract cancellation within 14 days of the contract's end without penalty.
Some plans allow you to arrange your next contract within 60 days of your current contract's conclusion.
You may find a new energy provider with a rate that makes early cancellation worthwhile even if you pay the penalty.
Switch electricity companies ⤵️
Love Compare Power's customer friendly tools. I was able to put in my highest power usage, select the best prices, then go back to those same companies and change to my lowest usage and compare the same companies. It makes it easy to confirm that a company will not overcharge you for under or over usage and chose the right company and plan for you. I highly recommend over power to choose. It was fast to apply for service too.

Rena B (TX, United States)
Texas Energy Companies
Are you trying to find the best electricity company in Texas?
Sign up for electric service with trusted electricity providers such as TXU Energy, Reliant, Direct Energy, Gexa Energy, and others.
Explore these energy companies to sign up, learn more, or view current rates.
Texas Electric Utilities
Your electricity company is responsible for customer service and billing. In a power outage, you need to call your local utility. Click below to access your utility's website and report a power outage.
Deregulation of electricity in Texas
Throughout most of the 20th century, energy in Texas was regulated as a public utility. In this monopoly, Texans were served by a single local provider, owned the power plant and the power lines, and handled customer service and billing.
By law, electricity rates are linked to coal or natural gas costs.
This changed in 2002 when Texas lawmakers passed Senate Bill 7, a law that deregulated the state's electricity market, promising that an open marketplace would bring about competition and lower prices through energy options.
If customers had a choice, rival electricity providers would be incentivized to reduce operating expenses to offer lower energy rates.
The old utilities, which were monopolies, were unbundled into three separate entities.
These three entities are power plants focusing on energy generation, transmission, power poles, power lines, and retail, which handles customer service and billing.
A new market has emerged in Texas, with private power generators and multiple retail electricity providers marketing their power to Texas residents throughout the state.
Only the energy transmitters (the utility companies) remained regulated as it didn't make sense to have multiple private companies putting up power lines throughout the state.
In this free market, competing electricity retailers buy electricity wholesale from private power generators to sell at retail to around 85% of Texas residents.
ERCOT
The Electric Reliability Council of Texas governs the partnership between generators and retailers, or ERCOT, which attempts to balance the power grid's electricity supply and demand by purchasing small amounts of electricity at 15-minute intervals throughout the day.
In this balancing process, power generators offer a selling price for a certain amount of electricity. Once ERCOT accepts a bid, it sets the price for all power producers in the state.
ERCOT is a membership-based nonprofit governed by a board of directors and overseen by the Public Utility Commission of Texas (PUC) and the Texas Legislature. Since 1975, the PUC has provided statewide regulation of rates and services of electric utilities.
The PUC's mission is to protect customers, foster competition, and promote high-quality infrastructure. In addition to regulating the state's electric utilities and implementing legislation, the PUC offers Texas residents assistance in resolving consumer complaints.
If you have a complaint with your electricity company, you can go to the official PUC website and file an informal complaint.
Learn about electricity deregulation in Texas 👉
Electricity rates near you
Find a low electricity rate in your city or search with your zip code.
Compare Rates by Zip Code
Find cheap electricity rates by zip code. Enter your zip code for competitive rates near you.
Texas electricity rates FAQs