Any product or company names, marks, or logos shown on this page are the property of their respective owners. ComparePower is an unaffiliated, independent marketplace.
Start electricity service for your move
If you are moving into a new home in Texas, here's what you need to know to quickly set up electricity service.
Texas has over 60 providers and hundreds of electricity plans with different features, options, and prices.
You have to choose an electricity provider. You cannot get service to your new home until you enroll in a plan on ComparePower. 
We help millions of Texans power their homes every year. We'll help you find the best plan for your home and get your lights on in time for your big move. 
💡 Did you know: The average retail price for residential electricity in Texas is 14.82 cents/kWh per kilowatt-hour (kWh).
Set up electricity in minutes 👇🏽
Buying a new house and remembered at the last minute I didn't have an electric company. Enrolled and was able to get power the next day which was my closing date! Fantastic!

Ronda H. (TX, United States)
How to start new electricity service in Texas
Ready to get started? Answer five home and energy habits questions and find the right energy in minutes.
Get started with your zip code on ComparePower.com
Total Time: 10 minutes
Enter Your Zip Code

Enter your zip code to find energy plans and rates in your area.

Compare Energy Plans and Rates

Compare energy plans and electricity rates by filtering the search results for desired features.

Enroll Online Instantly

Enroll online in 5 minutes, confident you made the right choice.
Supply:
Service Address
Drivers License #
Social Security #
Tools:
An internet connection and ComparePower.com is all you need to cross electricity off your moving checklist.
Materials: A computer, tablet, or mobile device with internet access.
Choosing the right energy plan
Electricity rates in Texas are priced according to your monthly energy consumption.
Finding the best home plan requires you to know your home's kWh usage month-by-month for an entire year.
If you are moving into a new home, you likely don't have any usage history. That's okay.
We will guide you to the right plan by estimating your kWh usage with your home's square footage.
If you are moving into an older home, you may be able to get information about the home's historical usage from the previous owner. If this is the case, you can shop with your home's historical usage to get the best electricity price.
Month-by-month historical usage can help tremendously in finding your best-priced plan but don't worry if you don't have any historical usage.
The fastest way to schedule power for your move-in is to choose a plan based on your expected average monthly usage.
The following home sizes can be used for reference when choosing which usage to sort energy plans by.
| | | |
| --- | --- | --- |
| Home Size | Square Footage | Suggested Usage |
| Small | 500 – 1200 sqft | 500 kWh |
| Medium | 1200 – 2000 sqft | 1000 kWh |
| Large | 2000 – 3000 sqft | 1500 kWh |
| X-Large | 3000+ sqft | 2000 kWh |
These are estimates. Your usage can vary due to numerous factors, such as home size, age, and household energy habits.
Not sure which to pick? Estimate your usage using this tool.
Let's quickly find your best energy plan.
Approximate average monthly usage: 690 kWh
Disclaimer: This tool is for approximation purposes only. Accuracy is not guaranteed or implied.
The approximated monthly usage is based on an average over 12 months. Air conditioning and heating costs can vary and often account for up to 50 percent of your home's energy use during different seasons.
Factors such as size of your home, weather, construction, heating and cooling equipment type, insulation, and family living habits will influence your actual usage.
Shopping considerations
Choose a plan with a satisfaction guarantee. Worried about making the wrong choice?
Avoid buyer's remorse or having to stay with a plan that is not ideal for your home's usage profile.
If you aren't satisfied with your choice, you can switch to a plan that is ideal for you and your home by choosing a plan with a guarantee (see the screenshot below for what to look for).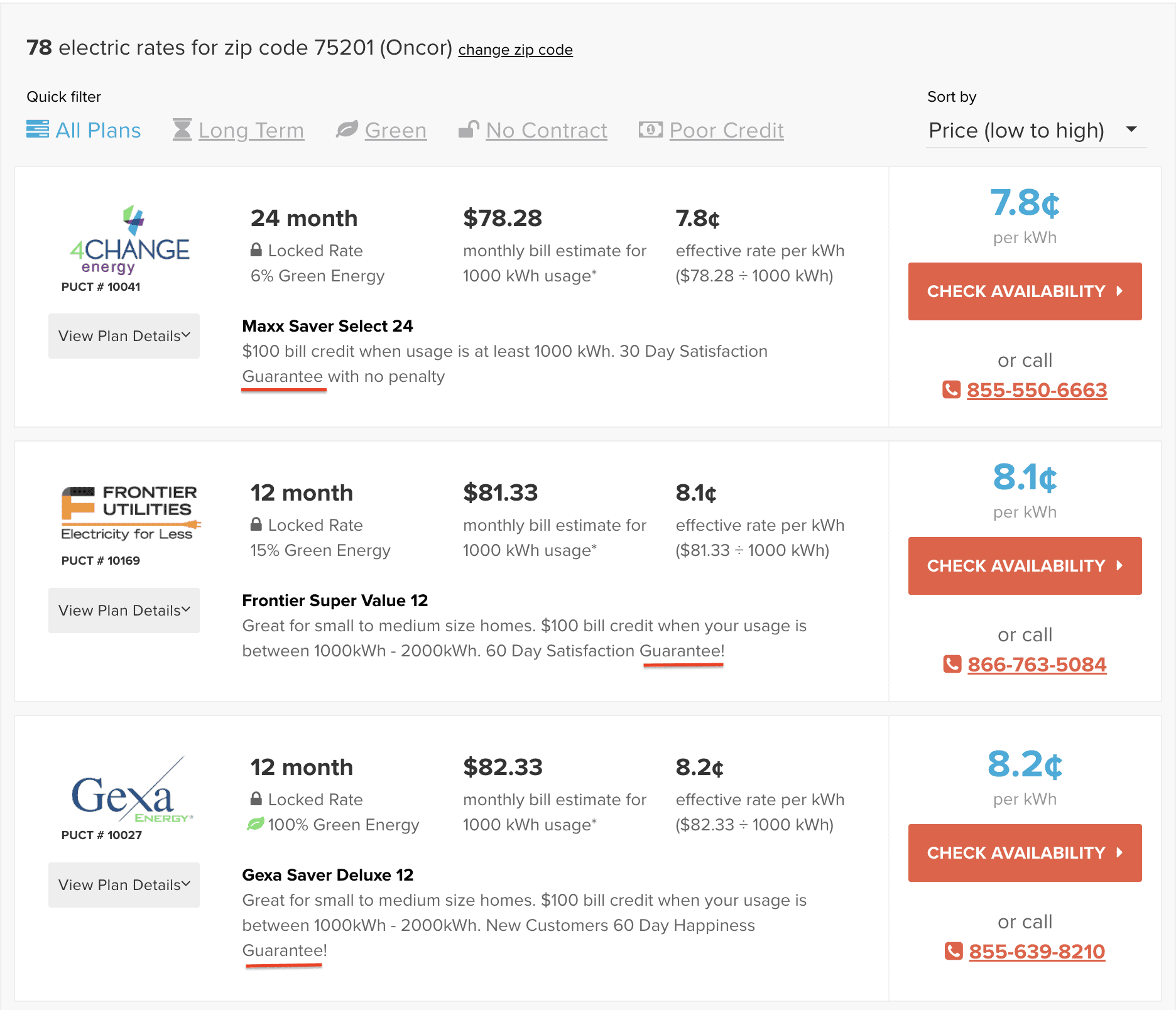 Choose a plan that does not have usage credits. Usage credits are discounts applied to your bill each month depending on whether you meet a certain usage threshold.
Usage credits can be beneficial, but only if you always get the credit.
You're playing a guessing game if you do not have a month-by-month history of your home's historical usage. 
Plans with usage credits are not necessarily bad. The right usage credit plan can save you a lot of money. It's just hard to find the right plan without knowing your usage.
We recommend you choose a plan that doesn't have usage credits until you establish some usage history.  
How can you tell if a plan has usage credits? The information is in the electricity facts label for every plan.
On ComparePower, you will see the usage credits spelled out on the plan card and the plan details.
Fixed-rate energy plans are most popular in Texas. A fixed-rate plan provides stability, especially when you are on a budget.
Fixed rates also protect you from extreme weather conditions.
The trade-off with price certainty is that if market prices fall, you may have to wait for your contract to expire before choosing a lower-priced electric plan.
Early termination fees may apply to fixed-rate plans with long-term contracts. Make sure you read your contract carefully to understand everything associated with it.
What term length is best? It's okay if you move out before your contract ends.
Electricity contracts can be canceled in Texas when you move out of a residence therefore pick the term length that best suits your household needs.
Variable-rate plans do not carry early termination fees so you can switch providers without penalty. However, that freedom comes with the uncertainty of market and weather conditions.
Extreme temperatures can dramatically impact wholesale electricity prices, which, in turn, will affect your electricity bill if you are on a variable rate plan.
Concerned about a deposit? We always have a no-deposit option for you. Choose a plan that appeals to you and enroll.
You can then check our marketplace for other providers that do not require a deposit from you.
This can save you hours by letting you see the deposit options of multiple providers in a single order.
Avoid a credit check and deposits altogether with a pre-paid energy plan. An upfront charge will apply to these plans but will be deducted from your usage.
Learn how to get no-deposit lights in Texas.
Moving, but there is a switch hold? A switch hold is a response to an electricity customer who does not pay a past-due bill to block and prevent that customer from switching to another light company before paying their overdue light bill.
As a new tenant, you can request a New Occupant Form directly from the electric company with which you want to enroll.
Learn how to get lights with a switch hold.
Setting up apartment electricity
If you are renting or moving into an apartment, the management office will likely need an electricity account number as proof that you have enrolled for service in your name.
We'll instantly provide you with your new electricity account number when you enroll for a plan on ComparePower.
Provide this number to your apartment's leasing office, and you'll have your keys ready to move in.
Same day service
If you need power today, you can schedule a same-day connection until 6 pm with some providers in our marketplace and until 2 pm with all providers.
Place an order before 2 pm, and service can be scheduled to start today during checkout.
Learn how to get same-day service.
What about Saturday? Some Texas electricity providers offer same-day connections on Saturdays.
Find provider cutoff times and available days for same-day electricity service here.
Transferring service
Transferring electricity service in Texas is not recommended. Electricity is priced according to your monthly usage. The energy plan you have for your current home might not match the usage requirements of your new home.
While it's possible to transfer a plan, in most cases, you are signing a new contract with the electricity company, which might be more expensive than what you were previously paying.
Canceling service
Notify your electricity company that you are moving to a new address and cancel your existing service. There are no early termination penalties when moving to a new home in Texas.
You should also expect a final bill from any utilities you shut off. Usage charges should be prorated, meaning that you should only be charged up until the date of cancellation.
Starting electricity service FAQs
Why are there different prices for different usage levels?
This is perhaps the most critical consideration in comparing energy plans and prices. An electricity rate is the total cost divided by energy consumption. Therefore, the rate accounts for what you pay and the amount you use. 
In Texas, you pay for energy based on how much you use. In contrast to gasoline, where the price per gallon remains constant regardless of how many gallons you pump, with electricity, the price can change depending on your monthly energy consumption. This is why it is important to understand your monthly energy consumption when shopping for a new energy plan in Texas.
Why are there so many plans to choose from?
Since 2002, the energy market in Texas has been deregulated. As a result, over 60 electricity companies compete for your business in the state, and hundreds of energy plans are available. If the number of plans available overwhelms you, you're not alone. Shopping for power in Texas is frustrating for most. ComparePower makes it easy to find your best plan and refine your search with powerful tools and filters to only see the energy plans that meet your needs. 
Can I change my mind?
Pick an energy plan with a guarantee of peace of mind and the freedom to switch to a different energy plan. 
What if I have to move before the end of my contract term? 
You are not subject to a cancellation fee if you legitimately move from your home in Texas, as laws protect you from this. Moving allows you to shop for a better plan, regardless of whether you are on a contract. Texas law does not require you to transfer your service.