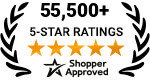 Any product or company names, marks, or logos shown on this page are the property of their respective owners. ComparePower is an unaffiliated, independent marketplace. Get unbiased, accurate information backed by our commitment to editorial integrity.
Tesla Electric in Texas
Tesla Electric is not just a name; it's a symbol of innovation and sustainability. But what does Tesla Energy offer to the residents of Texas? Dive into this comprehensive review to find out how Tesla is revolutionizing the energy sector in the Lone Star State.
If you're considering a switch, this post will help you understand what Tesla Electric brings to the table and how they stack up against the competition.
TLDR: Tesla Electric provides sustainable electricity to Tesla vehicles and Powerwall owners in Texas. They offer unlimited overnight charging for vehicles at a flat rate and allow Powerwall owners to earn credits by selling excess energy to the grid. Tesla Electric emphasizes clean energy, easy sign-up, and predictable costs.
Table of Contents
About Tesla Electric
Tesla Electric is a retail electricity provider in Texas that focuses on providing sustainable energy solutions. They offer electricity plans specifically designed for Tesla vehicle and Powerwall owners, allowing them to power their homes, vehicles, and communities with clean energy.
Tesla Electric's plans include unlimited overnight charging for vehicles and the opportunity to earn credits by selling excess Powerwall energy to the grid.
Let's dive in and explore Tesla Energy, and see how they compare with other brands available on ComparePower.
Contact Tesla Electric
If you have any questions or concerns, need to pay your bill, or need assistance with Tesla Energy's services, you can reach out to them through the following contact details:
Why Choose Tesla Electric?
Choosing Tesla Energy as your electricity provider in Texas comes with several unique benefits that set it apart from other providers. Here's why you might consider Tesla Energy:
Innovation and Sustainability: Tesla Energy is at the forefront of technological innovation, focusing on clean and renewable energy solutions. By choosing Tesla, you're supporting a shift toward environmental sustainability.
Integration with Tesla Products: If you own a Tesla vehicle or Powerwall, Tesla Energy offers seamless integration, allowing you to manage your energy consumption efficiently. Their plans are designed to complement Tesla's ecosystem, providing a cohesive energy experience.
Predictable Costs: Tesla Energy offers rate plans that aim to provide predictable costs, helping you manage your energy budget with ease. Their transparent pricing structure is designed to avoid unexpected surprises on your bill.
Solar Energy Options: For those interested in solar energy, Tesla provides solar panels and solar roof options. These can be integrated with the Tesla Powerwall for energy storage, allowing you to generate and store your own clean energy.
Commitment to Quality: Tesla is a brand known for its commitment to quality and excellence. Their energy services are backed by the same dedication, ensuring that you receive reliable and top-notch service.
Accessibility: Tesla Energy's plans are available in eligible areas of Texas, making them accessible to a wide range of customers who are interested in innovative and sustainable energy solutions.
Customer Support: Tesla provides robust customer support, ensuring that any questions or concerns are addressed promptly. Their support team is trained to assist with both vehicle and energy-related inquiries.
Compare Tesla Electric Plans & Rates
Tesla Electric offers two main plans:
Home Charging Plan: For $25 a month, Tesla vehicle owners can charge their cars overnight without any additional cost. This plan also provides sustainable electricity for the entire home.
Tesla Electric for Powerwall: Powerwall owners can earn credits by selling extra energy to the grid. This plan also ensures that any grid electricity used is matched with 100% Texas-generated clean energy.
Tesla Energy plans are attractive for Tesla vehicle owners, but how do they measure up against other providers?
ComparePower offers a wide range of options from various providers, allowing you to find the plan that best fits your needs.
These live rates were updated on . Pricing shown is based on an exact usage of 1000 kWh.
Customer Reviews and Ratings
While specific customer reviews and ratings for Tesla Electric in Texas are not widely available, the company's offerings are unique and tailored to Tesla vehicles and Powerwall owners. The focus on sustainability and predictable costs is likely to appeal to those interested in clean energy solutions.
Tesla Electric Pros & Cons
Sustainable Energy: 100% Texas-generated clean energy.
Predictable Charging Costs: Flat rate for overnight vehicle charging.
Potential Earnings: Powerwall owners can earn credits by selling excess energy.
Limited Eligibility: Only available to Tesla vehicles or Powerwall owners in specific areas of Texas.
Lack of Transparency: More detailed information about rates and terms may be needed.
Next Steps: How to Choose the Best Texas Electricity Company
Selecting an electricity provider in Texas might seem like finding your way through a complex labyrinth.
With more than 100 providers and a multitude of plans to choose from, the choices might appear daunting. But fear not, this guide is your beacon in the dark.
Whether you're relocating to a fresh abode or considering a switch, this guide is designed to assist you in making a knowledgeable choice.
Effortlessly traverse the Texas electricity market with our detailed guide. Learn how to select the best provider tailored to your specific needs by considering various factors.
Alternatives to Tesla Electric
If Tesla Electric doesn't seem like the right fit for you, don't worry! Texas has other electricity providers like TXU Energy, Reliant Energy, and Green Mountain Energy.
These companies offer different plans to fit various needs and budgets, all without the hassle.
Tesla Energy FAQs
We understand that choosing an electricity provider can come with a lot of questions.
To help you make an informed decision, we've gathered some of the most frequently asked questions about Tesla Energy in Texas.
What is Tesla Electric?
Tesla Energy is a division of Tesla, Inc. that focuses on energy products, including solar panels, solar roofs, and energy storage solutions like the Powerwall. They offer energy solutions for both residential and commercial customers.
How does Tesla Electric work in Texas?
In Texas, Tesla Energy offers electricity plans specifically designed for Tesla vehicle and Powerwall owners. They provide clean energy options and a unique rate structure that can lead to savings, especially when combined with Tesla's energy products.
Can I switch to Tesla Electric if I'm in a contract with another provider?
Yes, you can switch to Tesla Energy, but it's essential to review the terms of your current contract to understand any early termination fees or other potential costs.
Do I need to own a Tesla vehicle or Powerwall to use Tesla Electric?
Based on the information provided in the EFL, Tesla Electric plans are specifically designed for premises that have one or more Tesla vehicles, or a Tesla Powerwall respectively.
How do I sign up for Tesla Electric?
You can sign up for Tesla Energy through their website or by contacting their customer service. They will guide you through the process, including selecting the right plan for your needs.
Is Tesla Electric's solar and storage solution available in Texas?
Yes, Tesla's solar panels, solar roofs, and Powerwall energy storage solutions are available in Texas. You can combine these with Tesla Energy's electricity plans for a comprehensive clean energy solution.
What makes Tesla Electric different from other energy providers in Texas?
Tesla Energy stands out for its focus on clean, renewable energy and its integration with Tesla's broader ecosystem of products, including electric vehicles and energy storage solutions. Their rate plans are designed to incentivize sustainable energy practices, potentially leading to savings for environmentally conscious consumers.
How can I contact Tesla Electric?
You can contact Tesla Energy through their website or by calling their customer support. They offer assistance for both existing customers and those interested in learning more about their products and services.
Your Turn to Save
Tesla Electric is bringing new and eco-friendly energy solutions to Texas, specifically for Tesla vehicle and Powerwall owners. They're all about using clean energy and offering costs you can count on, making them a great choice if you're into helping the environment.
If you're a Tesla vehicle or Powerwall owner living in a part of Texas where Tesla Electric is available, this could be just what you're looking for.
With ComparePower, finding the right energy plan is easy, whether you're into solar energy or just want the best deal in Texas.
Ready to see what's out there? Just put in your zip code, and you can check out rates from the top energy companies in Texas.
Do you have questions or need help choosing the right energy plan?
Our team of local energy experts is here to help! Give us a call at 855-441-3030, Monday to Friday from 9 am to 4 pm.