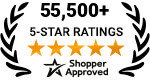 Any product or company names, marks, or logos shown on this page are the property of their respective owners. ComparePower is an unaffiliated, independent marketplace. Get unbiased, accurate information backed by our commitment to editorial integrity.
Ohm Connect in Texas
OhmConnect is a unique energy provider in Texas, offering rewards for energy conservation. But is it the right choice for you?
If you're considering a switch, this post will help you understand what Ohm Connect brings to the table and how they stack up against the competition.
TLDR: OhmConnect in Texas offers energy savings and rewards but has mixed reviews. With a Google rating of 3.8 based on 213 reviews, it may not be the best fit for everyone. Explore better alternatives and find the perfect energy provider for your needs with ComparePower.
Table of Contents
About Ohm Connect
OhmConnect is an energy management company that rewards users for reducing their electricity consumption during peak times. Operating in Texas and other regions, OhmConnect's mission is to create a more sustainable energy future by encouraging users to save energy, thereby reducing strain on the grid.
In Texas, OhmConnect partners with local energy providers to offer "OhmHours," specific times when users are encouraged to reduce energy usage. Participants can earn rewards, such as gift cards or cash, for successfully reducing their consumption during these periods.
OhmConnect's platform integrates with smart home devices, allowing for automated energy savings. Users can monitor their energy consumption, participate in challenges, and track their rewards through the OhmConnect app or website.
For Texas residents looking for more traditional energy providers or those interested in exploring other options, ComparePower offers a comprehensive platform to compare rates, plans, and providers to find the perfect fit for your energy needs.
Why Choose OhmConnect in Texas?
Fixed-Rate Plans: No hidden fees, straightforward pricing.
Get Paid to Save Energy: Earn rewards all year long.
Safeguard the Grid: Help prevent unexpected power outages.
Friendly Customer Support: Live agents available Monday-Friday, 8 am-5 pm CST.
Cash Bonus for Referrals: Earn more by referring active customers.
How Does OhmConnect Work in Texas?
OhmConnect's approach in Texas involves fixed-rate electricity plans and a rewards program for energy conservation.
Sign Up for a Fixed-Rate Plan: Customers can sign up for a fixed-rate electricity plan with OhmConnect, which gives them access to the company's rewards program.
Save Energy During Peak Times: OhmConnect notifies customers when electricity demand is spiking, encouraging them to reduce their energy usage during those times.
Earn Cash Rewards: By reducing electricity use during high-demand periods, customers can earn cash rewards. The energy saved is effectively "sold" back to the grid, and the rewards are passed on to the customers.
Contribute to Grid Stability: By participating in energy-saving events, customers not only lower their bills but also help reduce stress on the Texas energy grid. This can contribute to preventing power outages, especially during extreme weather events.
Additional Benefits: OhmConnect offers straightforward fixed-rate plans with no hidden fees, opportunities to earn through referrals, and protection from unexpected power outages.
Ohm Plugs and Smart Plugs: Customers can utilize Ohm plugs or smart plugs to automatically turn off big appliances during "Ohm hours," enhancing energy savings.
OhmConnect's approach in Texas is geared towards empowering customers to take control of their energy bills, earn passive income, and contribute to grid stability.
It's a blend of energy conservation, financial incentives, and technological innovation, all aimed at creating a more sustainable and reliable energy landscape in Texas.
You can find more details about their terms and conditions here.
Contact OhmConnect
If you have any questions or concerns, need to pay your bill, or need assistance with Ohm Connect services, you can reach out to them through the following contact details:
Compare Ohm Connect Energy Plans & Rates
Ohm Connect's fixed-rate plans are attractive, but how do they measure up against other providers?
ComparePower offers a wide range of options from various providers, allowing you to find the plan that best fits your needs.
These live rates were updated on . Pricing shown is based on an exact usage of 1000 kWh.
Customer Reviews and Ratings
I went through OhmConnect customer ratings and reviews on Google and discovered that the company has a rating of 3.8 based on 213 reviews at the time of this writing.
OhmConnect Pros & Cons
Here's a brief summary of customer feedback for Ohm Connect.
Energy Savings: Customers appreciate the ability to save on energy bills, with some reporting monthly savings.
Rewards and Prizes: The company's rewards program, including prizes and gift cards, has been well-received.
Responsive Customer Service: Some users have highlighted the company's efforts in resolving issues and providing assistance.
Low Payments for Participation: A common complaint is the low payment received for participating in OhmConnect's programs.
Communication and Technical Issues: Some customers have reported excessive communication from the company and technical problems with the smart plugs.
Referral and Reward Delays: A few users have expressed frustration with delays in receiving referrals and rewards.
Next Steps: How to Choose the Best Texas Electricity Company
Choosing an electricity provider in Texas can feel like navigating a maze.
With over 100 providers and thousands of plans, the options can seem overwhelming. But don't worry, this guide is here to light the way.
Whether you're moving to a new home or looking to switch, this guide will help you make an informed decision.
Effortlessly traverse the Texas electricity market with our detailed guide. Learn how to select the best provider tailored to your specific needs by considering various factors.
Alternatives to OhmConnect
Why settle for OhmConnect when you can explore a wide range of energy providers with ComparePower? Our platform allows you to compare plans, rates, and customer reviews to find the perfect match for your energy needs.
Ohm Connect Energy FAQs
We understand that choosing an electricity provider can come with a lot of questions.
To help you make an informed decision, we've gathered some of the most frequently asked questions about Ohm Connect in Texas.
What is OhmConnect?
OhmConnect operates in Texas by offering fixed-rate electricity plans and a rewards program that incentivizes energy conservation.
When customers sign up for an OhmConnect plan, they are notified during periods of high energy demand to reduce their energy usage.
By doing so, they help alleviate stress on the grid, and OhmConnect "sells" the saved power back to the grid, passing the rewards to the customers in the form of cash.
This approach not only allows Texans to enjoy fixed rates and earn rewards but also contributes to safeguarding the grid and protecting against unexpected power outages.
OhmConnect's presence in Texas is timely, given the state's history of energy interruptions and the increasing need for reliable energy solutions.
How does OhmConnect work in Texas?
OhmConnect operates in Texas by offering customers a unique way to save on energy bills through a fixed-rate electricity plan that includes a rewards program.
Customers are notified during high-demand periods and encouraged to reduce energy usage, earning cash rewards in return.
The energy saved is "sold" back to the grid, contributing to stability and preventing power outages.
With straightforward plans, opportunities for referrals, and the use of Ohm or smart plugs to enhance savings, OhmConnect provides a blend of conservation, financial incentives, and technological innovation, making energy management more sustainable and rewarding in Texas.
Can I switch to OhmConnect if I'm in a contract?
Yes, you can switch to OhmConnect even if you're currently in a contract with another energy provider.
However, it's essential to review the terms of your existing service agreement to understand any Early Termination Fees (ETFs) or other potential charges that may apply.
Your Turn to Compare
OhmConnect offers a unique and rewarding approach to energy conservation in Texas. But how does it stack up against other providers?
Don't settle for just one option; explore and compare rates and plans on ComparePower to find the best energy solution tailored to your needs.
Ready to explore your options? Enter your zip code and compare rates from top energy providers in Texas.
Do you have questions or need help choosing the right energy plan?
Our team of local energy experts is here to help! Give us a call at 855-441-3030, Monday to Friday from 9 am to 4 pm.