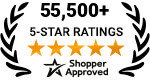 Any product or company names, marks, or logos shown on this page are the property of their respective owners. ComparePower is an unaffiliated, independent marketplace. Get unbiased, accurate information backed by our commitment to editorial integrity.
Good Charlie in Texas
Hello, Texas energy consumers! Today, we're comparing Good Charlie, an electricity provider that's doing things a little differently, with other providers in the state.
If you're considering a switch, this post will help you understand what Good Charlie brings to the table and how they stack up against the competition.
TLDR: Good Charlie is an electricity provider with a twist—they're all about pets. In this post, we'll compare Good Charlie with other Texas providers, looking at rates, plans, customer service, and unique offerings. Whether you're a pet lover or just looking for the best deal, this comparison will help you make an informed decision.
Table of Contents
Powering Homes, Helping Pets
Good Charlie is more than just an electricity provider.
They're on a mission to make Texas the best place for a dog or a cat to live.
By offering competitive rates, top-notch customer service, and a unique focus on pet welfare, Good Charlie is making a difference in the lives of Texans and their furry friends.
Compare Good Charlie Electric Rates
Good Charlie offers competitive rates and a variety of plans, but how do they compare with other providers?
These live rates were updated on . Pricing shown is based on an exact usage of 1000 kWh.
Customer Reviews
Good Charlie boasts a 4.7-star rating from 113 Google reviews.
Customers rave about the company's excellent service, competitive pricing, and pet-friendly offerings.
But how do they stack up against other providers?
Other providers on ComparePower also boast high customer satisfaction ratings. It's essential to consider the quality of customer service when choosing a provider.
Unique Offerings
Good Charlie goes above and beyond to support pet welfare.
They offer unique Pack Benefits to every member, including free 24/7 access to licensed veterinarians, a $750 emergency fund for vet bills, and a roundup for rescues where every bill is rounded up and donated to a rescue partner at no cost to customers.
While this is a unique and commendable initiative, other providers may offer different benefits that might be more relevant to your needs.
Pros and Cons
Pros:
Competitive rates and a variety of plans
Excellent customer service with a 4.7-star rating on Google
Unique focus on pet welfare with Pack Benefits for every member
Roundup for Rescues program and a referral program that supports local rescues
Cons:
Not available on all third-party electricity marketplaces
The pet-focused benefits may not appeal to customers without pets.
Next Steps: How to Choose the Best Texas Electricity Company
Learn how to choose the right electric company for your home:
Effortlessly traverse the Texas electricity market with our detailed guide. Learn how to select the best provider tailored to your specific needs by considering various factors.
Alternatives to Good Charlie
If you're looking for alternatives to Good Charlie, there are plenty of other electricity providers in Texas that offer competitive rates and excellent customer service.
Some of these include TXU Energy, Reliant Energy, and Green Mountain Energy.
Each of these providers offers a variety of plans to suit different needs and budgets.
Check out our comprehensive list of electricity providers on ComparePower to find the best fit for you.
Good Charlie in Texas FAQs
We understand that choosing an electricity provider can come with a lot of questions. To help you make an informed decision, we've gathered some of the most frequently asked questions about Good Charlie in Texas.
Which electricity provider is the cheapest?
While Good Charlie offers competitive rates, the cheapest provider can vary based on your specific needs and usage. It's best to compare rates from multiple providers on ComparePower.
How long has Good Charlie Energy been in business?
Good Charlie is a relatively new entrant in the Texas energy market. Despite this, they've quickly gained a reputation for their unique pet-friendly offerings and excellent customer service.
Which power company to use in Texas?
The best power company for you depends on your specific needs, including your energy usage, budget, and any unique offerings you value. Good Charlie is a great choice for pet lovers, but there are many other providers available in Texa
Why is Texas electric so expensive?
Electricity prices in Texas can vary based on factors like supply and demand, fuel costs, and weather conditions. While Good Charlie offers competitive rates, it's always a good idea to compare prices from multiple providers.
Your Turn to Save
Choosing an electricity provider is a personal decision that depends on various factors, including rates, plans, customer service, and any unique offerings.
Good Charlie is a great choice if you're a pet lover and want to contribute to a worthy cause.
However, it's always a good idea to compare different providers to find the best fit for you.
Do you have questions or need help choosing the right energy plan?
Our team of local energy experts is here to help! Give us a call at 855-441-3030, Monday to Friday from 9 am to 4 pm.