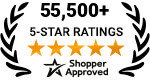 Any product or company names, marks, or logos shown on this page are the property of their respective owners. ComparePower is an unaffiliated, independent marketplace. Get unbiased, accurate information backed by our commitment to editorial integrity.
Energy Texas
Energy Texas entered the deregulated Texas energy market in 2020 with the promise of straightforward, affordable electric plans.
But are they the right fit for you? This analysis, based on real customer reviews and testimonials, aims to provide you with the data needed to make an informed decision for your household.
TLDR: Energy Texas offers competitive electricity rates and incentive programs to Texas residents. While they appeal to value-driven customers, spotty service reviews suggest comparing Energy Texas carefully to other top providers.
Table of Contents
What is Energy Texas?
Founded in 2020 and based in Houston, Energy Texas is a newer electricity provider promising no-nonsense service.
They aim to simplify shopping for power with affordable pricing and digital account management.
Is Energy Texas a Legit Company?
Energy Texas is a legitimate certified retail electric provider authorized to operate in Texas (PUC #10281).
However, the company's short time in business, mixed reviews, and some complaint activity suggest customers should research thoroughly and compare Energy Texas to other more established providers before signing up.
Energy Texas Bill Pay & Account Management
Energy Texas offers an easy-to-use app that facilitates a simple way to manage your electricity account.
Through the app, customers can enjoy the following:
View and Pay Bill: Customers can view their current bill and make payments directly through their app.
Go Paperless: Customers have the option to opt for paperless billing, helping to reduce paper waste.
Track Your Usage: The app provides features to track your energy usage patterns, helping you to manage your energy consumption.
Redeem Your Rewards: For those enrolled in their rewards program, the app allows you to redeem your rewards.
Energy Texas Contact Information
Whether you have questions about the Energy Texas solar buyback program or need assistance with your account, their team can assist you.
For any queries or support, the Energy Texas customer service can be reached at 1-855-461-1129 by emailing [email protected] or visiting the Energy Texas website.
Energy Texas Address: 5373 W Alabama St Suite 650, Houston, TX 77056
Finding the Right Electricity Plan
When searching for a new power company, you first want to check what options are available in your area.
Enter your zip code below to see the plans for your service area. You'll see details like:
Rate per kWh
Length of contract
Cancellation fees
Renewable energy mix
The simple sign-up process, ease of use, and flexibility in term lengths cater to renters, first-time shoppers, and savvy energy users alike.
Compare Plans & Rates Near You👇
Energy Texas Customer Reviews
At the time of this writing, Energy Texas has a 4/5 star rating based on 300+ Google reviews from real customers who have used the service.
While many appreciate the competitive pricing and rewarding incentive program, others have pointed out areas where the company could improve, including clarity in contracts and communication.
Why Customers Love Energy Texas
Here, we outline the notable advantages that might make Energy Texas the right choice for your energy needs.
Competitive Pricing: Users consistently highlight how the company provides affordable rates compared to other major energy providers in Texas.
Incentive Rewards: Customers earn points for actions like online bill pay, paperless billing, and paying on time. Points can then be redeemed for additional discounts, gift cards, prizes, and more.
Reliability: While Energy Texas power outage issues are handled by the utility company in your area, Energy Texas offers customer service support, helping you stay informed and making the necessary adjustments to your account.
Flexibility: Energy Texas offers the flexibility of choosing between month-to-month or fixed-rate plans.
Areas of Improvement for Energy Texas
Based on customer feedback, Energy Texas could improve by enhancing transparency in contracts, billing, renewable energy sources, and customer service.
Customer Service: The customer service feedback is mixed, with some customers praising the responsiveness, while others highlight areas of improvement in issue resolution and communication.
Renewable Energy Sources: Eco-conscious consumers may be disappointed by the lack of details on Energy Texas' energy sources.
Contract Clarity: Users point out the need for clearer communication regarding contract terms, particularly concerning promotional rates and Solar Buyback agreements.
Billing Practices: Energy Texas needs to work on simplifying billing practices and offering clear explanations for charges to enhance customer satisfaction.
The Bottom Line: Compare Carefully
Energy Texas appeals to value-driven Texans with competitive pricing, digital convenience, and rewards incentives.
But spotty service experiences and contract confusion leave some customers regretting their choice.
Your safest bet is to weigh Energy Texas against other top energy providers carefully before deciding.
Look for a company that pairs affordability with transparency and commitment to customer satisfaction.
While Energy Texas aims to streamline the electricity shopping experience, take time to ensure it's the best fit for your home's needs.
Pros and Cons
Pros:
Incentive rewards program lets you earn bill credits
Online account management and bill pay
Month-to-month flexibility available
Competitive pricing and rates
Cons:
Mixed reviews and ratings for customer service
Short track record as a newer company in the market
Slow response times resolving customer issues reported
Customers report billing disputes and complaints
Next Steps: How to Choose the Best Texas Electricity Company
Choosing an electricity provider in Texas can feel like navigating a maze.
With over 100 providers and thousands of plans, the options can seem overwhelming. But don't worry, this guide is here to light the way.
Whether you're moving to a new home or looking to switch, this guide will help you make an informed decision.
Effortlessly traverse the Texas electricity market with our detailed guide. Learn how to select the best provider tailored to your specific needs by considering various factors.
Alternatives to Energy Texas
If you're looking for alternatives to Energy Texas, there are plenty of other electricity providers in Texas that offer competitive rates and excellent customer service.
Each of these providers offers a variety of plans to suit different needs and budgets.
Compare Energy Texas Plans & Rates
Energy Texas offers competitive rates and a variety of plans, but how do they compare with other providers?
These live rates were updated on . Pricing shown is based on an exact usage of 1000 kWh.
Energy Texas Solar Buy-Back Program
Energy Texas offers a Solar Buy-Back program, aimed at residential customers who have solar panel systems installed at their homes.
This initiative allows customers to sell back excess power generated by their solar panels to Energy Texas.
It's an addition available with any of their fixed rate plans, facilitating a way for solar panel owners to potentially offset some costs associated with their solar setup.
It's important to note that this program is directly offered by Energy Texas, and as of now, it is not available through ComparePower.
Conclusion – Time to Make Your Choice
As you weigh the pros and cons based on Energy Texas reviews, remember that making a well-informed decision involves a critical evaluation of their offerings against other top providers in your area.
ComparePower is here to assist you in navigating the complex energy market, offering a transparent platform to compare various providers and plans easily.
Support You Can Count On
Got questions? We've got answers. Our team of local energy experts is here to help you navigate your options and find the best plan for you. Reach out to us.