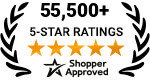 Any product or company names, marks, or logos shown on this page are the property of their respective owners. ComparePower is an unaffiliated, independent marketplace. Get unbiased, accurate information backed by our commitment to editorial integrity.
Chariot Energy in Texas
Chariot Energy is making waves with its 100% solar energy plans in Texas. But how do they compare with other providers? Discover the pros and cons and find the best energy plan for you on ComparePower.
If you're considering a switch, this post will help you understand what Chariot Energy brings to the table and how they stack up against the competition.
TLDR: Chariot Energy offers solar energy plans in Texas, but are they the best choice for you? Explore the pros and cons, compare rates and plans with other providers on ComparePower, and find the perfect energy solution tailored to your needs.
Table of Contents
About Chariot Energy
Chariot Energy, a Houston-based electricity supplier, is known for its 100% green energy plans. While they have made a name for themselves in the Texas energy market, how do they stack up against other providers?
Let's dive in and explore Chariot Energy, and see how they compare with other brands available on ComparePower.
Contact Chariot Energy
If you have any questions or concerns, need to pay your bill, or need assistance with Chariot Energy's services, you can reach out to them through the following contact details:
Why Choose Chariot Energy?
100% Solar Energy: All of Chariot Energy's plans are powered by solar energy, making them a perfect choice for eco-conscious consumers.
Fixed-Rate Plans: Offering stability against market fluctuations, Chariot's fixed-rate plans range from 12 to 36 months.
Solar Buyback Options: For those with solar panels, Chariot offers competitive rates for excess energy sent back to the grid.
No-Deposit Plans: Qualifying customers can enjoy the benefits of no-deposit plans.
Excellent Customer Service: With an overall rating of 4.0 stars from 211 Google reviews, Chariot is recognized for its customer service and online accessibility.
Compare Chariot Energy Plans & Rates
Chariot Energy's fixed-rate plans are attractive, but how do they measure up against other providers?
ComparePower offers a wide range of options from various providers, allowing you to find the plan that best fits your needs.
These live rates were updated on . Pricing shown is based on an exact usage of 1000 kWh.
Customer Reviews and Ratings
Chariot Energy, based in Houston, Texas, has garnered an overall rating of 4.0 stars from 211 reviews. The feedback from customers highlights several key aspects:
Positive Aspects:
Customer Service: Many customers have expressed satisfaction with the pleasant and professional customer service.
Easy Sign-Up Process: The sign-up and renewal processes are often described as quick and hassle-free.
Competitive Rates: Several reviewers have praised Chariot Energy for offering affordable rates, especially for renewable energy plans.
Solar Buyback Program: The Solar Buyback options have been appreciated by those looking to save money with solar energy.
Multilingual Support: Some customers have noted the availability of representatives who speak Spanish, enhancing the customer experience.
Mixed Reviews:
Billing Concerns: A few customers have expressed dissatisfaction with the billing rates, feeling that they were higher than expected.
Email Marketing Practices: Some complaints were noted regarding email marketing, with customers feeling bombarded with offers.
Chariot Energy Pros & Cons
Next Steps: How to Choose the Best Texas Electricity Company
Choosing an electricity provider in Texas can feel like navigating a maze.
With over 100 providers and thousands of plans, the options can seem overwhelming. But don't worry, this guide is here to light the way.
Whether you're moving to a new home or looking to switch, this guide will help you make an informed decision.
Effortlessly traverse the Texas electricity market with our detailed guide. Learn how to select the best provider tailored to your specific needs by considering various factors.
Alternatives to Chariot Energy
If you're looking for alternatives to Chariot Energy, there are plenty of other electricity providers in Texas that offer competitive rates and excellent customer service.
Some of these include TXU Energy, Reliant Energy, and Green Mountain Energy.
Each of these providers offers a variety of plans to suit different needs and budgets.
Chariot Energy FAQs
We understand that choosing an electricity provider can come with a lot of questions.
To help you make an informed decision, we've gathered some of the most frequently asked questions about Chariot Energy in Texas.
What services does Chariot Energy offer?
Chariot Energy offers fixed-rate, 100% green energy plans, but how do they compare? Find alternatives on ComparePower.
Is Chariot Energy the best choice for solar energy?
Chariot Energy is known for solar energy, but explore other solar options on ComparePower to find the best fit.
Your Turn to Save
Chariot Energy's customer satisfaction paints a generally positive picture, with particular praise for its customer service, competitive rates, and renewable energy options. However, some mixed reviews point to areas where improvement may be needed.
With ComparePower, you have the tools to make an informed decision, whether you're interested in solar energy or simply looking for the best rates in Texas.
Ready to explore your options? Enter your zip code and compare rates from top energy providers in Texas.
Do you have questions or need help choosing the right energy plan?
Our team of local energy experts is here to help! Give us a call at 855-441-3030, Monday to Friday from 9 am to 4 pm.