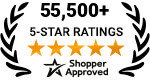 Any product or company names, marks, or logos shown on this page are the property of their respective owners. ComparePower is an unaffiliated, independent marketplace. Get unbiased, accurate information backed by our commitment to editorial integrity.
What is the Cheapest Electricity Provider in Texas?
Finding the cheapest electricity provider in Texas is not about a fixed price but depends on your monthly usage.
Unlike buying gasoline, electricity rates are calculated using a formula based on your specific consumption.
If you're moving into a new home, you can estimate your usage by considering factors like home size and your energy consumption habits.
ComparePower provides the tools to help you find the perfect plan that suits your needs and unlocks substantial savings on your energy bill.
Say goodbye to overpaying and hello to the cheapest electricity provider in Texas with confidence and ease.
Table of Contents
Cheapest Electricity Providers in Texas
We've done the research for you and compiled a list of the cheapest electricity providers in Texas.
Our lineup includes reputable companies known for their competitive rates, transparent pricing, and flexible plans.
You can confidently choose the provider that aligns with your needs and start enjoying substantial savings on your energy bills.
Compare the Cheapest Rates in Texas👇
Understanding Texas Electricity
Texas, the land of vast landscapes and a thriving energy sector offers a unique electricity market. With a diverse range of providers and varying rates across different regions, navigating this market can be overwhelming.
But fear not! ComparePower.com is here to simplify the process, bringing clarity and transparency to your search for the cheapest provider.
As a fictional energy analyst, I've spent years studying the intricacies of the Texas electricity market.
Through my research and conversations with fellow Texans, I've witnessed the challenges faced by consumers – the frustration of deciphering complicated pricing structures, the fear of hidden fees, and the desire for a provider that truly understands their needs.
It's All About Usage
One crucial aspect to consider when searching for the cheapest electricity provider in Texas is your monthly usage.
Unlike buying gasoline with a fixed price per gallon, electricity plans are not one-size-fits-all.
They are tailored to your specific consumption. But what if you're moving into a new home and don't have usage history? Fear not! ComparePower.com has got you covered.
Consider John and Sarah, a young couple excitedly moving into their dream home, who were puzzled about starting new electricity service in Texas. With no historical data to rely on, they turned to ComparePower.
By entering details about the size of their new home, number of occupants, and typical energy-consuming habits, they received a personalized estimate of their usage.
Armed with this information, they confidently explored the available options on ComparePower and enrolled online in less than 10 minutes.
This site made finding an Electric Provider absolutely easy as can be! I was even able to filter out my results to show what my bill would look like with my individual average usage. I got the best rates that other websites didn't even have! The sign up process was as easy as a click of a button and took less than 5 minutes. If you are looking for a provider, this is the place to go!

Ashleigh (Dallas, TX)
Power to Compare
Now, let's talk about the real game-changer – ComparePower.com. This intuitive energy marketplace revolutionizes the way you search for electricity providers.
Picture yourself sitting comfortably on your couch, sipping your favorite beverage, and effortlessly browsing through a user-friendly interface that puts the power in your hands.
As you explore ComparePower, you'll encounter an extensive provider database, offering a wealth of information to help you make an informed decision.
With a few clicks, you can compare rates, contract terms, renewable energy options, and plan features. The platform provides real-time pricing information, ensuring you have access to the most up-to-date rates available.
But here's where ComparePower.com truly shines: the personalized experience it offers. It understands that every home is unique, and your energy needs may differ from your neighbor's.
By utilizing the tools and resources provided, you can customize your search based on your specific requirements, ensuring you find the plan that suits you best.
Expert Help & Support
As someone deeply immersed in the energy industry, I confidently recommend ComparePower.com as your go-to resource for finding the cheapest electricity provider.
From a dedicated customer support team to expert insights, ComparePower.com ensures you have all the assistance you need to make an informed energy decision.
Your Turn to Save
Don't let high energy bills drain your wallet. Take control of your electricity costs and unlock unbeatable savings with ComparePower.
Their user-friendly platform, extensive provider database, real-time pricing information, and personalized experience make them the ultimate tool for finding the cheapest electricity provider in Texas.
Say goodbye to overpaying and embrace the power of ComparePower. Get ready to experience a newfound sense of control, expert insights, and substantial savings on your energy journey.
Start using ComparePower.com today and pave the way for a brighter, more affordable energy future.
Do you have questions or need help choosing the right energy plan?
Our team of local energy experts is here to help! Give us a call at 855-441-3030, Monday to Friday from 9 am to 4 pm.