Any product or company names, marks, or logos shown on this page are the property of their respective owners. ComparePower is an unaffiliated, independent marketplace. Get unbiased, accurate information backed by our commitment to editorial integrity.
Can't find my address
If you're looking for power but cannot find your address, you might live in an area of Texas that is closed to electric competition.
Texans living outside the ERCOT grid or in areas served by municipal utilities (such as Austin Energy), electric cooperatives, and river authorities rely on a single provider.
Retail electric choice
Unfortunately, only around 80% of the state of Texas is currently open to electricity competition.
The other 20% of the state comprises areas operating as municipally-owned electric utilities or electric cooperatives that do not participate in electric choice.
Municipal electric utilities and electric cooperatives (coops) can participate in the retail electric market, but they choose not to.
Due to inadequate competition, state law has delayed competition for locations managed by Entergy Gulf States, Southwestern Public Service Company, El Paso Electric Company, and AEP SWEPCO.
The Public Utility Commission of Texas (PUC) can allow choice in these areas in the future if the competitive electricity market changes.
ComparePower strongly supports choice and competition for consumers.
You should contact your municipality or co-op for additional information if you live in one of these areas.
Learn more about the deregulation of the Texas electricity market.
What is an electric coop?
Co-op customers elect a board of directors at yearly membership meetings. The board sets the policies for the operation of the co-op system. 
Suppose a co-op chooses not to offer choice to its customers. In that case, the PUC will only regulate it for limited purposes, such as wholesale transmission rates, service area certification, and certain reports. 
Co-ops that offer choice set their retail rates through their board of directors. Most co-ops have been setting their retail rates before 1999. 
The PUC also no longer regulates customer service for co-ops. Call your utility's customer service number if you have problems or questions.
 
For co-ops, the decision to offer choice can only be revoked if no co-op customer has opted for choice within four years of adoption. 
What is a municipality?
Similarly, municipality customers elect the city council members that operate the utility or appoint a board to manage electricity. 
Over 5.1 million Texans receive electricity from 72 Municipally Owned Utilities (MOUs), approximately 15 percent of the state's population.
A municipally owned utility maintains wires, poles, and meters, acquires power supplies, and provides service to customers, whether residential, commercial, or industrial.
A few larger municipally-owned utilities own and operate electric power plants. Municipally owned utilities are governed by local authorities, which set rates and policies based on community priorities.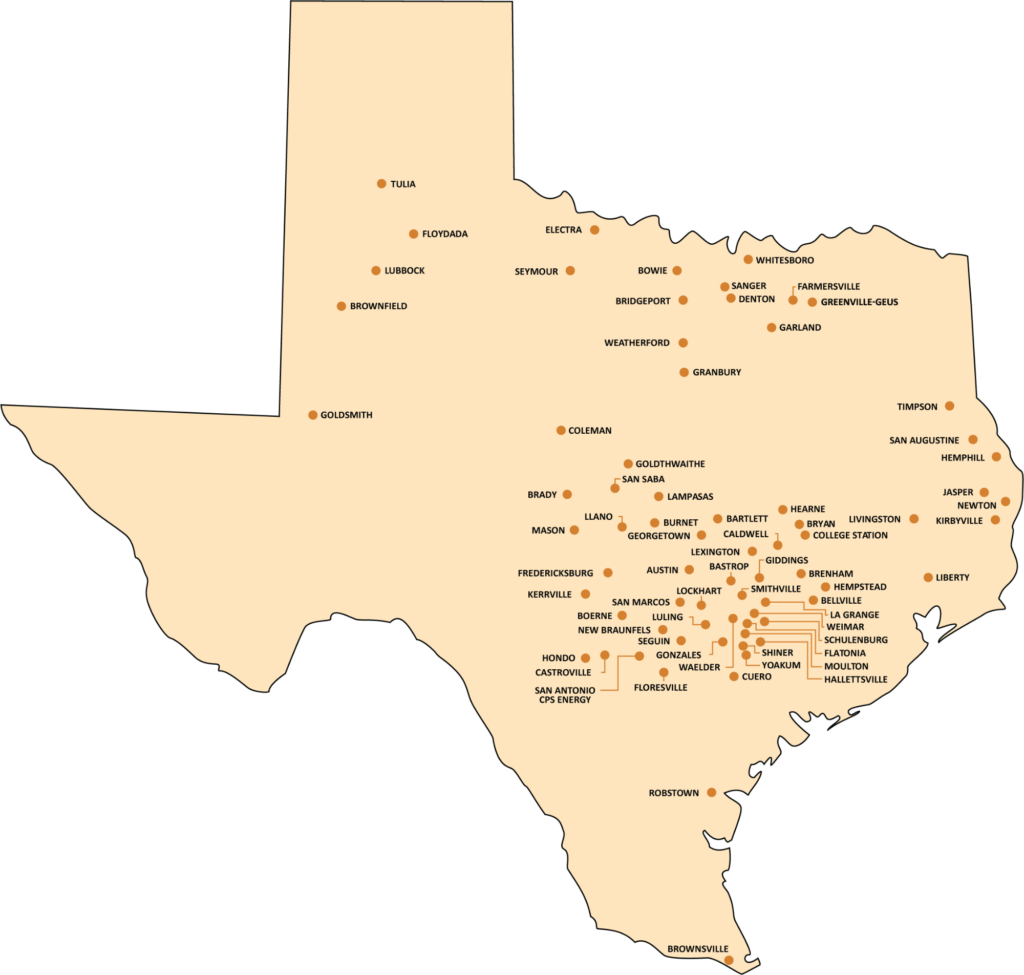 Currently, the PUC maintains jurisdiction over wholesale transmission rates in municipalities.
If a municipality opts into the competitive market, it will be subject to the same market rules that all other retail participants follow.
City council members, or the governing body, set the retail rates for municipalities.
Once a municipality enters the competitive electricity market, it cannot revoke choice for its customers.
Texas MOUs, Coops & River Authority
Municipally-owned utilities
Austin Energy
City of Bartlett
Bastrop Power & Light
City of Bellville
City of Boerne
City of Bowie
City of Brady
City of Brenham
City of Bridgeport
City of Brownfield
Brownsville PUB
Bryan Texas Utilities
City of Burnet
City of Caldwell
City of Castroville
City of Coleman
College Station Utilities
CPS Energy
City of Cuero
Denton Municipal Electric
City of Electra
City of Farmersville
City of Flatonia
Floresville Electric Light & Power System
City of Floydada
City of Fredericksburg
Garland Power & Light
Georgetown Utility Systems
City of Giddings
City of Goldsmith
City of Goldthwaite
City of Gonzales
City of Granbury
Greenville Electric Utility System
City of Hallettsville
City of Hearne
City of Hemphill
City of Hempstead
City of Hondo
City of Jasper
Kerrville PUB
City of Kirbyville
City of La Grange
City of Lampasas
City of Lexington
City of Liberty
City of Livingston
City of Llano
City of Lockhart
Lubbock Power & Light
City of Luling
City of Mason
City of Moulton
New Braunfels Utilities
City of Newton
City of Robstown
City of San Augustine
City of San Marcos
City of San Saba
City of Sanger
City of Schulenburg
City of Seguin
City of Seymour
City of Shiner
City of Smithville
City of Timpson
City of Tulia
City of Waelder
City of Weatherford
City of Weimar
City of Whitesboro
City of Yoakum
Cooperatives
Bluebonnet Electric Cooperative
Fayette Electric Cooperative
Pedernales Electric Cooperative
Joint Action Agencies
Sam Rayburn Municipal Power Agency
Texas Municipal Power Agency
West Texas Municipal Power Agency
River Authority
Lower Colorado River Authority (LCRA)
The ERCOT electric grid
Texas is the only state in the contiguous 48 with its own electricity grid. It is one of three significant grids in the U.S.: the Eastern Interconnection, the Western Interconnection, and the Texas Interconnection.
ERCOT manages the Texas Interconnection, which includes 213 of 254 Texas counties.
What is ERCOT?
The Electric Reliability Council of Texas (ERCOT) manages the flow of electric power to more than 26 million Texas customers — accounting for about 90 percent of the state's electricity demand.
It is ERCOT's job to schedule power on the transmission lines and other generation units that connect 52,615 miles of transmission lines in the region.
Additionally, it performs financial settlements for competitive bulk-electricity markets and manages retail switching for approximately eight million premises.
The Public Utility Commission of Texas and the Texas legislature oversee ERCOT, a 501(c)(4) nonprofit corporation governed by a board of directors.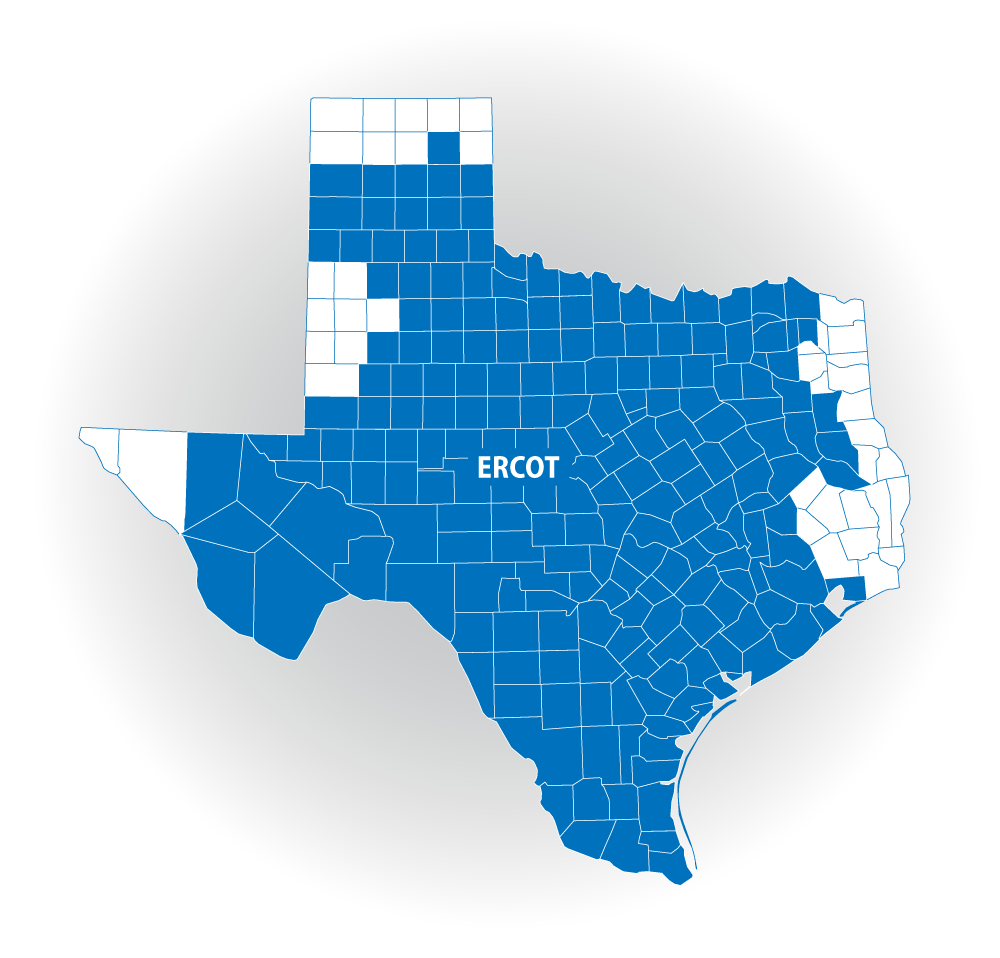 Texas has several types of entities that provide electricity.
Retail competition was introduced in much of ERCOT's service area by the Texas Legislature in 1999.
Approximately 90 percent of ERCOT's total power load comes from these "competitive" areas.
Generators sell electricity to investor-owned utilities and retail electricity providers (REPs), which buy it wholesale.
Texas has over 60 electricity providers with varying prices and options, including renewable energy.
Transmission and distribution utilities own the poles, power lines, and meters that deliver electricity to homes, businesses, and other facilities purchased from REPs.
Electric co-ops, river authorities, and municipalities outside the ERCOT grid rely on a single service provider.
Six of Texas' 20 largest cities, including San Antonio, maintain their own utilities.
What if I favor competition?
It is important for those who live in areas without retail electric choice to contact or write their city council members to voice their views.
You can find your city council members and contact information on your city's official website.
Frequently Asked Questions
What can I do if my area doesn't have electricity choice? 
If you favor competition and live in an area closed off to retail electric choice, you should call or write your city council members and make your views known.
Does the PUC regulate municipalities and cooperatives?
Municipal retail rates are under PUC appellate jurisdiction, but wholesale transmission rates are under Commission jurisdiction.
Municipalities that opt into the competitive market are subject to the same market rules as all other retailers.
As of Sept. 1, 1999, the PUC will only regulate a co-op for limited purposes, such as wholesale transmission rates, service area certification, and reports.
How are municipality or cooperative rates set?
As of Sept. 1, 1999, cooperatives set retail rates through their boards. Most co-ops have been setting their retail rates before 1999. City council members or the governing body determine retail rates in municipalities. The Commission sets transmission rates for municipalities and cooperatives.
Do municipalities and cooperatives provide electric services outside their service areas?
No. A muni or co-op that does not offer retail electric choice in its own service area may not offer service outside that area.
If my municipality or co-op joins the competitive market, how will I know?
The information will most likely be included in your electric bill. Alternatively, you can ask the muni or co-op.
Support You Can Count On
Questions? Our local experts can help you navigate options and find the best electricity plan. Reach out to us.