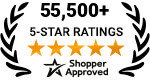 Any product or company names, marks, or logos shown on this page are the property of their respective owners. ComparePower is an unaffiliated, independent marketplace. Get unbiased, accurate information backed by our commitment to editorial integrity.
Reliant Texas Bonus 24
Looking to switch to Reliant's Texas Bonus 24 plan? Hold on a minute. That $600 bonus might look shiny, but what if I told you there's a way to save even more?
TLDR: Reliant's plan might seem like a deal, but the numbers tell a different story. The lowest rate on ComparePower could save you $744 a year even after the $600 bonus is applied to the Texas Bonus 24.
Is Reliant's Bonus 24 Energy Plan right for you?
You might be drawn to the $600 bonus offered by Reliant's Texas Bonus 24 plan. But before you jump in, let's examine the numbers carefully to see if it's truly the best deal for you.
Reliant's plan will cost you $3216 a year for 2000kWh per month – and that's with the bonus! The lowest rate today on ComparePower for the same kWh usage will cost you $2471.76 for the year.
Simply put, that's $744.24 more in your pocket, even with the $600 bonus factored into Reliant's plan. Without that bonus, your savings soar to $1344.24 over Reliant's Bonus 24 Plan.
Don't be lured by gimmicks. If a deal sounds too good to be true, there's a good chance it is.
The Math Behind the Numbers
Reliant Texas Bonus 24 Plan
Rate: 15.9 ¢/kWh (Centerpoint)
Monthly Usage: 2000 kWh
Monthly Cost: $318
Annual Cost Before Discount: $3816
Discount: $600
Annual Cost After Discount: $3216
Lowest Rate on ComparePower
Rate: 10.3 ¢/kWh
Monthly Usage: 2000 kWh
Monthly Cost: $206
Annual Cost: $206 * 12 = $2471.76
---
Savings by Choosing a fixed-rate Plan on ComparePower today:
$3216 – $2471.76 = $744.24
What Does This Mean for You?
Imagine you're shopping for a new car. You see one with a big rebate, but the gas mileage is terrible.
Sure, you save upfront, but you'll pay more at the pump all year long. That's what's happening here with Reliant's plan.
ComparePower's lowest rate is like finding a car with a great price and excellent gas mileage.
You save upfront, and you keep saving all year long. It's a win-win.
How to Shop Energy Rates in Texas
The number one rule in finding the right power plan is to understand your usage.
The easiest way to get 12 months of usage history is to log into your provider dashboard. You can also create an account with Smart Meter Texas to get usage readings for your home in 15-minute intervals.
This 2-minute video explains everything you need to know ⤵️
About Reliant Energy
Reliant Energy, part of the NRG Energy family, is a well-known electricity provider serving millions of homes and businesses across Texas.
With a commitment to innovation and community support, Reliant offers a diverse range of energy plans, including fixed-rate, renewable, and prepaid options.
While their Texas Bonus 24 plan may catch the eye with its $600 bonus, it's essential to look beyond the immediate incentives.
Reliant's deep Texas roots and dedication to environmental initiatives are commendable, but a careful examination of rates and long-term costs is crucial for consumers seeking the best value.
Read next: Learn how to maximize your energy savings with your kWh usage history on ComparePower.
Learn how shopping with your kWh usage can help you save on electricity bills in Texas. Follow our step-by-step guide and unleash the power of ComparePower's innovative platform.
Compare Power Before You Switch
Switching to Reliant's Texas Bonus 24 plan might feel like snagging a bargain at first glance.
But it's like buying a pair of shoes on sale that doesn't quite fit. Sure, you saved some money upfront, but you'll pay for it later with every uncomfortable step.
Take a closer look, compare the rates, and choose what really fits your needs and budget. Sometimes the shiniest offer isn't the best deal in the long run.
Reliant Texas Bonus 24 FAQs
Navigating the world of electricity plans can feel like a maze. You've got questions, and we've got answers.
Here are answers to the most common queries about Reliant's Texas Bonus 24 plan and ComparePower's lowest rate.
Is Reliant's Texas Bonus 24 plan really a good deal?
It might seem so, but the math shows you could save $744 with ComparePower's lowest rate.
What's the catch with Reliant's plan?
The catch is the higher rate per kWh. It's like buying a car with a rebate but paying more for gas all year.
Where can I find a better deal?
ComparePower offers rates that could save you money in the long run. It's like shopping around for the best car price instead of falling for the first rebate you see.
Do you have questions or need help choosing the right energy plan?
Our team of local energy experts is here to help! Give us a call at 855-441-3030, Monday to Friday from 9 am to 4 pm.