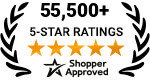 Any product or company names, marks, or logos shown on this page are the property of their respective owners. ComparePower is an unaffiliated, independent marketplace. Get unbiased, accurate information backed by our commitment to editorial integrity.
Struggling with energy expenses in Texas?
The Texas Energy Assistance Program is here to help low-income households. Get immediate aid and long-term support to keep your home powered. It's more than aid; it's a promise to Texans.
Are you worried about paying your high bills due to working from home?
The far-reaching impact of COVID-19 has put a lot of financial strain on many Texans.
This is an unprecedented time in our lives. All of us are facing some concerns related to paying our bills and keeping our lights on and affordable.
Whether you are worried about paying your bills and your lights going off, or you need to secure a lower rate to get the bills down while using a lot more energy working from home, this article will guide you in the right direction.
Worried about high energy bills, we can help.
Check out this guide and learn how to quickly make an informed decision, or put in your zip code below to start comparing rates.
You can switch your electric rate this same day in about 10 minutes and the switch is automated.
No one comes to your home, and there is no disruption in your service.
Dealing with a sudden loss of income and can't pay your bill?
Being ordered to stay home during the COVID-19 pandemic is uncharted territory. If you find yourself out of work or unable to pay your electric bill, you should understand that getting relief is possible.
The Covid-19 crisis is unlike any we've had in the modern economy. Millions of people may be losing income or losing their jobs.
So what do you do if you cannot pay your electricity bill?
Talk to your electricity provider now.
You should talk with your electric company now if you cannot pay your electricity bill. Do not wait.
Your electricity provider is unlikely to disconnect your power during a state of emergency. Still, you need to contact them now to make the appropriate arrangements so that you have power for your home or business.
Many providers offer waivers of late payment fees and will work with you to devise a plan.
They are also facing tough times, and many providers have put programs in place to help ensure you receive electricity even if you're having a tough time paying.
Disconnection Suspensions
On March 16, 2020, the Public Utility Commission of Texas held a hearing addressing the imminent threat to public health and safety by the Covid-19 epidemic.
The PUCT reinforced that each utility may choose to suspend disconnection for non-payment at their discretion. You can view the hearing here.
CenterPoint Energy Houston Electric has suspended disconnections for non-payment (DNPs). Visit the official CenterPoint Energy website for more information.
Oncor and TNMP said they would work with other utilities, retail electric providers, the Commission, and state and local authorities to develop a longer-term plan for handling DNPs during this State of Disaster. For more information, visit the Oncor and TNMP websites.
AEP Texas has halted disconnection of service for non-payment in response to the coronavirus (COVID-19) "until further notice." Visit the official AEP Texas website for more information.
Your Turn to Act
Working from home with high energy bills or losing your job and being unable to pay them requires just a bit of simple action from you. We're here to help you in whatever way we can, and we are going through this with you.
If you're out of work and can't make the payment on your bills, take the action we've outlined above to ensure your lights stay on.
If you're trying to reduce your energy rate while working from home, enter your zip code and get a better deal locked in now.
The switch is automated – No one comes to your home, and there is no disruption in your service.
From all of us at ComparePower, we wish you and your family health, well-being, and prosperity during this troubling time we face together.
Need to contact us for questions or guidance? Contact us here.