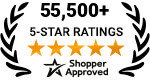 Any product or company names, marks, or logos shown on this page are the property of their respective owners. ComparePower is an unaffiliated, independent marketplace. Get unbiased, accurate information backed by our commitment to editorial integrity.
Hey there, fellow Texan! Are you curious about how Virtual Power Plants (VPPs) are transforming our energy landscape?
You're in the right place! We're about to explore the ins and outs of VPPs, how they work, and why they're a big deal for all of us in the Lone Star State.
Ready to become an energy expert? Let's get started!
TL;DR: Why VPPs Matter to Texans
Virtual Power Plants are revolutionizing energy in Texas by enhancing grid reliability and offering potential savings. They represent a community-driven approach to energy that empowers homeowners and businesses alike.
Why Texans Should Care About Virtual Power Plants
If you're a homeowner with solar panels, a business owner with backup generators, or someone who has invested in energy storage systems like Tesla Powerwall, VPPs are especially relevant to you.
Leveraging these existing technologies, VPPs offer opportunities to contribute to the grid, save on energy bills, and be part of an innovative energy solution in Texas.
Why It's Important
Enhancing Grid Reliability: VPPs create a more stable and resilient energy supply, reducing the risk of outages.
Promoting Renewable Energy: By integrating renewable energy from solar panels, VPPs contribute to a greener and more sustainable Texas.
Potential Savings: Participation in VPPs may reduce energy bills, putting money back in your pocket.
How to Get Involved
Explore options to connect your existing energy technologies to VPPs, stay informed about the pilot project, and consider participating in energy aggregation initiatives.
Your involvement can make a difference in shaping the energy landscape in Texas.
What Are Virtual Power Plants, and How Do They Work?
Virtual Power Plants are networks of decentralized energy resources like Battery Energy Storage Systems, backup generators, and controllable Electric Vehicle chargers.
These resources are virtually connected, working together to provide power to the Electric Reliability Council of Texas (ERCO) grid.
The Role of Tesla Powerwall
Tesla's Powerwall is a home battery system that stores energy.
In the context of VPPs, it allows homeowners to store surplus energy and even sell it back to the grid.
Energy Aggregation: Strength in Unity
Energy aggregation is the process of combining small energy resources to act as one.
It's the core of VPPs, allowing for a more flexible and resilient energy system.
The PUCT Initiative: Leading the Way in Texas
The ADER Pilot Project
The Public Utility Commission of Texas (PUCT) spearheads the Aggregate Distributed Energy Resource (ADER) pilot project.
It's an exploration of how small energy devices can be virtually aggregated to strengthen grid reliability.
Wholesale Electricity Market: A New Frontier
VPPs represent a shift towards a more accessible wholesale electricity market.
Even small energy producers can participate, contributing to a more diverse and robust energy landscape.
Impact on Texans: What's in It for You?
Enhanced Grid Reliability
No more worrying about power outages during a storm.
VPPs enhance the reliability of the ERCOT Grid, ensuring a stable energy supply.
Potential Savings
By participating in VPPs, you might even see reduced energy bills.
More homeowners and businesses sending electricity back to the grid have the potential to cut down on energy costs throughout Texas.
Conclusion: Embrace the Future with Confidence
Virtual Power Plants are not just a technological trend; they're a game-changer for energy in Texas. They're about community, innovation, sustainability, and empowerment. Stay informed, explore your options, and be part of the energy revolution. You've got the power, Texas!
Virtual Power Plant FAQs
Do you have questions or need help choosing the right energy plan?
Our team of local energy experts is here to help! Give us a call at 855-441-3030, Monday to Friday from 9 am to 4 pm.