Any product or company names, marks, or logos shown on this page are the property of their respective owners. ComparePower is an unaffiliated, independent marketplace. Get unbiased, accurate information backed by our commitment to editorial integrity.
Your electricity meter gives you the most accurate information on your energy usage. You can calculate precisely how much energy you use by day, month, and year.
For savvy energy savers, your energy meter will tell you when you are using more electricity, and you might want to reign things in.
If you find that you are using more energy than the average Texan, there are several steps to help conserve energy, and ComparePower can help you find a plan that fits your exact energy usage if you want to change.
What is an electricity meter?
An electric meter is a device that measures your electricity usage. It is usually located where electricity enters your home through power lines, and you can read your usage to help lower your electricity bill.
All meters work similarly to the mileage on your car and record the total amount of power your residence or business has used since the meter was installed.  
Why should you learn to read your electric meter?
Your electric meter might seem like a foreign object on the side of your home or apartment, but modern smart meters make it easy to understand your energy usage. 
With these meters, you can quickly get a real-time readout of your electricity usage, calculate your yearly averages, and find easy ways to conserve energy and save money. 
Looking for an easy way to keep track of your energy usage in Texas? Check out Smart Meter Texas.
Types of electric meters
There are two main types of electric meters that you will find in Texas.
The majority of meters have now been converted to what are called Advanced Metering Systems (AMS) or smart meters.
These types of meters send a digital reading to your electricity provider, eliminating the need for someone to go out and read your meter.
They generally record your electricity usage every 15 minutes instead of once a month, as older mechanical meters did.
This gives you close to real-time readings on your usage that you can use to accurately assess how to save on your electricity bill.
Some meters can even connect to an in-home display so that you can view your usage without leaving the comfort of your home.
In comparison, the old mechanical meters use a spinning disc to measure your usage, recorded on rotating needles or dials.
The biggest advantage of smart meters is that you and your electricity provider have quick access to your usage, and your provider instantly knows if you have a power outage.
How to read your electric meter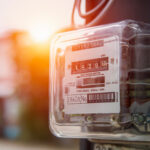 Reading your meter is a relatively straightforward process, but some could have a few screens you'll need to scroll through. 
Total Time: 5 minutes
Wake up the display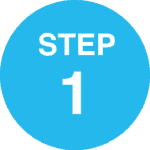 If the display on your meter isn't on all the time, you may need to press the button to wake it up.
Read your usage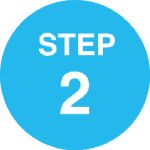 Once the screen is on, you'll see a series of numbers corresponding to your energy usage. Remember that you see the total usage since the meter was first installed, so you'll need to subtract the last reading total to find your current usage. 
The process is a little more complicated if you have an older analog meter. Each dial spins in the opposite direction and should display numbers zero through nine. 
You'll read the numbers from left to right, and if the arrow is between two numbers, make sure to use the lower number. 
Supply:
Tools:
Materials: None
Average electricity meter usage and costs in Texas
Updated June 2023
The average residential electricity rate in Texas is 14.46 ¢/kWh, 8.78% less than the U.S. average.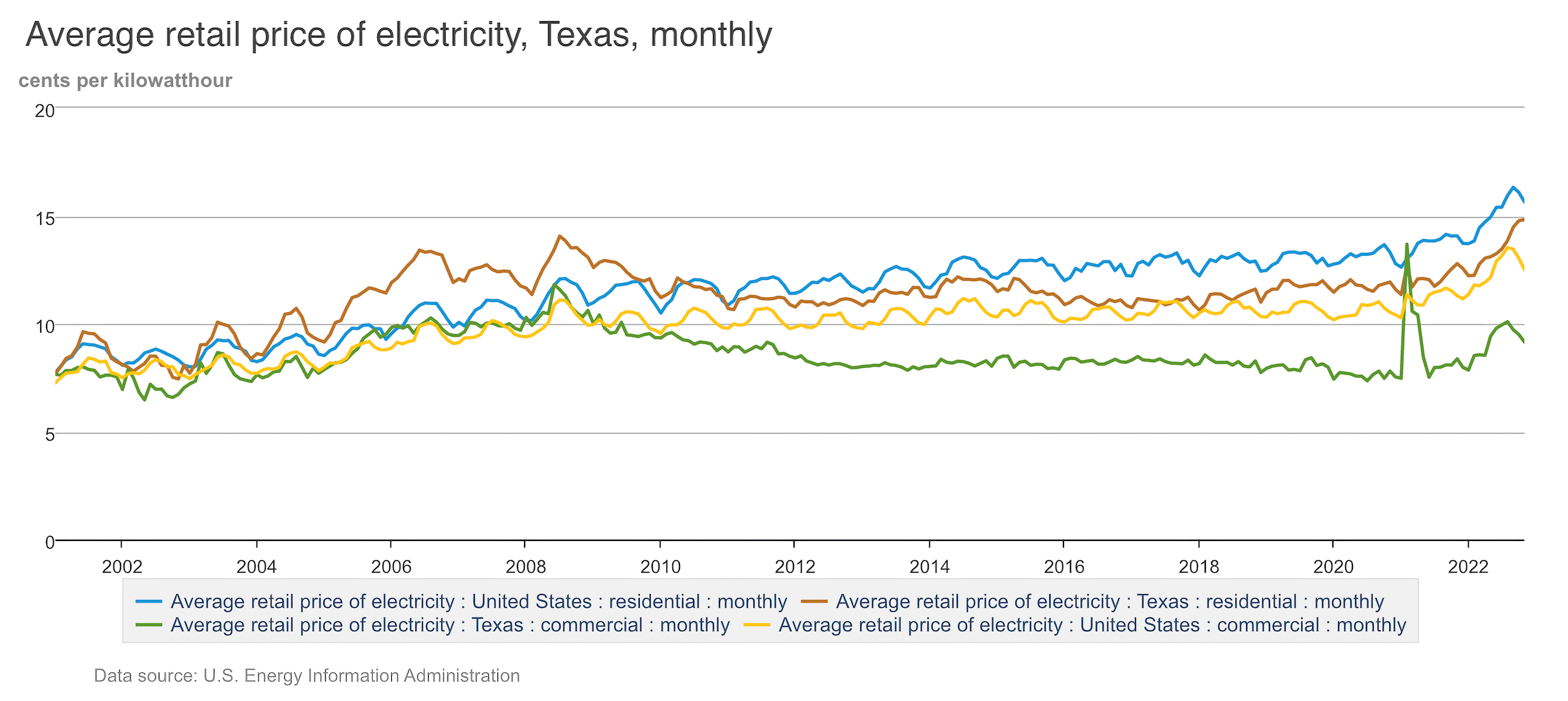 Got me the cheapest electric. Nice.

Emily (TX, United States)
Using your electricity meter to lower electricity costs
If you are like most people and want to save money, taking a deeper look at your electricity usage can save you hundreds of dollars each year.
Paying attention to your spikes in energy usage can help you find times when you might want to reign things in.
Keeping that in mind, seasonal weather changes are one of the most significant factors in electricity usage for Texans.
As the summer heats up, electricity usage can double, if not triple, for some households.
Taking steps like sealing any air leaks in your house or apartment can help keep your cold air conditioning inside for longer.
If you live in an older home, you may consider replacing your weather sealing and insulation to help your home regulate the heat.
If it's your first year in Texas or you've had the same plan for a while, you might want to dig into the details of your plan to see if your usage matches the prices you are paying.
Different types of plans can save you money thanks to bill credits if you use more energy than you used to.
Here at ComparePower, we recommend you look at your energy usage at least once a year and make sure your electricity plan still works.
Better yet, you can shop and compare electricity plans with your home's annual usage profile to find an affordable electricity rate for your Texas home.