Any product or company names, marks, or logos shown on this page are the property of their respective owners. ComparePower is an unaffiliated, independent marketplace. Get unbiased, accurate information backed by our commitment to editorial integrity.
Gexa BOGO
If you're reading this review, odds are you've seen Gexa advertise their BOGO plan and wonder if this is a good one for your household.
We broke down the Gexa BOGO plan and explain the details so that you are informed about what this plan is all about. Ultimately we're here to help you find the best electricity plan for your Texas home.
What is Gexa BOGO?
In Texas, heating and cooling costs can account for up to 50% of your monthly electricity bill.
Central air conditioning uses a lot of energy, so Gexa created the BOGO plan, which stands for Buy One Get One.
As the name implies, with this plan, you get one kilowatt-hour for free if you buy one kilowatt-hour. Said another way, you get 50% off your "energy charges" monthly. If you use 1,000 kWh in energy charges, you'll only pay for 500 kWh.
Sounds great, right?
We thought so, and we decided to take a deeper look at this plan's Electricity Facts Label (EFL) to uncover the details and show you the actual math and cost of this plan.
Gexa BOGO plan in Dallas (Oncor)
According to the Gexa Bogo EFL, Gexa charged Oncor Electric Delivery customers an average price of 10.6 cents per kWh for 2000 kWh monthly usage at the time of writing.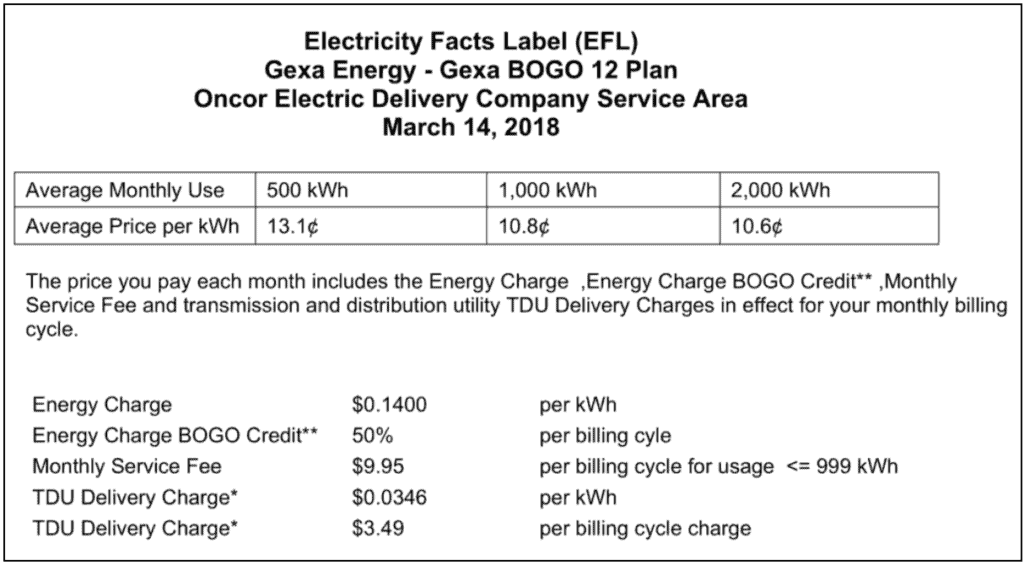 Oncor Electric Delivery serves the Dallas area, which includes Fort Worth, Plano, Arlington, Frisco, Allen, and several other surrounding suburbs.
In the conclusions section, we've included a complete cost breakdown of the Gexa Bogo plan for Dallas-Fort worth metroplex residents as a function of usage.
Gexa BOGO plan in Houston (CenterPoint Energy)
According to the Gexa BOGO EFL, Gexa charged Houston residents (CenterPoint Energy service area) an average price of 11.8 cents/kWh for 2000 kWh of monthly usage at the time of writing.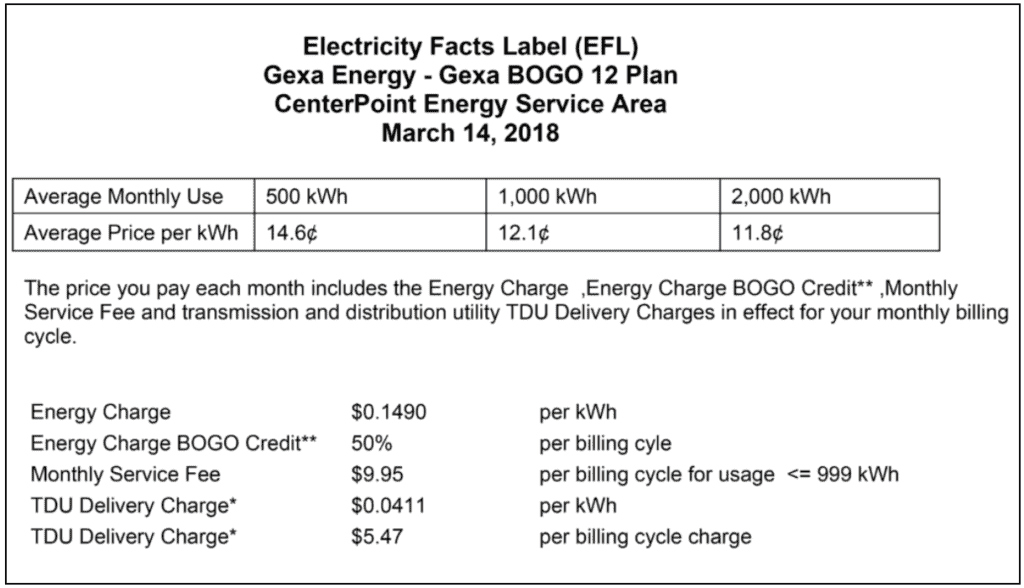 Centerpoint serves Houston area residents, including surrounding suburbs such as Katy, The Woodlands, Humble, Kingwood, and other greater Houston suburbs.
We've included the complete cost breakdown of the Gexa Bogo plan for Houston Metro residents as a function of usage in the conclusions section below.
Is Gexa BOGO right for you?
Free energy is great, but is Gexa BOGO the right plan for you, and will you save money by signing up for the Gexa BOGO plan?
The simple answer is it depends on your usage. Here's why…
The only way to know which plan is right for you in Texas is to know your monthly kWh electricity usage. Or better yet, your historical (kWh) usage for the previous 12 months if you're switching providers.
For illustrative purposes, take a look at how the effective rate ($/kWh) varies with monthly usage (kWh) for the Gexa BOGO plan: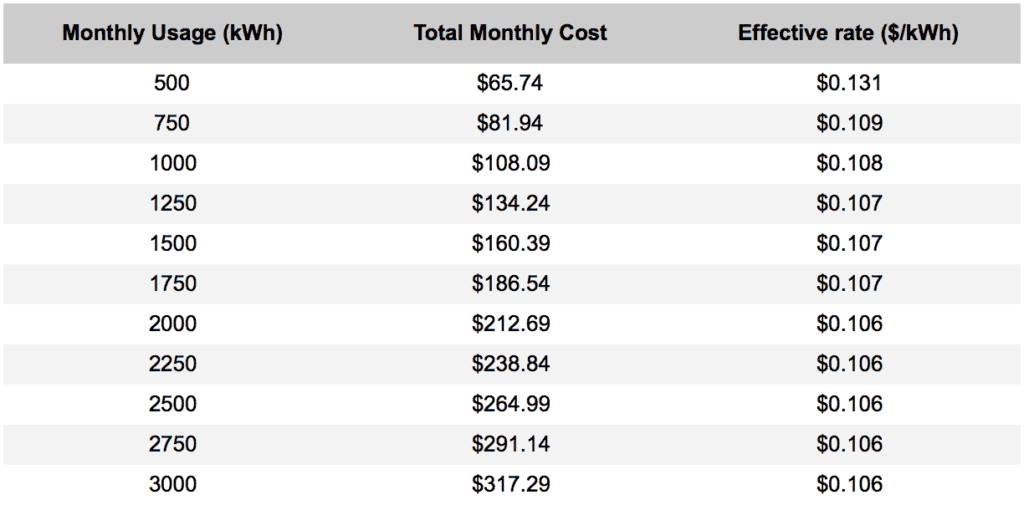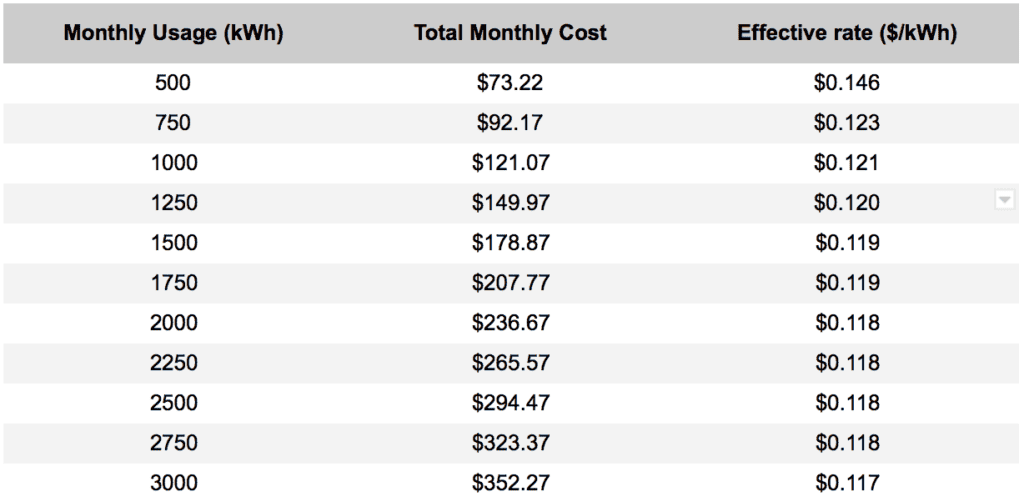 *Calculations are based on the plan EFLs posted on GexaEnergy.com as of 3/14/2018. Costs exclude taxes and non-recurring fees.
As illustrated in the cost breakdown above, the key to avoiding overpaying is knowing your expected usage and comparing monthly costs for each plan based on that usage amount.
Although electricity is a commodity, it is not priced linearly like other commodities you purchase daily. Let's use gasoline as an example to drive this point home.
With gasoline, the "price per gallon" you see on the sign is the price you pay no matter how many gallons you pump.
$3 per gallon. Pump 10 gallons, and pay $30. Simple.
Electricity in Texas is not as simple as buying gasoline. The advertised "price per kWh" is based on a specific, exact monthly usage (usually 2000 kWh).
And each plan has a different calculation for determining your monthly bill.
Your effective "price per kWh" can only be determined by calculating your monthly bill, then dividing that monthly bill by your usage.
Advertised "price per kWh" can be misleading because it's based on a specific usage like 2000 kWh. It's best to shop based on the total bill for your home's expected usage.
How do you do that when the math is complex and every plan differs?
ComparePower has already done all this complicated math for you.
We help you find and compile your historical usage if you're switching providers. If you're moving to a new home, we help you determine your anticipated monthly kWh usage. Then we show you the best plans and their total monthly cost for your specific usage.
Support You Can Count On
Questions? Our local experts can help you navigate options and find the best electricity plan. Reach out to us.