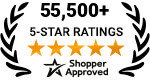 Any product or company names, marks, or logos shown on this page are the property of their respective owners. ComparePower is an unaffiliated, independent marketplace. Get unbiased, accurate information backed by our commitment to editorial integrity.
Are you scratching your head trying to figure out the real cost of your electric plan? You're not alone.
With a myriad of electric plans, varying rates, and additional fees, it can feel like you need a degree in mathematics to understand your electricity bill.
But don't worry, we've got your back. In this guide, we promise to break down the complexities of electricity costs and give you the insights you need to make the best choice for your home or business.
TL;DR: The real cost of an electricity plan depends on your electricity usage. You can calculate the real cost of an electricity plan by inputting your usage on ComparePower to see a monthly and yearly cost estimate.
The Texas Energy Market Demystified
Texas is unique with its deregulated energy market, giving you the power to choose your electricity provider.
Sounds great, right? But your power to choose means you also need to understand the ins and outs of your electric plan.
The Nitty-Gritty of Your Electric Plan Cost
Several factors influence your electric plan cost. Let's break them down:
Energy Consumption: Measured in kilowatt-hours (kWh), the amount of electricity you use is a primary factor in determining your bill. For example, if you have a large family with multiple appliances running simultaneously, your energy consumption will be higher than a single person living in a one-bedroom apartment.
Type of Rate: Electric plans can come with either a fixed or variable rate. Fixed-rate plans lock in the price per kWh for the duration of the contract, providing stability and predictability. Variable-rate plans, on the other hand, can fluctuate based on market conditions, which could mean lower costs in times of low demand but higher costs when demand is high.
Time of Use: Some plans charge different rates depending on the time of day or the season. These time-of-use plans can be beneficial if you can shift your high-energy activities to off-peak hours when rates are lower.
Additional Fees: Keep an eye out for early termination fees, late payment fees, and minimum usage fees. These can add up and significantly increase the total annual cost of electricity.
Decoding Your Electricity Bill
Your electricity bill can seem like a foreign language, but we're here to translate.
Your bill will include the cost per kWh, the amount of electricity used, and any additional fees. It may also include line items for taxes and other charges.
Here are some tips to help you decode your bill:
Understand the Terms: Familiarize yourself with terms like "rate per kilowatt-hour," "electricity delivery charge," and "retail electric provider fees." These are common line items on your bill.
Check Your Usage: Compare your current usage with your usage from the previous month or the same month last year. Significant increases could indicate a problem like a faulty appliance.
Review the Charges: Make sure you understand all the charges on your bill. If you see a fee or charge you don't understand, don't hesitate to contact your provider for clarification.
Gotchas: What to Watch Out For
While shopping for an electric plan, there are a few "gotchas" to watch out for:
Introductory Rates: Some plans may offer a low introductory rate that increases after a certain period. Be sure to read the fine print to understand your rate once the introductory period ends.
Hidden Fees: Some plans may include hidden fees that aren't immediately apparent. These could include fees for not meeting a minimum usage requirement or for using electricity during peak hours.
Contract Terms: Be sure to understand the terms of your contract. Some plans may require a long-term commitment and charge a hefty fee if you decide to switch providers before your contract ends.
Where to Start
Choosing the right electric plan involves understanding your energy needs, comparing different plans and providers, and reading the Electricity Facts Label (EFL) for each plan.
The EFL provides crucial information about the plan's price, fees, and terms.
If you end up with questions, don't worry. Our team of local Texas electricity experts is ready to walk you through all the details so you know exactly what you are signing up for.
The ComparePower Advantage
Here's where ComparePower comes in.
We simplify the process of shopping for electricity by providing a user-friendly platform where you can compare different plans, understand the terms, and calculate the real cost of an electric plan.
Don't Leave Money on the Table
Without a comprehensive comparison tool like ComparePower, you risk overpaying for electricity or getting stuck in a plan that doesn't suit your needs.
Harness the Power of ComparePower
Understanding the real cost of an electric plan in Texas doesn't have to be complex.
With ComparePower, you have a trusted partner that makes finding the right plan simple and straightforward.
So why wait? Start saving on your electricity costs today with ComparePower.
Electricity Cost FAQs
How to calculate the real cost of an electricity plan?
To calculate the real cost of an electricity plan on ComparePower, you can input your historical usage data.
With your usage, you can compare plans based on the total annual cost and choose the best plan for your space.
ComparePower always shows you the total annual cost of each plan so you can make an informed decision about your electricity plan.
How can I find the cheapest electricity plan in Texas?
Finding the cheapest electricity plan is quick and easy with ComparePower.
Enter your monthly usage or estimate with our kWh calculator, and we'll automatically show you the cheapest electricity plan for your home.
No need to search around through dozens of websites.
Do you have questions or need help choosing the right energy plan?
Our team of local energy experts is here to help! Give us a call at 855-441-3030, Monday to Friday from 9 am to 4 pm.