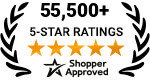 Any product or company names, marks, or logos shown on this page are the property of their respective owners. ComparePower is an unaffiliated, independent marketplace. Get unbiased, accurate information backed by our commitment to editorial integrity.
Switch to Savings in Houston
Many people think switching electricity providers is more trouble than it's worth.
You may have heard horror stories in the past, rumors of endless paperwork, having to call to disconnect, expensive switching fees, and unexpected power outages. This is not the case.
Switching providers is fast, easy, and painless
There's no need to settle for a bad deal.
It's easier than you think to find the right energy plan for you.
With the deregulation of Houston's electricity market, many power companies in the greater metropolitan area compete for your business.
Still, even with all these choices available, you may find yourself stuck in a plan paying more than you care to, afraid it may be too much of a hassle to switch to a better option.
Compare rates in Houston and switch providers in minutes
If you're dissatisfied with the amount you're paying in energy costs every month, there are a few easy steps to find a utility plan that best suits your home or business.
Here's what you need to know to compare electricity rates in Houston and switch providers today
Your new provider will handle everything, and there's no "break-up" call with your old provider.
Switching electricity providers is fast and simple if you know what to do. The first information you need is that ComparePower will take care of everything.
Many fear the dreaded "break-up" phone call.
Who would want to take the time to explain to some customer service representative why you want to move to a better plan? Thankfully, this call is not necessary.
If you wish to switch electricity providers, you must place a simple, quick order here at ComparePower.
No phone calls are necessary.
Give basic personal information, provide the home or business address the plan is for, and select your electric service start date.
All you need to do after that is sit back and save.
Of course, finding the right plan in the first place can prove time-consuming.
That's why ComparePower displays all the best plans with the best rates in a standard, easy-to-use platform. You won't have to search through countless advertisements on dozens of different sites.
ComparePower is a free, unbiased service listing the best deals in your area by respected and trusted providers. You can easily organize and shop for energy according to your individual preferences.
Your power won't go out
There's no risk in switching providers. If you decide to leave your current energy company to find a better deal, you don't need to worry about your power suddenly going out.
It's against the law in Texas for a supplier to shut off a consumer's electricity simply because they decided to switch.
State lawmakers included this safeguard when they worked to deregulate the energy market.
It's also important to remember that the utility provider you purchase your power from is typically separate from the company that handles the distribution and transmission of the energy from the grid to your home or business.
The distribution and transmission utility has no stake in which supplier you take your business to.
If you use ComparePower to find your best electricity plan, there is no catch. There are no hidden fees. No bias.
ComparePower's service ensures you're free to shop around and compare rates with ease and peace of mind.
Your turn to switch electric companies
The average user of ComparePower saves more than 25% when switching their electricity plan. Finding a great energy plan should be free, fast, and simple – and now it finally is. Enter your zip code above to compare electricity rates in Houston quickly and easily.
Switching providers Houston FAQs
How to switch electricity companies in Houston?
Switching electricity providers in Houston on ComparePower is a simple process that allows customers to compare plans and providers in Houston, taking into account factors such as pricing, contract length, and any special promotions or discounts that may be available.
ComparePower's unique feature is the ability to input historical usage data which allows customers to compare plans and providers based on their specific usage profile. The process starts with visiting ComparePower.com, entering your zip code for Houston, comparing plans and providers, inputting your usage data, choosing a new plan, signing up for it, and confirming the switch.
ComparePower.com will contact the current provider and handle all the details of the switch.
How do I find my kWh usage?
To get your kWh usage, you can check your electricity bills for the past 12 months, contact your electricity provider for a statement or report, and use a smart meter or an energy monitor to track usage in real time. Once you have your annual usage, you can use it to compare plans and providers on ComparePower.com to calculate the best energy plan according to your home's specific usage profile.
Do you have questions or need help choosing the right energy plan?
Our team of local energy experts is here to help! Give us a call at 855-441-3030, Monday to Friday from 9 am to 4 pm.