I tried Griddy – Here is My Review
If you're reading this review odds are you're curious about all this Griddy wholesale energy rate stuff…
…or maybe you're a current Griddy customer who is fed up with the Griddy electricity model and alerts and are shopping around in hopes of finding better energy provider.
If either of these describes you, read on.
If you're curious about Griddy or want to know how to pick the best energy plan for your home, keep reading. I will show you step-by-step how I switched to a predictable, fixed-rate plan further down this blog post.
But first, let me tell you about my personal experience with Griddy.
Here at ComparePower, we are Consumer Advocates at our core. We live in Texas. Employees here make it a point to personally try out the different providers in Texas so that we can share our experience with our fellow Texans and help you make an informed decision when choosing the energy company for your home or business.
With this mission in mind, I gave Griddy a try myself. Here is my personal experience.
Sections in this blog:
Click on a section to navigate directly to it:
Time to read: about 4 min
Does Griddy Really Save Money?
Here's what I learned.
I know what you're asking yourself. Is Griddy right for me and will it save me money?
The answer is it depends…more on that later. For now, I'd like to share my personal experience with Griddy in hopes that it can guide you in making the best decision for your household.
I started using Griddy midway through September 2019. With the summer months coming to an end and cooler days ahead I did not anticipate a huge demand on the grid and reasoned that perhaps it may be possible to save some money by purchasing electricity in real-time, from the Griddy app.
So I downloaded the app, which they've done a nice job with. And after adding $49 to my account I was on my way purchasing wholesale electricity directly from the grid.
In case you do not know, Griddy is a prepaid electric service. You must keep a positive balance in your account at all times or your power will be turned off.
If you're not used to pre-paying for your power and would rather pay at the end of the month for the kWh you use, then Griddy is definitely not for you.
If this is you my suggestion is to stop reading and enter your zip code on the top right of this page to shop for a traditional, predictable, fixed-rate plan.
Now back to my experience with Griddy. Everything was going smoothly, for about a day.
Much to my surprise, the very next day I received an alarming notification from Griddy on my iPhone:
Wholesale electricity prices had climbed to over 50 cents / kWh and that I should not worry. 
I should not worry? How could I not? Was this a joke?
My heart sank to the pit of my stomach at the thought of what my electricity bill would be that day and admittedly I immediately felt silly for having made the switch to Griddy.
To add insult to injury, I couldn't believe that I was actually paying Griddy $9.99 a month for this.
Being in the middle of my workday I started thinking about the appliances that were being powered in my home from the washer and dryer, to the refrigerator, and most importantly my air conditioner, which was set to 68 degrees Fahrenheit.
My mind raced as I was trying to calculate how much running these appliances would cost me at a rate of 50 cents/kWh.
Being that I was at work I could not drop everything I was doing to run home and turn my appliances off…which is what Griddy recommends.
In fact, most people I know do not have the flexibility to put down their work in the middle of the day and run home so they can power down their appliances every time an alert shows up on their mobile phone.
To put this in perspective, before I switched to Griddy I was paying on average just under 7 cents / kWh for 1000 kWh of monthly usage.
Griddy was now costing me over 7 times more than my traditional fixed-rate plan that I had found on ComparePower.
Projected prices on Griddy's app ranged from 10 cents/kWh at noon to $1.00 / kWh by 4 pm the same day. See the screenshot I took personally from my own phone: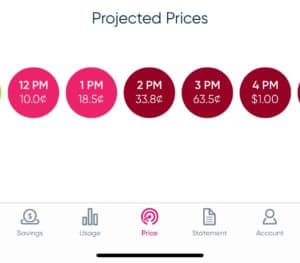 I then noticed an email from Griddy in my inbox. I dropped everything I was doing to read it.
"High Price Warning Today, 2-6p.m. A hotter than a normal day, coupled with potential generation outages could lead to electricity prices as high as $4/kWh."
What followed was a list of instructions on how I should have read the future and ramped down my energy usage between 1 and 6 pm to avoid high costs.
The only way for me to avoid high costs and overpaying for power was to leave work and run home to power down my electronics.
I don't know about you (or the employment hours at the Griddy offices), but where I work employees are required to be present from 9 am – 6 pm Monday to Friday.
Telling my boss that I needed to run home to power down my appliances was not an option.
In case you don't believe me, I took a screenshot of the email I received on September 25th 2019 from Griddy, and attached it below: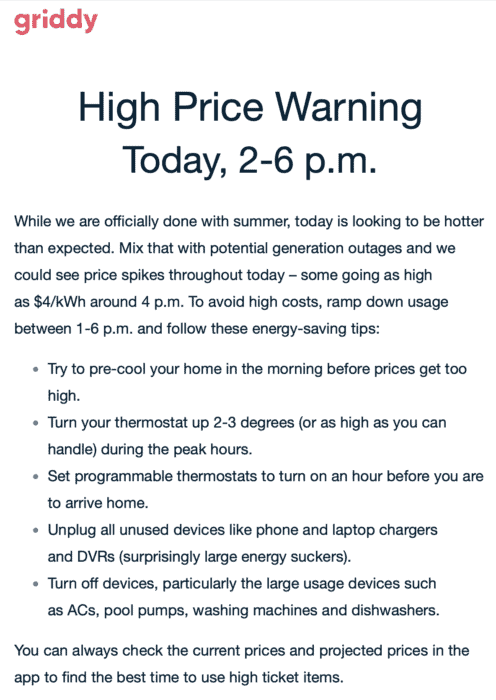 Now back to the original question. Can Griddy save you money?
If you can manage to run home in the middle of the day and power down all of your appliances and electronics Griddy may be a reasonable option.
However, even if you have the flexibility to do so is this how you want to spend your day? Constantly worried and paranoid about how much your electric bill will be hour after agonizing hour?
I found myself constantly checking the rate of electricity instead of focusing on what was important and what I had to accomplish during my day.
If you do not mind constantly checking the rate of electricity on your phone, and even if you have the flexibility to run home and power off your appliances you still may not be getting the best deal with Griddy. Here is why.
Griddy states that the average rate their customers pay is 8.8 cents/kWh and that the Texas average rate is 11.3 cents/kWh, thereby saving you money.
This 11.3 cent average is based on a statistic taken from the EIA.gov website, which currently lists it at 11.87 cents/kWh (June 2019).
I work here at ComparePower. We switch thousands of Texans every month.
Most Texans using ComparePower are not paying anywhere near 11.3 cents/kWh. We don't care which provider you choose here when shopping, but please, don't pick one for 11.3c!
In fact there are fixed-rate plans for Texas residents on ComparePower with rates as low as $0.13 per kilowatt-hour (kWh) for 1000 kWh. That is far less than the Texas average and the Griddy average rate advertised by them in September 2019. 
How Does Griddy Energy Work?
Like everyone else, the idea of being able to purchase electricity at wholesale prices seemed appealing to me.
For those that don't know how Griddy works. For a monthly fee of $9.99 Griddy connects its members, via a mobile app, directly to the real-time wholesale energy market, so that, in theory, they pay the same variable prices that retail energy providers and commercial consumers pay, in real-time.
That, however, is not entirely accurate. The majority of traditional electricity providers offering fixed rate prices buy forward contracts at different times of the year, not in real-time as Griddy does.
Since these traditional providers are able to buy electricity at a fixed price for delivery throughout the year, they are able to offer fixed-price contracts to their residential customers without the worry of hourly fluctuations in rates and the burning desire to run home in response to a push-notification alert to turn off that light you left on.
The primary benefit of choosing a fixed-terms electricity plan is consistency and predictability.
The wholesale price of electricity changes approximately every 5 minutes making it near impossible to predict how much you will be paying from one moment to the next.
Griddy does provide a projection for electricity prices for the entire day so that you can plan ahead but in my personal experience, the projections were less than accurate, at times as much as a 70 cents/kWh difference between the projected and actual price.
Conclusion: Key Facts and Takeaways
I really wanted to like Griddy.
It just wasn't for me. The stress I experienced in response to the random influx of emails and push alerts warning of price spikes on the horizon drove me crazy.
Buying electricity at wholesale prices is unique, but it is highly unpredictable.
At the end of the day, you will need to evaluate your electricity and lifestyle needs to make the best decision for your home.
I myself switched away from Griddy onto a predictable fixed-rate plan that I found right here on ComparePower.
I am now paying 6.7 cents / kWh for 1000 kWh of energy each month, which is about what I use monthly.
I no longer look at my phone or fret over electricity price alerts. That peace of mind alone, to me, is priceless.
Oh, and I am no longer paying Griddy $9.99 a month for the luxury of using their app and exposing me to this unnecessary stress.
I switched providers for free here at ComparePower in under 5 minutes and am enjoying low electricity prices with zero hassle. I can honestly say my life is so much simpler because of it.
Ahhh… the sweet relief of consistency and predictability.
If you are currently with Griddy, my recommendation is to make the switch. It will be the best 5 minutes you will spend today.
Thanks for reading! If you have any questions or comments, feel free to email me
-Enri Zhulati, Consumer Advocate at ComparePower
Ready to make the switch? Enter your zip code to get started.
Related articles you may be interested in reading:
Next Steps: Had Enough of Griddy? Want consistency, predictability, and a great rate?
Switch Electric Companies and Save
Some electricity plans have different discounts, fees, and pricing tiers that may or may not apply each month depending on your usage.
Predict what your electricity bill will cost you for every month of the year before you enroll.
ComparePower will calculate each month's bill for every plan and show total cost for all bills combined. Now that is powerful!
Introducing our Power TACO™ Tool
If you input all 12 months of usage history, we will show you the Total Annual Cost of Ownership. We call this the Power TACO™.
Find the RIGHT energy company and your best electricity plan in 4 simple steps.
Gather your homes historical usage profile (kWh usage) month by month for the past 12 months. It's ok if you don't have all 12 months. The more months the better.
Enter your historical usage month by month into the calculator below.
Click on Compare Rates to compare competing light company rate plans based on your home's custom usage.
Enroll online or over the phone in about 5 minutes.
kWh Usage Pricing Calculator
Input as many months of usage history as you can gather, then click "Compare Rates".
If you can't find your usage history, you can still compare rates by home size by entering just your zip code at the top of this page.
How to Switch Energy Companies
Read this now to learn how to choose the right energy plan for your home when switching energy companies in Texas. 
Did you know electricity plans in Texas are priced according to how much energy you use each month?
That's right. The amount of energy you use each month dictates the rate you pay for energy that month.
This is why it is very important to understand your monthly energy consumption when shopping for a new electricity plan in Texas.
To determine the best plan for your home you need to understand how much energy you use on any given month.
By the end of this short exercise, you'll know how to compare electricity plan options by total annual cost instead of buying into advertised "teaser" rates.
Find your previous months energy bills or log into your existing energy company website. Write down month-by-month how many kilowatt-hours of energy you consumed last year.
It is ok if you do not have all 12 months of usage. Gather as many months as you can find. The more months the better.
If you can't find your usage history, you can still compare rates by home size by entering just your zip code at the top of this page.
kWh Usage Pricing Calculator Video
Still confused about why this is so important? This short 2-minute video will show you how to find your best plan on ComparePower.