Any product or company names, marks, or logos shown on this page are the property of their respective owners. ComparePower is an unaffiliated, independent marketplace. Get unbiased, accurate information backed by our commitment to editorial integrity.
Business Electricity Rates
Compare rates from 31+ Texas electricity providers and find the right energy plan for your business in minutes.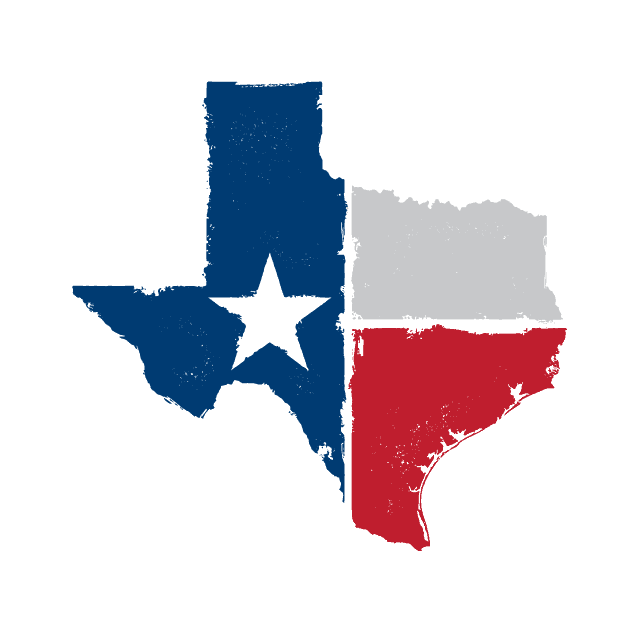 The Texas business average electricity rate is 9.13 ¢/kWh, 27% less than the U.S. average.
"Easy, simple, best rates, just a click away."
~ Stephen H. (TX, United States)
Updated October 2023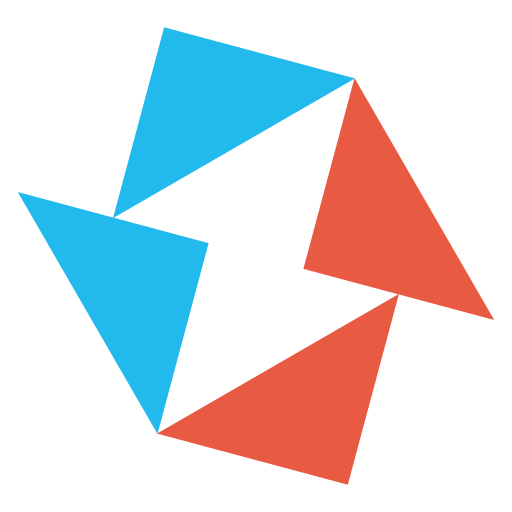 Get expert help
Let a business energy expert guide you ⤵️
Monday-Friday, 8 AM-6 PM CST
Save on Business Electricity
Whether shopping for your small business or large commercial facility, access to competitive electric rates is easier than ever.
Get exclusive rates from energy companies that are unavailable online and get assistance with complex procurement projects, industrial installation design, and rebate opportunities.
Select the option that fits your needs ⤵️
Option 1
Compare Energy Plans & Rates Instantly Online
Find and compare electricity rates from 31+ energy providers and enroll online instantly.
Ideal for smaller businesses with monthly energy bills of less than $1,000.
Instantly compare rates from multiple providers and enroll your business online in minutes.
Option 2
Get Custom Rate Quotes & Procurement Analysis
Talk to a live human expert if you have a large energy bill, need custom pricing or procurement expertise, have several sites, or want to learn more about energy efficiency programs and rebates.
Expect to spend more than $1000 per month?
Speak with one of our energy experts in real time.
Get a custom analysis of your company's energy options.
Option 3
Request a Custom Quote Online
Contact us today to learn how we can provide tailored energy solutions for your business.
Get an energy analysis tailored to your company's needs.
Any business, no matter how big or small, can benefit from our energy experts.
Texas Business Electricity Rates for October 2023
The average Texas business commercial electricity rate is 9.13 ¢/kWh, 27% less than the U.S. average.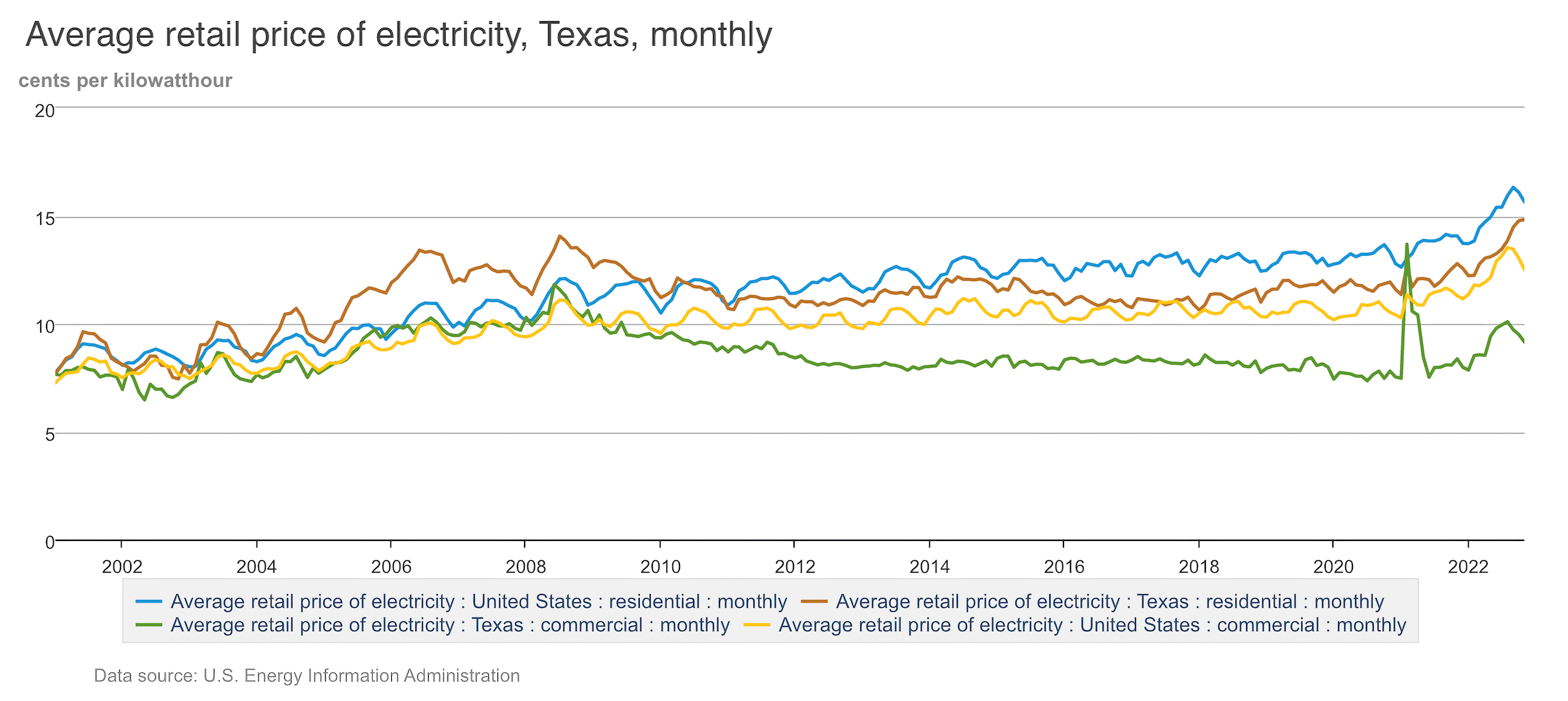 Updated October 2023
Small Business Electricity
Over 2.2 million small businesses call Texas home, making it a thriving state for small to mid-sized companies.
Regarding small businesses, Texas ranks among the top 5 states in the continental U.S., with business-friendly regulations, smart spending, and low taxes.
Since 2002 Texas business owners have had the option of choosing their electricity provider.
Several retail electricity providers are competing for the electricity needs of your small business.
From Houston to Dallas-Fort Worth, Corpus Christi, and all over the Lone Star state, we help you compare the rates of dozens of Texas business energy suppliers to save time and money.
By inviting multiple energy companies to compete for your business, ComparePower bridges the gap between you and the energy companies.
Let us find you a competitive electricity rate and take control of your energy budget with fixed-rate pricing.
You save when energy companies compete for your business.
Commercial Electricity Rates
In addition to some of the nation's largest publicly-traded companies, such as AT&T, ExxonMobil, and Dell, Texas is also home to some of its largest privately-held companies, including H-E-B, Neiman Marcus Group, and Hunt Oil.
The deregulation of the energy industry and the availability of electric choice in Texas allow businesses to reduce energy-related costs by selecting a commercial electricity company that meets their needs and budget.
Find your large business's best commercial electricity rates in Texas, and start saving today.
Call 469-813-8854 or request your custom quote today!
Switching Business Electricity
Every time your contract is about to expire, you should shop the market for a lower rate.
Your electricity rate may increase once your existing contract expires.
If you fail to act, you'll be stuck with a variable month-to-month rate significantly higher than what you enrolled in.
Make sure you compare rates from competing electricity providers before renewing your contract.
You can save hundreds or thousands of dollars annually by switching to a cheaper electricity provider.
We make switching easy:
There is no need to contact your current company to cancel (no break-up call).
No one comes to your business to turn the power on or off.
Your electricity service reliability is not disrupted.
It only takes a few minutes to switch.
You could realize significant savings.
If you switch electricity providers, your newly chosen company will take care of everything, including switching services from your previous provider.
Switching electricity providers in Texas won't disrupt your service because it is all delivered by your utility therefore, the reliability of your electricity service is not affected.
There are generally no early termination fees associated with most business electricity contracts if you switch within 14 days of your contract expiration date.
You are protected by Texas law here. Check your contract for specific details around your contract expiration date.
If you are currently under contract, find out how many months are left.
Most providers allow you to lock in pricing for a future start date regardless of when your current contract ends.
Up next: Learn how to start or switch business electricity and save!
Switching business electricity providers in Texas can be a smart move for cost savings and sustainability. This guide explains how to navigate the process, including insights into deregulation, choosing suppliers, and areas where switching is possible.
This comprehensive guide walks you through the process of starting business electricity service in Texas. From determining your needs to managing your account, ComparePower's local business energy experts are here to assist you. Learn about move-in types, enrollment, timelines, and more to ensure a smooth transition for your business.
Business Electricity FAQs
Who has the cheapest business electricity rates in Texas?
There are over 60 energy providers in Texas. Finding the cheapest rates for your Texas business depends on various factors, including the business's size, location, and energy needs. However, Texas businesses may be able to find cheaper electricity rates by shopping for deals and comparing rates from different providers.
What is the average business electricity rate in Texas?
The average business electricity rate in Texas is 9.13 ¢/kWh, 27% less than the U.S. average.
Support You Can Count On
Questions? Our local experts can help you navigate options and find the best electricity plan. Reach out to us.
ComparePower Texas
ComparePower believes that every Texan deserves to make informed energy decisions. We aim to provide up-to-date information about electricity products and services in Texas.